Aregbesola Charges O'REAP Cadets To Be Good Ambassadors In Germany.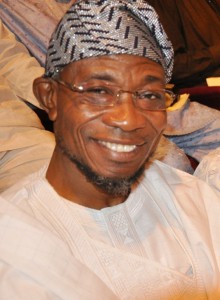 The Governor of the State of Osun, Ogbeni Rauf Aregbesola has charged
the O'REAP youth cadets to be good ambassadors of the state of Osun
while receiving training in Germany.
This statement was made at the Government Banquet Hall in Osogbo
while addressing the first batch comprising 20 successful candidates
out of 40 O'REAP youth cadets who are to receive 3 months training
course on modern agricultural practices in the state of Saxony-Anhalt,
Republic of Germany.
Ogbeni Aregbesola further admonished the O'REAP youths who were
selected on merit across the 30 Local Government and the Modakeke Area
office, to face their course squarely and shun all sorts of side
attractions that could jeopardize the purpose and objective of the
training programme.
Earlier, in his welcome address, the Commissioner for Agriculture and
Food Security, Hon. Wale Adedoyin thanked Governor Rauf Aregbesola for
supporting and promoting agricultural practices in all ramifications
and also advised the youth to make the Governor and the State of Osun
proud by exhibiting characters worthy of emulation during their 3
months agricultural training course in Germany.
Present at the ceremony were the deputy Governor, Otunba Titilaoye
Tomori, the Chief of Staff, Alhaji Gboyega Oyetola, the Head of
Service, Mr. Sunday Owoeye, the Senior Special Adviser to the Governor
on Quick Impact Intervention Programme, Mr. Dele Ogundipe, the
Permanent Secretary, Ministry of Agriculture and Food Security, Mr.
Sunday Odediran, Directors and other important dignitaries.
OSUN DEFENDER