MKO Abiola Airport Project Is On Course -Projet Managers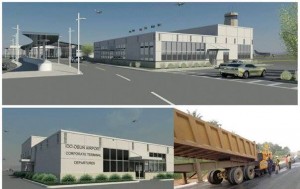 The management of the Aeronautical Engineering and Technical Services of the Nigeria Airforce company, has said that the Osun airport project is very much on course.
This was as the Governor inspected the project to ascertain the state of the works done at the site Wednesday evening.
He said at the site during the inspection that his administration has the vision to use the project as one of the strategies to ignite economic development given the fact that it has the capacity to attract foreign visitors and airline companies who are to bring aircrafts for maintenance works.
Despite the the dwindling monthly allocation by the Federal government to states, the governor of Osun, Ogbeni Rauf Aregbesola has said that the airport project embarked upon by his administration is still on course.
The Managing Director of the Aeronautical Engineering and Technical Services of the Nigeria Airforce company, Air Vice Marshall Andy Tsakrin in company with the new Managing Director, Air Vice Marshal Ajibola Jekenu had earlier paid the governor a courtesy visit at the Government House in Osogbo.
The governor added that, Osun in engaging the services of the Nigeria Airforce will no doubt get one of the best Airports in Nigeria that can compete favourable with other airports in the world in terms of architecture and technology when the MKO Abiola Airport is finally completed.
Aregbesola said that his administration has the best of relationship with the management of the Aeronautical Engineering and Technical Services and expressed the hope that the same will be extended by the new helmsman of the company.
On the emergency call Centre built for the state by the Airforce, Aregbesola said politics has hampered the provision of sort code to activate the centre.
He said, "it is unbelievable that during the last August 9 Governorship Election some hoodlums dressed in army uniforms vandalised  the emergency call centre here in Osogbo."
Earlier, while introducing the new Managing Director Aeronautical Engineering and Technical Services, Air vice Marshall Ajibola jekenu, the out-going Air Vice Marshall Andy Tsakri applauded the humility and honesty of governor Aregbesola in handling issues of the state.
Inspecting the MKO international airport runway, the project Manager noted that it was with a lot of perseverance and hard work that the level that at which the Airport is was achieved.
Accompanying the Governor on the inspection were the Deputy Governor Mrs. Grace Laoye Tomori the Secretary to the State Government Alhaji Moshood Adeoti Chief of Staff Alhaji Gboyega Oyetola and others.