Alaafin, Ooni, Others Honour Aregbesola at 60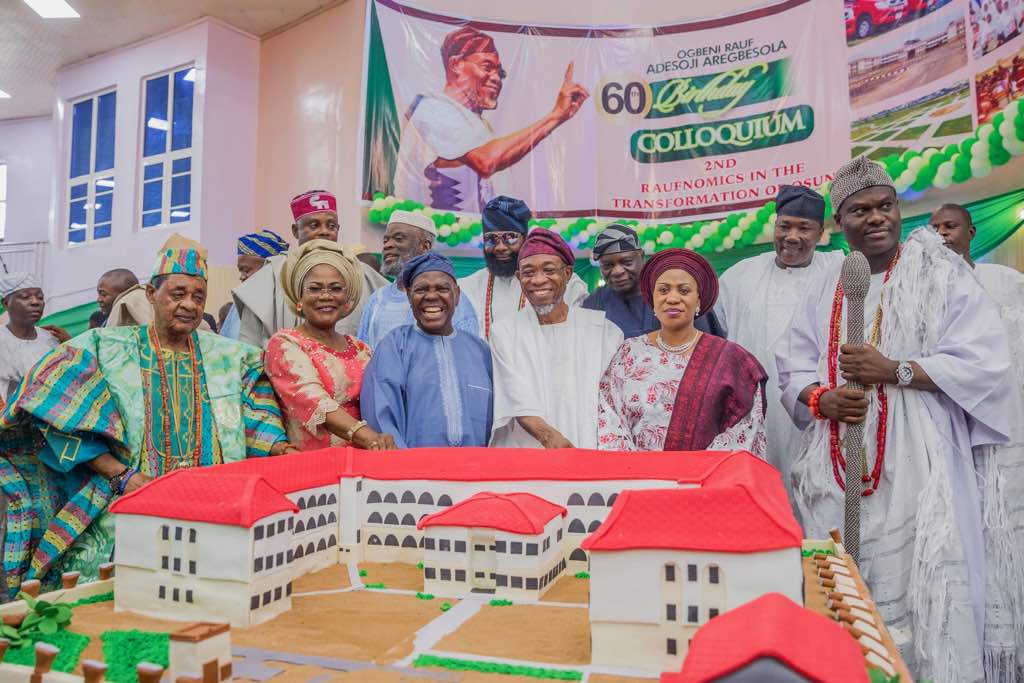 Eminent Nigerians yesterday eulogised Governor Rauf Aregbesola at a colloquium in Osogbo, the state capital, to mark his 60th birthday.
Speakers at the event tagged: "Good Governance and Challenges of Leadership", include Nigerian Bar Association President Abubakar Balarabe Mahmoud, Prof. Niyi Akinnaso, Prof. Akin Oyebode  and Dr. Charles Akinola.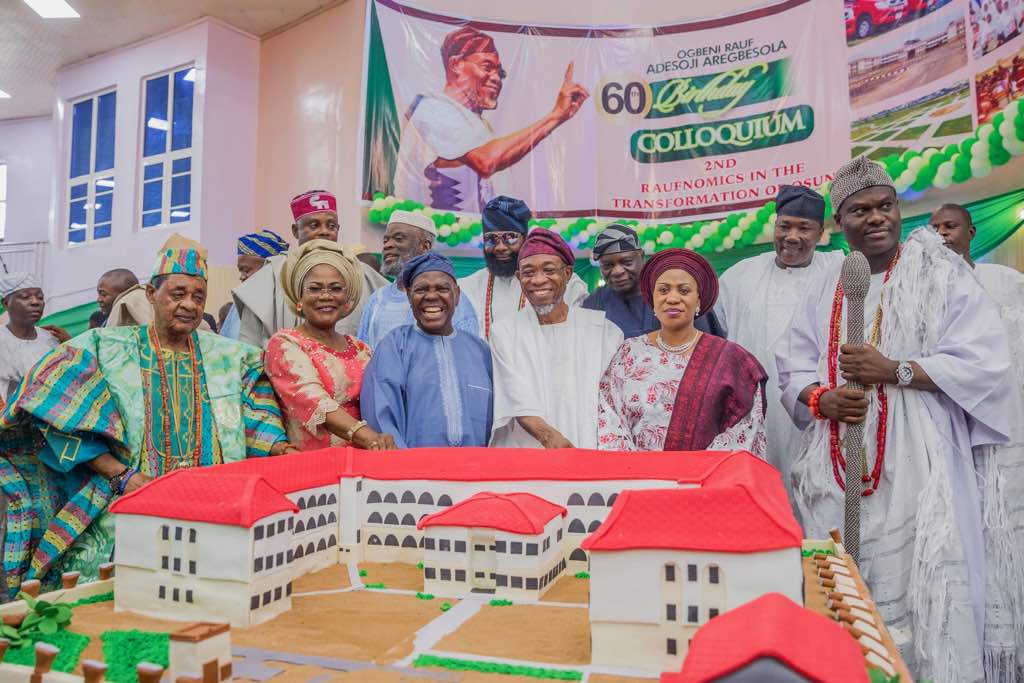 Their conclusion is that in his six years in office, Aregbesola has raised the bar of good governance.
Oyebode, who was the guest lecturer, said nothing was comparable to democracy and no right-thinking Nigerian would want the military to truncate the nation's democracy again.
He described the governor as an epitome of democracy and good governance, judging from the growth the state had recorded since he came into office.
The former Vice Chancellor of University of Ado-Ekiti said Aregbesola's transformational policies permeated education, youth empowerment, agriculture, health, rural development, security and other social infrastructure.
Oyebode said: "In sum, this was an administration that was not afraid to confront head on problems engendered by socio-political transformation and which was ready, willing and able to share confidence with the people that put it in office.
"While the jury is still out regarding his scorecard, even the most virulent critics would agree that he has changed the Osun landscape and the rules of engagement such as to rekindle hope and confidence among the people.
"A review of the administration of Ogbeni Rauf Aregbesola thus far, would reveal no diminution of resolve and commitment to better the lot of the masses and underprivileged, even in the face of dwindling financial resources."
The NBA President said every leader must possess certain qualities for him to succeed among, which are honesty, humility, forgiving spirit, confidence and commitment to the cause of the people.
Mahmoud said Aregbesola possessed all these qualities, which made it possible for him to achieve what he has achieved in Osun.
The NBA President listed the newly constructed school buildings, road construction networks, innovative e-learning tablet and the various welfare intervention programmes.
Mahmoud continued: "Aregbesola has demonstrated what it takes to be called a hero by his sterling performance.
"I commend him for obviously raising the bar of governance in the country today. I have been to Osun and I have seen the phenomenal performance.
"Is it the quality of the schools? Is it the architecture of the schools? The infrastructural facilities scattered across the state? All these certainly cannot be by accident."
In his goodwill message, Minister of Health Prof.Isaac  Adewole, also an Ijesa like the governor, said Aregbesola had done well in all aspects of human life.
"No government has ever invested in education as being done by Aregbesola's administration in the history of Nigeria.
"When I went round some of the ultra-modern schools built by Aregbesola's administration, in fact I was very amazed because I couldn't believe that a government could be so passionate about education to the extent of investing on education to that extent.
"Your achievements in the last six years have qualified you to be an unusual being, whose passion for development seems to be incomparable by all strata.
"With the achievements recorded in education, there is no doubt that you are wiping off ignorance, poverty, unemployment and other societal vices in our state and Nigeria as a whole.
"You are representing the future of this country as you have brought a drastic change to governance."
Those who attended the event were Aregbesola's wife Serifat, Deputy Governor Mrs. Grace Titi Laoye-Tomori, former governor Chief Bisi Akande, Aregbesola's immediate predecessor, Prince Olagunsoye Oyinlola, representative of Asiwaju Bola Tinubu, Hon. James Faleke, Secretary to the State Government Alhaji Moshood Adeoti, the Chief of Staff to the Governor, Alhaji Gboyega Oyetola among others.
Ooni of Ife Oba Adeyeye Ogunwusi, the Alaafin of Oyo Oba Lamidi Adeyemi, Akirun of Ikirun Oba Rauf Olayiwola, Oluwo of Iwo Oba Adewale Akanbi, and other monarchs also attended.
Oba Ogunwusi hailed Aregbesola's passion for growth.
The Alaafin said: "Aregbesola is the first Omoluabi of Yorubaland. He bagged this title through his commitment to human development. "
Senator Sola Adeyeye said: "Aregbesola has proved to the people of Osun what good governance stands for."
Osun House of Assembly Speaker  Najeem Salam said: "Aregbesola is a man who has never found it difficult to help, even if the circumstances seem to be difficult to do so."