Adeleke: Development Will Be Restored in Kogi State By Dino Melaye
PRESS STATEMENT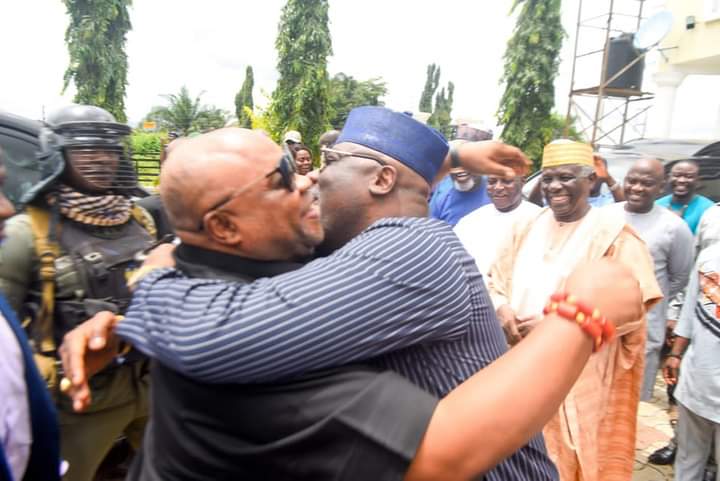 ABUJA – 23/09/2023
Osun State Governor and Peoples Democratic Party (PDP) Campaign Chairman for the November 11 governorship election in Kogi State, Senator Ademola Adeleke, has assured the people of Kogi State that development will be restored in the state when Senator Dino Melaye is elected as governor.
Adeleke, who stated this when he met the elders and stakeholders of the Kogi West chapter of the PDP in Kabba, Kogi State, on Thursday, said Kogites had proud accomplishments when the party governed the state.
"Kogites know that when PDP was in office, their lives were better than now. Their business concerns were doing well, their salaries were paid in full and things generally moved smoothly.
"I'm Imole (light) and Dino is Imole too. Together, we are bringing light to Kogi State and I implore the people of Kogi State to unite and rescue the state.
"I have told Governor Yahaya Bello that Imole is coming to Kogi State. Our campaign will be issue based and we shall repeat the Osun feat in Kogi State by God's grace.
He called on the people of Kogi State not to be deceived again by the machinations of the All Progressives Congress (APC), adding that, "if you go to APC, they will use you and dump you, no matter who you are. Let us join hands together and move both the PDP and Kogi State forward.
The Chairman, contact and mobilization committee of the national campaign, Professor Jerry Gana, told the people of Kogi West that they "have a golden opportunity to produce the next governor of Kogi State.
"You must pull all your political capital together to ensure that the opportunity of producing a governor this time does not elude you.
Also speaking, the secretary of the national campaign council, Senator Biodun Olujimi, said the people of Ekiti State share close affinities with Kogi West and it is their great desire to see PDP restored to power in the state.
Those present at the meeting were the Kogi State PDP deputy governorship candidate, Hajia Habibat Mohammed Deen; PDP National Vice Chairman (North Central) Mr Dakas Shan; Hon Tajudeen Yusuf; Hon Shaba Ibrahim; Dr Steven Olorunfemi; Hon Abiodun Ojo; the Director General of the Dino/Habiba Campaign Organisation, Prince Inuwa Iyodo; Prince Richard Akanmode; Kola Ologbondiyan; Hon. Mohammed Etudaiye; Hon Adakole Ijogi; Hon Soji Olumorin; Hon S.K Adekunle; Hon Adams Olorunmo, among others.
Signed
Mallam Olawale Rasheed,
Spokesperson to Osun State Governor