Osun's School Feeding Scheme Is A Good Template To Solve Nigeria's Out-Of-School Children Challenge – Amaechi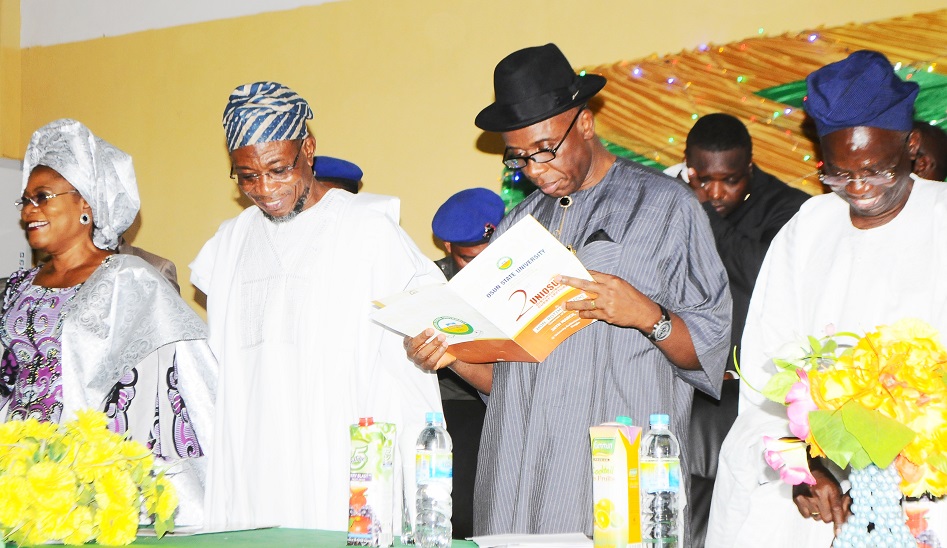 The Chairman of the Nigerian Governors Forum (NGF) and the Governor of Rivers State, Rt. Hon. Chibuke Rotimi Amaechi on Wednesday said adequate school feeding programe such as that practised in Osun under the OMEALS scheme is key to better education of children in Nigeria.
Amaehi while delivering a lecture titled, "Higher Education and Good Governance in Nigeria: The way Forward"at the second UNIOSUN Distinguished Guest Lecture Series, at the Osun State University Auditorium, main Campus in Osogbo, charged every governor in Nigeria to learn from Osun.
This was even as the governor of the State of Osun, Ogbeni Rauf Aregbesola pointed out that, despite the dwindling allocation coming from the Federal government, his administration still marches on providing development projects.
Amaechi held that other states of the federation should emulate the school feeding programme of Osun, saying the programme will reduce the number of out-of-school children in the country.
The governor stressed that he is amazed with the level of infrastructural development of Aregbesola's government in the State of Osun.
The Chairman of NGF pointed that good governance should not be based on the construction of roads but every other amenities that will touch on the lives of citizens with education as one of the cardinal points of every serious governor.
According to Amaechi, "Every serious governor should take education seriously, though it is common for most governors to want to concentrate on road construction because people will praise them.
"It is not enough to construct roads alone, I have noticed that, that is not the case with your governor. His giant stride in every other aspects of development which includes quality education is commendable.
The issue of his school feeding programme deserves an applause, every other state must emulate this programme because it will drastically reduce the number of out-of-school children which Nigeria ranks among the nations with greater numbers of children." Governor Amaechi pointed out.
Aregbesola  told the gathering N5.4billion has been used to argument payment of salary in the state since July last year when the statutory allocation from the Federal Government to Osun dropped from 4.6 billion to 2.8billion.
The governor pointed out that despite the drop in allocation, the situation will not stop him from carrying on with his 6 point integral action plan aimed at developing Osun.
Speaking on his commitment to basic education, the governor said," basic education is not negotiable, that is why we are doing what we are doing on basic education considering the neglect that the sector had suffered, it is our concern to give it it's necessary quality." he noted.
Aregbesola while commending UNIOSUN stressed that a university is not a place established merely for the pursuit of knowledge, but a place to generate knowledge that will bring positive impacts to bear on the society.
According to him, "From what I can observe, I am persuaded to the thinking that UNIOSUN is fully sensitive to this high responsibility and giving it due attention.
"It is my well-considered view that the university, among other considerations, is a unique device invented by human society as part of its strategic tools to solve the problems with which it would inevitably contend.
"What this means in essence is that helping society to confront and overcome its challenges is part of the founding mission of the university. It is a mission in which it cannot afford to fail. I do hope that UNIOSUN will sustain this tradition of academic excellence tailored towards social relevance". The governor stressed.