"Aregbesola's Government Is Incomparable – Says Ekerin Of Iwoland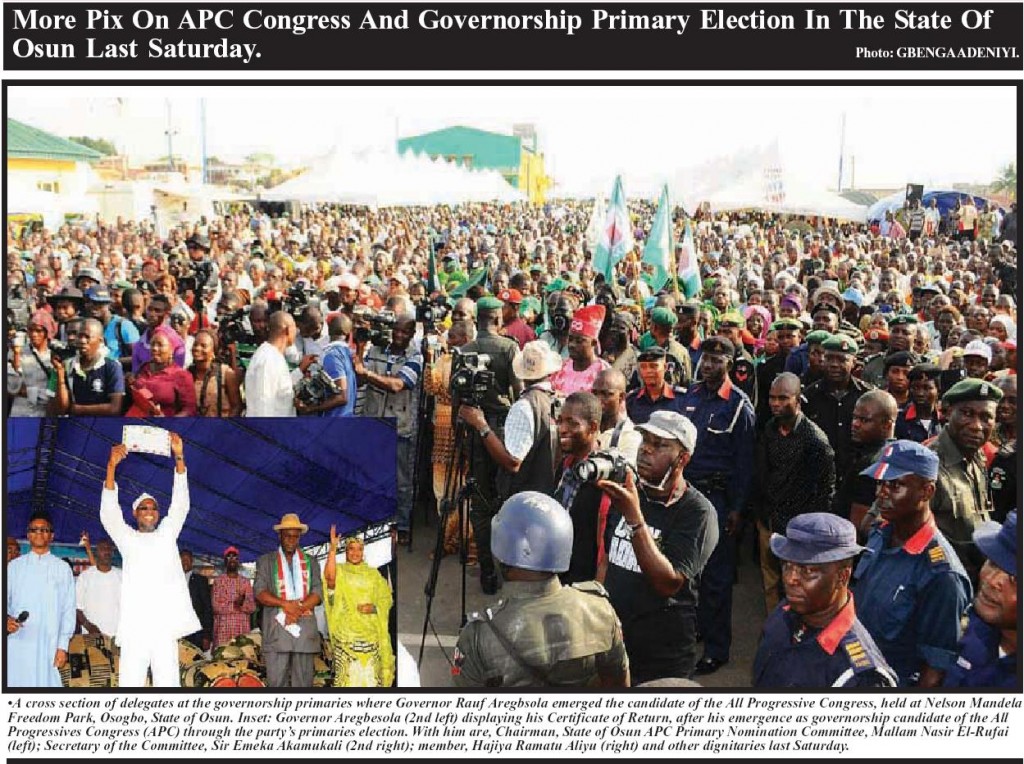 The ancient town of Iwo stood still for several hours on Friday as members of the All Progressives Congress (APC) in Iwo gathered with one voice to endorse the governor, State of Osun, Ogbeni Rauf Aregbesola, for second term.
The playing ground of DC Elementary School, Araromi, venue for the programme, was filled to capacity, as members and followers of the party in their several thousands gathered to express their appreciation to the governor.
Speaking at the event, the Ekerin of Iwoland, Otunba Bayo Aremu, said that Aregbesola's achievement in the last three and a half years is unprecedented and enough to earn him second term.


He said: "Aregbesola's government is incomparable. No administration in the history of Osun has performed as much as he has done, as he has transformed not only Iwoland, but the whole of Osun.
"For Aregesola to pick the Secretary to the State Government, the Commissioner for Women and Children Affairs among others from our land shows that he is a man that loves our dear town so much and he should be supported to rule beyond 2014.
"I have been out of Iwo for many years, but I have decided to come back home having heard of the wonderful transformation that the state is witnessing under Ogbeni Aregbesola", Aremu said.
Also speaking, the Secretary to the State government, Alhaji Moshood Adeoti, urged the people of Iwo and entire state to continue to support the government and the party, saying that, it is only the APC that can move the state and the country forward. Adeoti said: "Look at our roads, look at the new schools he is building, a lot of our jobless youths are now employed as a result of the OYES scheme put in place by our governor and he is feeding our elementary school pupils everyday." He subsequently moved a motion for the adoption of Aregbesola for second term and was seconded by Alhaji Liadi Ganiyu with a loud applause from the teeming supporters of the party.


In his response, Aregbesola expressed his appreciation, as Iwo was the second town after Modakeke to openly adopt him for a second term in office.
While promising his continued delivery of good governance to the people of Iwo and the entire state, the governor announced that the road from Papa boundary to Iwo will be constructed anytime from now.


Aregbesola said: "We promised and we are fulfilling our promises because we are not like the people who ruled the state for seven and a half years before us without anything to show for it.
"At a time in this state, they were the occupants of the three tiers of government: the Federal, State and Local governments and they couldn't do anything positive for the state. They should be ashamed. "We should all begin to tell ourselves that it is only the APC that can deliver good governance in the country; we should not leave the campaign to politicians alone", he noted.
The state helmsman urged the people to ensure that they keep their voters' card intact, so as to be able to exercise their right as voters.
OSUN DEFENDER