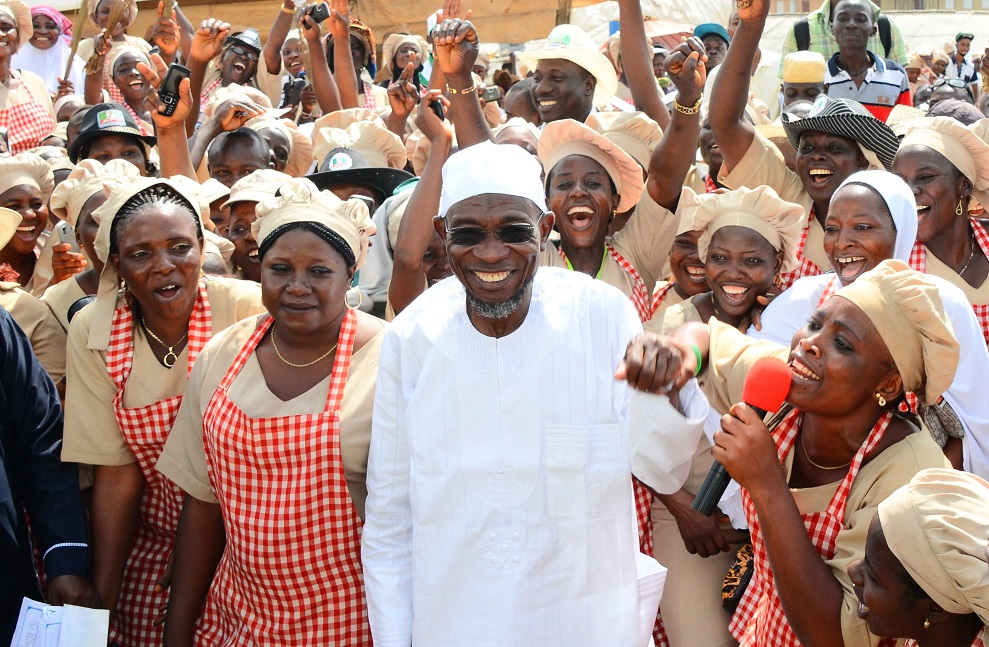 OPINION: The Dynamics Of Aregbesola's "Stomach Infrastructure" And "Their Greek Gift"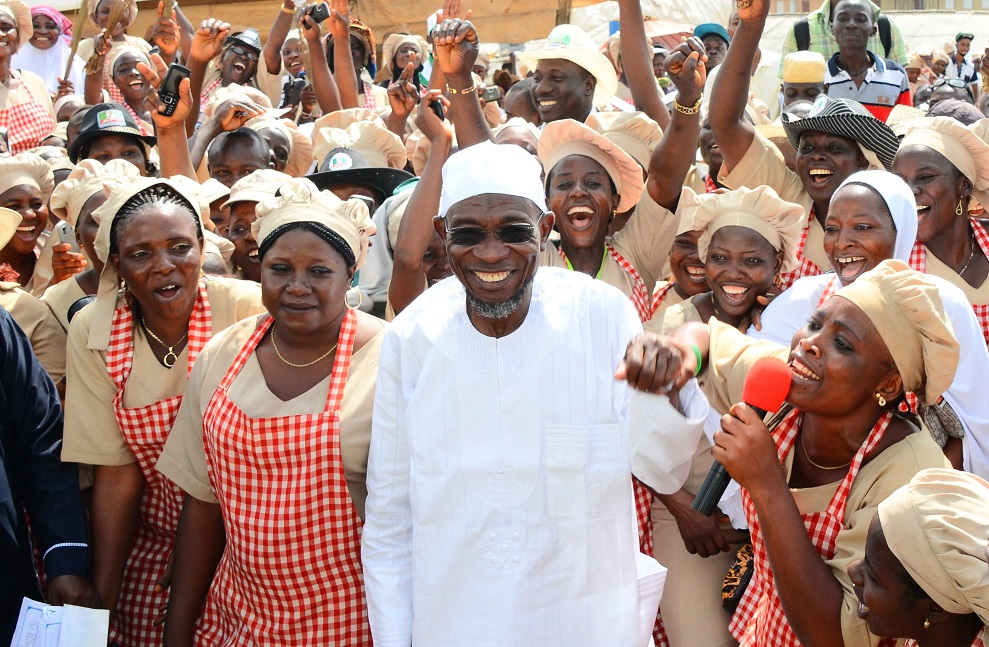 'Stomach Infrastructure' is the lesson we are supposed to take away from the recently concluded Ekiti Gubernatorial Election.  Stomach infrastructure is what it says, and refers to politicians providing handouts for the voters to fill their stomach (primarily on voting day or few days before). A PDP chieftain was quoted as saying derisively; "We know the Osun voter is not worth more than N10,000 (ten thousand Naira) and a bag of rice and we definitely have that in abundance". Such is the disdainful conclusion and the pitiful value they have placed on the state and the Osun Voter! A huge slap on the Yoruba race!
This cynical theory goes along the myopic lines of "it's when your stomach is totally taken care of that you can think of making use of the social amenities and infrastructure". The better saying in my opinion is "give a man a piece of fish and you feed him for a day. Teach him to fish and you feed him for life." Stomach infrastructure without investing in more sustainable social amenities and infrastructure, such as schools, hospitals, roads, etc., inadvertently condemns the population to famine after feasting for one day.
The generally held belief in relation to Dr Kayode Fayemi's defeat in the 21st June, 2014 election is that while he was busy developing social infrastructure, his opponent was taking care of the stomachs of the people in form of distribution of rice and cash. The rest is history as Fayose with his theory of 'stomach infrastructure' outsmarted the man ensuring the availability of social infrastructure.
Looking beyond than the initial description, some academics have gone further to say that 'stomach infrastructure' does not rest on food alone; it includes the politician's personal relationship with the people; his regular and constant interaction and socializing with them. There have been several tales of how Fayose developed cordial relationship with the ordinary citizens in Ekiti State, interacting with them, attending their social functions, eating with them and of course, constantly giving them food.
There have been several tales too, of how that theory will be 'imported' to Osun State to assist the PDP candidate, Senator Iyiola Omisore, in winning the 9th August, 2014 gubernatorial elections in the State of the Virtuous. Unfortunately for PDP in Osun, Omisore is no Fayose and he is up against a man of the people, one with such a popular touch that even the Governor-Elect of Ekiti State will acknowledge.
The sight of Omisore trying in vain to convince the people that he too can ride on "Okada" has crept into our consciousness. An Omisore going to the market to buy roasted corn but guarded by masked security men, inadvertently scaring away the people he is trying in vain to impress…?We see an Omisore awkwardly holding two ears of corn, a failed publicity stunt!
PDP and its backers have forgotten other things, including the important fact that dynamics in Osun are clearly different from that of Ekiti State; that they are dealing with an Aregbesola who is no just more popular than Fayose but who has also invented and developed his own brand of 'the stomach infrastructure' which has proven more profitable, more positive and more progressive than the shallow and retrogressive intent bandied about by the PDP and its backers. Suffice to add that Ogbeni, inadvertently through his actions in and outside the government house has invented a 'stomach infrastructure, that has stood the test of time.
As a commissioner in Lagos State, his office received the highest number of visitors, more than that of the then Governor with his residence always a beehive of activities. Even after leaving office as a commissioner, Aregbesola never alienated himself from the public. It is on record that he always attended to visitors in his private offices in Lagos up until the wee hours of the morning; selflessness that is so ingrained in him, he continues to do so with relish even as a Governor.
Aregbesola's personal life thus defined, his programs as Governor evidence a people-oriented administration. His six-point Integral Action was anchored on providing programs and projects that will positively and directly impact on the ordinary man on the streets. By so doing, Aregbesola has invented a more expansive 'stomach infrastructure' program in Osun to the extent that even though PDP have come with their cosmetic 'stomach infrastructure' the people are not in any way impressed because they have a better and longer lasting form in the programs of the Ogbeni.
What stomach infrastructure can be more effective than provision of employment for youths? This was the first thing the Aregbesola administration tackled in his first 100 days in office. Through the Osun Youths Empowerment Scheme (OYES), 20,000 youths were employed and today the number has risen to 40,000. Most of these youths now work as teachers and computer analysts in the various agencies established by the Governor.
PDP and their candidates' stomach infrastructure is based on distribution of N10,000 and a "Kongo" of rice; Aregbesola's administration has introduced an education reform program, a longer lasting formof stomach infrastructure, for thousands of people. Through the education reform program, 300,000 pupils are fed daily in public elementary schools in the state while 750,000 students were given free school uniforms (with more still reeling out). The ripple effect of the reform program has been the creation of sources of income for up to 3,000 vendors who serve the pupils daily, with the free school uniform programcreating jobs for more than 3,000 fashion designers. The free meal program has greatly encouraged poultry farming in the state so much so that at the last count, the number of poultry farmers in the state had risen to over 1,000. In addition, over 1,000 farmers have been empowered by the Aregbesola administration to provide the needed raw "food" materials to sustain the free meal program.
Still on education, just last Friday, 18thJuly 2014, the Aregbesola administration rolled out its Omoluwabi Free Scholars' Bus, which will take students to and from schools daily. The free scholars' bus is providing "stomach infrastructure" to drivers and conductors who have been employed to operate the fleet of buses.
Aregbesola administration recognizes the Old and the Vulnerable and extends N10,000 (Ten Thousand Naira) monthly stipends to over 1600 beneficiaries in the "Agba" Osun" Scheme.Yet again, on Thursday, 17thJuly 2014, 2,250 households in Osun State benefitted from another program called "Conditional Cash Transfer" (CCT). Selected households headed by women will be given stipends of N5,000 (Five Thousand Naira) monthly for 11 months during which time they will undergo free vocational training. At the end of the 12th month, each will be given N100,000 (One Hundred Thousand Naira) to start the trade in which they have undergone training. Can there be a better or more sincere  'stomach infrastructure' compared to this?
Can anybody say there is a better 'stomach infrastructure' than thousands of employment to youths working in the urban renewal program of the Aregbesola administration in agencies such O'Clean, O'Ambulance, O'Renewal, O'Yestech and O'School? Definitely not!
Wherever he goes, wherever he works and wherever he resides, Aregbesola has always been and continues to identify with the ordinary man on the streets. On assumption of office, it was always common sight, the governor stopping his convoy to interact with people. He introduced the 'Walk to Live' where he, alongside members of the State Executive Council, as well as the people on the streets embarked on fitness walk monthly.Through this program Governor Aregbesola walked in the midst of the people, interacting and joking freely with them with the climax of such events being a rally where he addressed the people on the importance of keeping themselves fit and other salient state issues.
He is arguably the only Governor in Nigeria who regularly communicates and intermingles with the people of his state wherein the people are free to engage the Governor in no holds-barred interactive sessions about the programs of his administration. "Ogbeni Till Daybreak" is an eight-hour non-stop interactive program from night till dawnin which the people are invited to engage the Governor in a no holds-barred interaction, they are given free time to ask ANY QUESTION. Another of such programs is 'Gbangba Dekun' which is also interactive and involves the Governor and the people.
To show Ogbeni's love for the people and his desire to always mingle and interact with them, the three programs i.e. Walk To Live, Ogbeni Till Daybreak and Gbangba Dekun, are rotated round the major communities in the state with the people given the opportunity to air their views on the Aregbesola administration and directly contact the Governor. Because each community has peculiar problemsdistinctive from others, the Aregbesola administration has painstakingly taken its time to address each problem, the result being the ongoing massive development in Osun, a marriage of stomach infrastructure and its social counterpart.
For Osun voters, stomach infrastructure is NOT about being given a fish today but about learning to fish for tomorrow. It's about empowerment. It's about employment. It's about functional education. It's about efficient and effective health care delivery service. It's about durable social infrastructure. All these THEY DEFINITELY HAVE ALL in abundance, hence their rejection of the strange, narrow-minded and retrogressive 'stomach infrastructure' or the Greek Gift imported from Ekiti.
Need we say it loud and again: In Osun, Stomach infrastructure is not about a "Kongo" of rice and N10, 000. Osun is not Ekiti!
Adeyanju Binuyo