Osun People Speak On Aregbesola's First Term Administration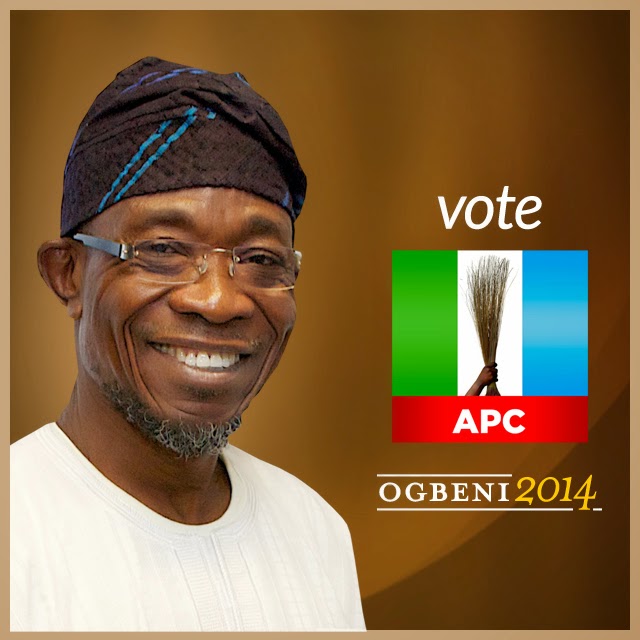 Last year, November, 2013, Governor of the state of Osun, Ogbeni Rauf Aregbesola celebrated three years of his administration. In this report, Adebayo Abdulrazaq sampled the view of the people across the three senatorial districts on the performance of the governor since November, 2010.
Rahman Olawale To my own assessment, trading activities is not going well. May be that is from the top. Concerning social amenities, it is improving because of the stability of electricity in my district. That has greatly improved when compares to its condition before. (IKIRUN)
Moshood AlabiMay God guide Governor Aregbesola. We have noticed a great and positive transformation in educationa, agriculture and economic sectors in the state of Osun. He is trying but he still needs to put more efforts. Most of his projects have not been completed. (IWO)
Gbadamosi Abdulwahab We thank God for Ogbeni Rauf Aregbesola for his great effort in transforming our state since inception of his administration. Security of lives and property is guaranteed in the state and he is doing his best in the economic transformation of the state of Osun. He is trying in terms of education. We can see changes and all he has been doing to the people's aspiration. O-Yes scheme has been tremendous in keeping the youths engaged in the state. (IWO)
Abdurrahman Kozeem I commend the Governor for his laudable project. First and foremost, he provides drugs for hospitals for the benefit of the people in term of health. He also provides eye glasses for those that are infected with eye related problems and he is really taking care of our elders through his programme called 'AGBA OSUN'. Provision of Knowledge Tablet, school uniform, free meal for primary school pupils are typical examples of good governance in the state of Osun. (IWO)
Olusoji Oluwasogo Things are changing in Osun state because in the past we know the kind of challenges we are facing in term of education, infrastructural facilities like road but now we know how things are, under governor Aregbesola. (EDE)
AbdulWahab Adedoyin He has transformed Osun state in term of roads construction and the transformation of Osun state capital to a modern one. In education, he has transformed Osun education base on WAEC result of our students,and Opon-imo (knowledge tablet) which he is distributing to secondary schools in the state. In term of health, I must state in this regard that I am health officer, and I can testify that he has really done a great work in this regard. Let us remove sentiment I have engage in a lot of rescue operation for accident victims on our roads through O-Ambulance policy of the state government. In term of employment, he has employed teacher and enlisted a large number of youths to O-Yes scheme, to get them engaged. On infrastructural development, Oshogbo has just got its status as state capital. Examples abound in old-garage where the state government has just build Freedom Park. He really tried and I can give him 80% mark. (OSOGBO)
Alarape Ibrahim There is development in a state when the people are affected positively. He is really trying in road-networking, and education. He has even diversified the economic sectors in the state. He has brought a new dimension by introducing the 3 levels of education, the elementary, middle and senior class. For the agriculture there is "O-Reap" where most partners were supported and in construction there is O-Road, for every local government there is at least 10km of road construction going on. (ILESA)
Adebayo Dennis I have not seen unfair in the administration of the governor. He should be hailed concerning education. (IKIRUN)
Akeem Ogunse In my own view based on the visible projects executed, they have embarked on a lot of activities in which this Osun State capacity may not be able to sustain in the nearest future, because it is better to do small things and end it successfully without delay than doing many things such that none will be successful. The food given to the pupils in primary schools really motivated the pupils to go to school and parents for the enrollment of their children in schools. I really commend him particularly on the schools uniform. He also tried in terms of infrastructure, though most of these projects are yet to be completed. Notwithstanding, he deserves to be praised. (IKIRUN)
Saheed Alatise He has tried a lot and he is a person raised by God to help masses .When Lagos State governor Babatunde Raji Fashola started his own , people rebuked him but later praised him. He has really tried though I am not a politician.He motivated students in every aspect. Also in employment segment, he provides jobs for people such as furniture-makers, carpenters, and bricklayers. If he can be voted in, for second term I believe he will do more. I will rate him 60% for the fact that he is yet to complete the projects. (IKIRUN)
Adeleke Afeez Abiodun Concerning the road construction, he has to put in more effort but he is trying in education sector and he has succeeded in providing 3000 job for youths through O-Yes scheme. I will also advise him to provide water for the people of the state.
 Sodiq Amina He has transformed our school through the construction of new model schools across the state. In term of health, accident victim are catered for through ambulances, employment generation, he had tried by providing O-Yes scheme for unemployed youths. On infrastructural development, we are just experiencing it in Oshogbo. In my own view, I will rate him 100% (OSOGBO)
Kunle Adesola For educational programmes, he is the best. Indeed all the students were happy concerning tablet of knowledge. Also in agricultural sector he tried because he gave all farmers loans and good chemical. He also provides fund with effective management and monitoring. (OSOGBO)
Animashaun Olalekan Much still need to be done in term of education, although he established 'government private schools' in Ile-Ife will be commissioned very soon. The schools will be affordable for middle class who are interested in enrolling their children in 'conventional private schools'. The development will bring a paradigm shift thereby eradicating large numbers of mushroom private schools which did not only charge parents exorbitant fees but also fail to provide qualitative education for these children. Indeed the policy has attracted parents to enroll their children in public schools. In the area of water, much water is yet to be provided. In the area of employment, he has to be commended; though a lot of criticism come from people as a result of paltry #10,000 he is paying monthly for the members of O-Yes employment scheme. The man has started somewhere because a loaf of bread is better than none. This initiative has kept many youths from committing crimes and helping them to be productive. (IFE)
Arayewu Oluwaseyi He has transformed the various sections in the state and has contributed meaningfully in empowering the people in Osun state. (ILESA)
Moshood Agbaje Actually, I can score him above average because he has tried almost in all sectors. In the areas of health, road construction and agricultural sectors, when compare to the past administrations. He has tried his best to make changes especially in area of education, construction of new schools. And almost all the roads that linked to the state capital have been opened. That is the express model! Also in employment generation, he has been fair to people. In the sense that he organized examinations so that the employment will be on merit in order to get better result. I will give him 100% because he has tried more than other governors.
Taofeek Olalere In my view, Ogbeni Rauf Aregbesola has been fair. In fact, people have been commending his efforts in all sectors like agriculture and education. He has performed excellently but in that of education, the only comment is that the merging of school looks somehow because there is no way you can distinguish a student of Fakunle Comprehensive High School from Laro Grammar School. They all put on the same attire. But, my advice is that, that should be a way of distinguishing them should in case of any crime or problem.
Abdulwakeel Sakirullah In my view, it's hard for many people to understand how he operates. He has really done plausibly in the economic and social development of the state. He has done impressively by distributing the Opon-Imo because this will help the student. He has done well in the health sector by distributing the needed equipment for the health workers. He is the best for now.
Amoo Olusegun Governor Aregbesola has been a great one for the state and at the same time it has been a misfortune on the other side. I like his O-Yes programme. His education programme is good. The merging of schools will be a setback for his administration. In terms of employment, he has done a great job in this regard. Some of his programmes are okay while some are unfair. For instance, it was said that Osogbo has been developed but nothing was done there and the same thing for Iwo. We have not seen any good change there.
What do you think of the administration of Ogbeni Rauf Aregbesola? Share with us on
Facebook
at Government of the State of Osun and Twitter @stateofosun