APC Remains Antidote To PDP's Misrule – Aregbesola, Oyinlola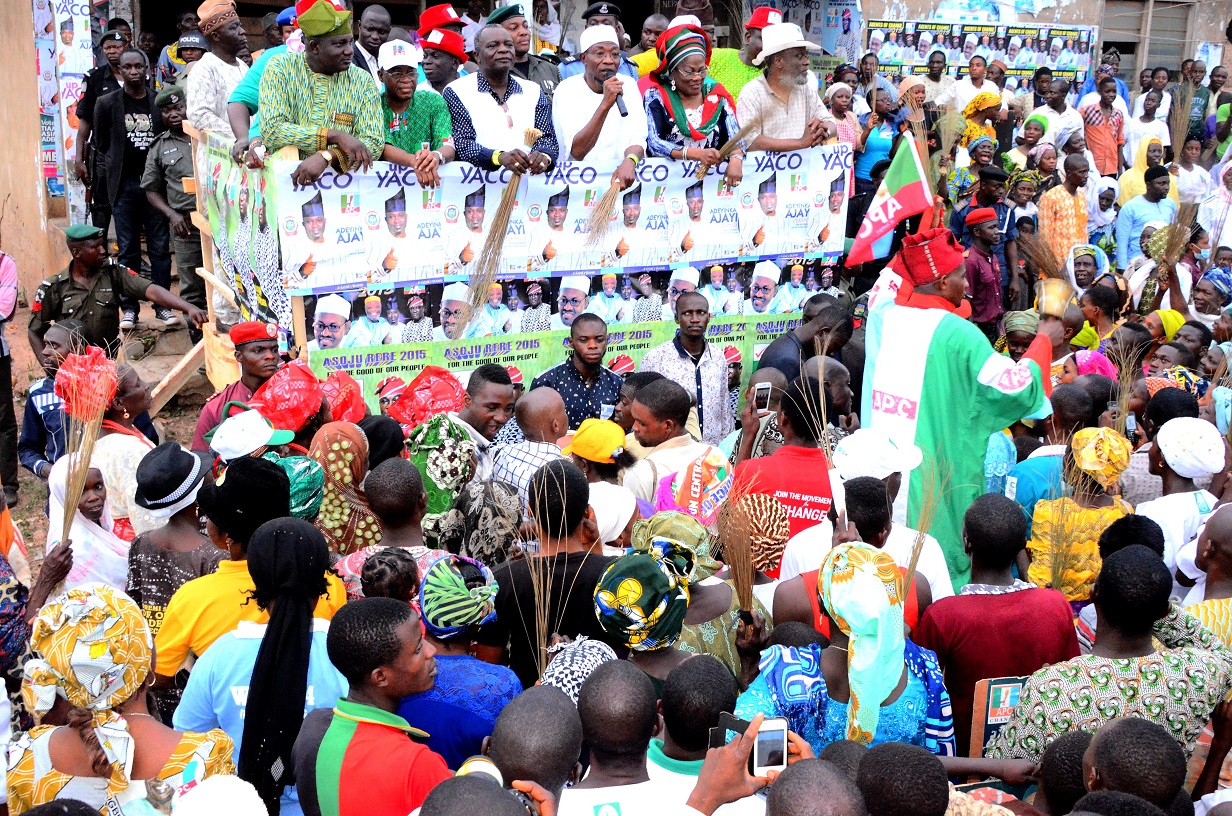 Governor of Osun, Ogbeni Rauf Aregbesola, has reminded the people of the state of the urgent need for change as the only necessary antidote to the nation's political and socio-economic hardship.
In a statement by the Director Bureau of Communication and Strategy, Mr. Semiu Okanlawon, the Governor was quoted as speaking in a round-off campaign for the All Progressive Congress candidates from presidential to the State House of Assembly positions.
He was quoted as tasking people to vote APC candidates all through.
The governor in company with the former Governor of the state, Prince Olagunsoye Oyinlola, on Tuesday traversed several towns and local governments in Osun Central Senatorial districts flanked by three senatorial candidates in the state, nine Federal House of Representatives and 28 House of Assembly candidates.
Some of the towns the campaign train visited include Oba-Ile, Oba-Oke in Olorunda Local Government; Eko-Ende, Eko-Ajala in Ifelodun Local Government and Ore, Agbeye, Ekosin in Odo-Otin Local Government.
Aregbesola reminded the crowd at every campaign ground of the need for them to be resolute on how to return the nation to path of progress and development by voting General Muhammadu Buhari on March 28 to rescue the nation from its present doldrums.
He averred that what the country yearns for now is a brave, patriotic and committed leader like Buhari for its dwindling fortunes to stop.
He said that with Buhari as President, the nation will witness tremendous turn around because APC's programmes are targeted at the mass of Nigerian people.
"I can assure you that the March 28 election is a crucial one for us. It is an election we in APC intend to use to free the nation from the clutches of politically fickle leaders.
"Buhari had been tested before. We knew how he once rescued the country from the precipice during the Second Republic.
"Given this antecedent, Buhari is ready again to lead the country out of the woods the sixteen years of Peoples Democratic Party (PDP) has led it into.
"Therefore, vote for APC at all levels of government so that we can all rescue our country from PDP's endless years of hunger, hardship and servitude," Aregbesola said.
He also educated the people on the best ways to go about voting during the elections, during which he also presented the party's candidates to them one after another.
For Prince Olagunsoye Oyinlola, the best thing that could happen to Nigeria is the Buhari Presidency.
He told the people to troop out in large number to cast their votes for APC if they actually want the nationwide insecurity, unemployment and hardship to a thing of the past.
"All I can tell you, our dear people and supporters, is to let us all come together and end these years of misrule.
"We can only effect this change by closing rank jointly and firmly resolve to go in one direction. This resolution to vote no other party than APC is a task that must be performed," Oyinlola said