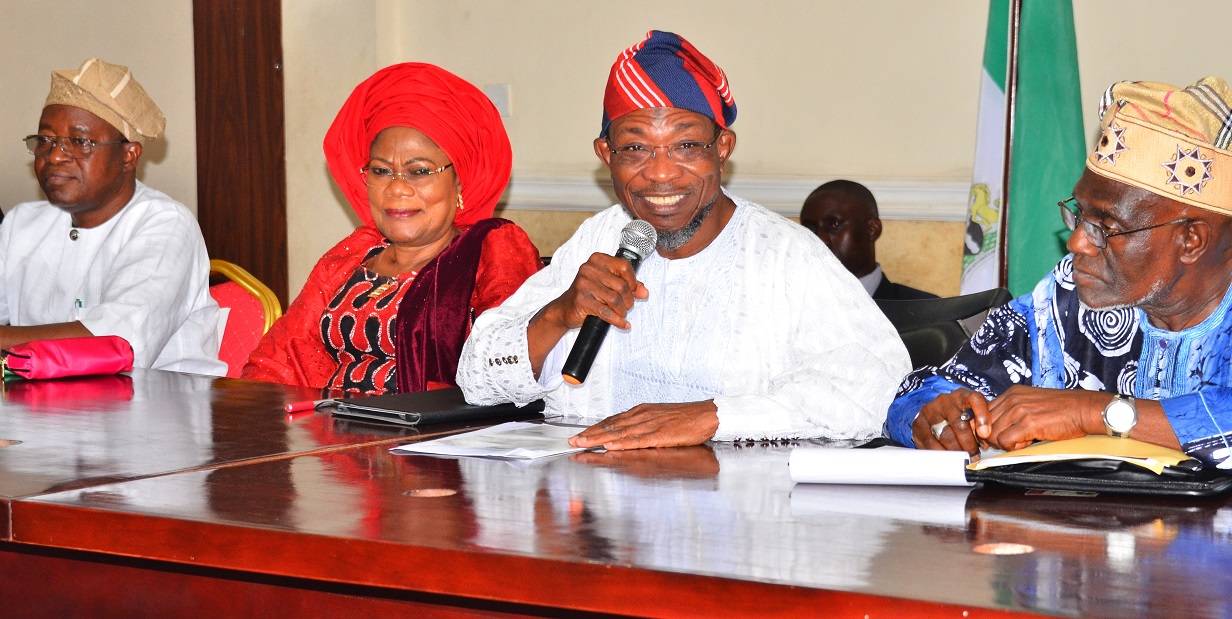 SPEECH: We Are In Extraordinary Times – Rauf Aregbesola
I welcome you all to this important and epochal event in the annals of our state, the inauguration of the committee of government and labour on the apportionment of net revenue accruing from the Federation Accounts and Internally Generated Revenue (IGR) to the State Government of Osun to take care of salaries, pensions and other critical expenditure of government.
As we are all aware, a financial tsunami swept through the federation, beginning from July 2013 and ravaged the entire country until the exit of that anti-people ancien regime. This crippled the finances of the states and the Federal Government, making the payment of even salaries very difficult. What many do not realise was that the governmental system of the whole country was under mortal threat, and not only Osun. It might interest us to know that the government of Goodluck Jonathan, according to his Finance Minister, Dr Ngozi Okonjo-Iweala, had to borrow N476 billion from commercial banks to be able to pay salaries in the last four months of the administration.
Thank God for His mercies. If God had not heard our prayers and came to our rescue with the election of President Muhammadu Buhari, the entire Nigerian government at all levels was dangerously racing towards bankruptcy. This should not surprise anyone. The then governor of the Central Bank of Nigeria (now the Emir of Kano) Sanusi Lamido Sanusi, had alleged that over $40 billion oil sales was not remitted into the Federation Accounts. That was when oil was selling for over $100 per barrel. This tragedy was compounded with the eventual fall in oil price to circa $40. We now know where the money went.
But our predicament began in July 2013 when our Statutory Allocation from the Federation Accounts took a nosedive from N4.6 billion to N2.6 billion. Before then, the monthly expenditure we inherited was N1.4 billion salaries and N200 million pensions, making a total of N1.6 billion every month. However, with 100 per cent increase in minimum wage, relativity and addition of 8,500 retirees to the pensions roll at the state and local government, our monthly emoluments rose to N3.6 billion, including a monthly pension bill of N520 million. Our finances therefore took a jolt when our statutory allocation fell in 2013 and continued in a freefall which got to the nadir of N466 million in April this year.
The change in government gave us a reprieve, with the magical disappearance of oil money being gradually stemmed and a small lift in oil price, making it to hover around $45; our monthly allocation has steadied around N2.2 billion. The President has also graciously arranged a bailout of N34.9 billion for us. Although this has helped us to be able to pay salaries up to July this year, it is a far cry from the N88 billion we demanded. That amount would have enabled us to offset all outstanding indebtedness on emoluments and other obligations.
We have opened all our books; we have been honest and transparent on our financial status and we have not held anything back. We have run an open government. Nevertheless, I want you all to know that in spite of the reprieve we got, we are not yet out of the woods. The challenges ahead are still enormous. By this I do not mean our obligations on salaries and pensions; that will be a small minded understanding of government. For the government to function effectively, it must not just pay salaries, it must also empower the workers to do their work (which is the overhead cost) and more importantly, it must constantly be conscious that its raison d'etre is the delivery of public good through the provision of social services; and it is for this reason that workers are hired in the first place.
When we therefore look at the responsibility of government through this whole gamut, we must rise beyond the sterile debate of reducing government finances to just paying salaries.
In light of this, it must be clear that we are in a tough time. Even then, as Robert Schuler once wrote, "Tough times don't last, but tough people do'. The time calls for toughness on our part. We must look critically at the next 24 months, steer the ship of state through this stormy weather and land at a safe harbour.
On the part of our workers, we must be prepared for a more efficient service rendering. We must change the attitude from government job being seen as social security to a profitable venture; not venture for financial gain but business for social service. We must be business minded. The positive impact of every agency of government must be felt in its own area of assignment and responsibility. In education, your products must be found to be worthy in learning and character. In healthcare, your work must be reflected in a healthy citizenry. In agriculture, it must be in undisputable food security and banishment of hunger. There must be real works to show for public works. The time has come for us to start measuring performance.
We must also do away with a bloated workforce, eliminate laziness and redundancy, block all avenues for embezzlement and leakages and make government work.
We are entering into a period of adjustment, where we must get much from little and achieve more with less. We must rise to the challenge of the time. It is a call to duty and a clarion call to action. If we are not prepared for the challenge, we are going to be worse off than we are now in two years. But God forbid!
From all of us, we must recognise and reconcile to the need to pay our tax. Paying tax is the first obligation of citizens to the government. I have been making the point long before we had the financial challenge that every government must be run from the tax generated from the people. From our own taxes, we should be able to pay salaries, run government and develop the state. The allocation we receive from Abuja should be a sort of legacy fund tied to specific legacy projects. There is nowhere in the world where government is successfully run without the citizens paying tax regularly and responsibly.
We are calling also on the Diaspora to join hands in the development of our state. They can be part of our efforts at education, through the soon to be established education trust fund. In spite of our efforts, there are a lot still to be done in education, in order to secure the future of our children and create a well-informed society.
Comrade Hassan Sunmonu has graciously accepted to head the committee being inaugurated today. He is a man of integrity, wisdom and uncommon passion for people. I have no doubt that with other distinguished members of the committee, the task on hand will be met with a resounding success.
I congratulate members of the committee and wish you success in the service of the people. I thank also all the workers in the state for their understanding, forbearance and unalloyed support through these times.
*Being the full text of speech delivered by the Governor of Osun at the inauguration of the Hassan Sunmonu-led Standing Committee of Labour/Government in Osogbo on Friday, October 9, 2015.