Stop Consuming Imported Rice – Aregbesola tells Nigerians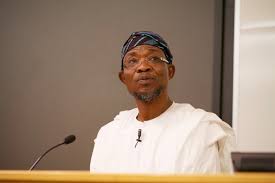 Governor Rauf Aregbesola of Osun State has called on Nigerians to stop consuming imported rice, better known as foreign rice, urging them to return to the pre-1980 era when indigenous rice was served only during festive periods.




Aregbesola, who also advised Nigerians to embrace family planning, argued that when the consumption of imported rice is stopped and the number of children given birth to by each couple is limited, then would poverty be eradicated from the country.
He stated this in Osogbo, the state capital, yesterday at an event organised by the Osun State Agency for Community and Social Development to mark the 2016 International Day for Eradication of Poverty.
"If we work and pray, we will banish poverty from our environment. Rice was not a staple food in Nigeria before 1980. Ofada rice was the only rice eaten during festivities. We should return to the time when we were eating indigenous rice.
"We have cassava, plantain, beans and yam. We should return to the time when we were eating our indigenous foods.
"Secondly, we should embrace family planning. I am not asking you to kill the ones you have given birth to but we should stop the erroneous belief that we would be sick if we don't give birth to all the children in our body," he said.
The governor also pointed out that since laziness was a factor that engendered poverty, every adult should strive to be productively engaged, especially in the agriculture sector, to ensure an abundant availability of food.
The Minister of Agriculture and Rural Development, Chief Audu Ogbeh, had announced that the price of rice would start to fall from November this year, adding that his ministry would not encourage rice importation because it would be detrimental to local production.