INTERVIEW: Why Omoluabi Public Offering Opens, Closes Same Day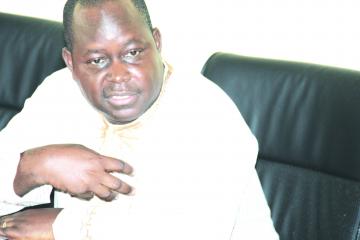 Dr. Wale Bolorunduro, is the Osun State Commissioner for Finance and is also the Chairman, Board of Directors of Omoluabi Savings and Loans.
In a group interview with newsmen in Osogbo shortly after the Completion Board Meeting of the company, he spoke on the offer targeted at increasing the company's share capital by N1.65 billion.
Here are excerpts.

As the chairman of Omoluabi Savings and Loans limited, the Public Offering is opening today and closes today why?
The offer is not opening today but opening on 27th of December and closes the same day. The reason why we have to do that is that the Central Bank of (CBN) Nigeria requires Omoluabi Savings and Loans limited to have completed its capital raising above one billion naira to take it to N2.5 billion.
So, by doing this offering, we would be able to raise N1.6 billion, Omoluabi Savings and Loans will be above minimum capital requirement of any mortgage banks to continue to operate under Central Bank of Nigeria.
We believe that Omoluabi Savings and Loans is the asset and inheritance of the people of Osun and that is why we are opening this opportunity to Osun indigene to be co-owner of Omoluabi Savings and Loan.
Before the completion of the board meeting of today, the share of the company is purely owned by the state government and the local government, but now, the state and the local government will continue to own their share while the indigenes of the State will from henceforth own their share because there is an opportunity for all. By law, current Directors of the company are not allowed. It is basically for the workers of Osun State and government is trying to help the workers to buy part of the shares. What will happen now is that, the shares are going to be exposed to market discipline.
We believe this is another landmark achievement for the administration of Ogbeni Rauf Aregbesola and to also show to the world that Ogbeni is not just a Governor but a Governor of the people and a Governor that thinks of opportunity for his people. So, the people of the state are to own shares of Omoluabi Savings and Loan and on a yearly basis collect dividends. So, it is also an investment opportunity created by Aregbesola, for us and for the country.
The offer is significant because for some time, there has not been any Public Offering in Nigeria. So, this is the first in five years. The capital market we could say was sleeping and Osun has set to wake it up and we believe that come 27th December, Omoluabi Savings and Loans Limited would have been able to raise that 1.65billion share and the share would be public, The law of the country does not allow us to restrict it to only Osun citizens but if we have preference of allotment, we will give it to Osun indigenes and residents.
What is the advantage of the offer to the people of the state?
It would be promising, I am not supposed to give futuristic performance but I know that there would be opportunity for the holders to trade and there would be opportunity for the performances to gain and honestly judging by the performance of Osun, anything Osun steps in, God prospers it. So, it is going to benefit the people of the state.
With the problems that befall the capital market in the past, is there any hope for the offer in the state?
One thing with the performance of shares is fundamentals. There is no doubt about it that there was a bubble period in capital market when people were not looking at the performance of the company they want to buy. That era has gone. The Security Exchange Commission and Nigerian Stock Exchange have put rules to prevent sharp practices. We believe that is rebounding. If you look at the capital market since the beginning of this year, it has being gaining. If you are holding Guinness share and that of International Breweries Plc, you would have made money. We believe in fundamentals of Omoluabi Savings and Loans, we will strive hard to sustain our performance.
With the increase in Omoluabi Savings and Loans capital, what would be the faith of Housing Mortgage?
The faith of Housing Mortgage is that Omoluabi Savings and Loans will now have more capital to trade and to lend to Housing Mortgagees, who are the recipient of mortgage services. People that want 10, 20 years mortgage to buy a house from four to ten million naira, Omoluabi will now have the capacity to do that. So, think of a multiplier effect of increasing the shareholders' fund, which enables you to do more business in terms of capacity as a bank; it will also enable you to attract more deposits because there is always be a deposit ratio between your shareholders fund and your deposit. Now, it can take more deposit and it can also do more business.
What is your take on what the Federal Government want to do by selling our refineries?
Well, when you want to sell your asset you must ask yourself what is the worth of that asset? Just as the company has its net worth, I gave you an example of Omoluabi Savings and Loans that it has over 1billion net worth it is known to be a mortgage company with non performing asset. So, if the Federal Government wants to sell its refineries, there is a way to do it because the prospective buyer would want to know what the asset is worth. The consequence on the nation is that if the refineries are sold and made operational and functional, the
Premium Motor Spirit (PMS) are international commodity; the prices would be affected by the international prices. If it is made functional whether you have absorbed operation, government can still own it and absorb operation with a very strong performance agreement. Government can retain the ownership and source for a credible operator, that is another option but when you take it out of the government's budgetary system it would be much more efficient.
DAILY NEWSWATCH