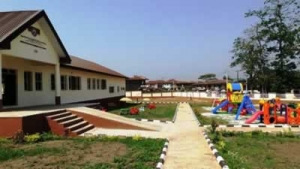 Osun Has Built 1,724 New Classrooms In 39 Schools – Aregbesola
A total of 1,724 ultra modern classrooms have been completed in 39 schools throughout Osun State,  Governor Rauf Aregbesola has disclosed, just as he inaugurated another state of the art elementary school in Osogbo, the state capital.
Speaking at Isale-Osun in Osogbo, the location of the newly-inaugurated  school, the governor said his administration would not relent in providing conducive atmosphere for qualitative education for the children in the state.
Amidst pump and pageantry, parents and citizens, in their thousands, thronged the venue to catch a glimpse of the state-of-the-art school that could  accommodate about 1,000 pupils, with 28 classrooms, hall, sickbay, staff room, grassed courtyard, recreational toys, basketball court with an area fitted with swings and other toys.
According to Aregbesola,  the policies and programmes of his administration had  been deeply steeped in vision, well-oiled by passion and firmly backed by action, stressing that "as far as education in Osun is concerned, government is on a mission to develop the greatest asset in nature and the human mind."
He pointed out that the inauguration of another new model school building was another sign of his administration's serious intent to completely remake the public education system in the state.
Said Aregbesola:  "When I assumed office as the governor of the state, I had a vision of what the future of education in Osun State public schools should be like. It is a vision that sees our public sector education on a comparable level with what obtains in the most educationally advanced parts of the world."
ALARINKA AGBAYE