Osun Restructuring Will Produce Competent Youths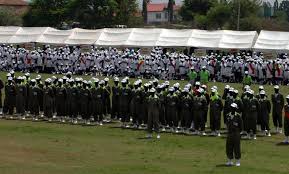 The ongoing restructuring of the education sector in the State of Osun has been described as a system aimed by the State Governor, Mr. Rauf Adesoji Aregbesola, to produce competent youths that will contribute meaningfully to the development of the state in no distant future and be able to compete favourably with their counterparts from every part of the world.
Deputy Governor and the Commissioner for Education in the State of Osun, Mrs. Grace Titilayo Laoye-Tomori, stated this in her keynote address to participants at a symposium organized by the Government of the State of Osun to address the state's education programme tagged Symposium on Osun Education Policy in Perspective: Issues, Challenges and Imperatives.
Describing education as not just an ordinary tool meant for knowledge acquisition, but a machinery which will assist in the development of a complete man and help him to contribute meaningfully to his society, Mrs. Laoye-Tomori said the symposium is in tandem with the open door policy of the present administration in the State of Osun which focuses on serving people of the state better.
According to her, the present administration inherited a moribund school system on its assumption of office in November 2010 with virtually nothing on ground to aid teaching and learning in the state's public primary and secondary schools, teachers' morale being at its lowest ebb, poor performance of students at both the internal and external examinations culminating in having only three percent of secondary school graduates qualified for admission into tertiary institutions.
Mrs. Laoye-Tomori said the number of elementary school pupils which totalled 155,318 at the introduction of the school feeding programme of the present administration, OMEALS, on April 30, 2012 has since risen to 252,793 as at December 2013.
She said 14.41 billion naira has been committed into the construction of 39 elementary schools, 14 middle schools and 12 high schools across the state, 1.6 billion naira expended on renovation of dilapidated and reconstructed schools together with a sum of 2.5 billion naira spent on the purchase of school furniture.
Mrs. Laoye-Tomori said in an attempt to create a unified identity for elementary, middle and high school pupils in the state and to entrench virtues of Omoluabi among them, the state government freely gave 750,000 school uniforms to them, provided teaching aids in schools with 503 million naira and released a total sum of 856 million naira as running and examination grants to schools adding that Opon Imo (Tablet of Knowledge) has been freely given to 28,000 out of 32,000 pupils.
Speaking on the reduction of school fees in the state owned tertiary institutions, the state Deputy Governor said UNIOSUN fee was reduced from 198,000 naira to 100,000 naira, that of the state's Polytechnic reduced from 42,000 naira to 25,000 naira while that of the state's Colleges of Education was reduced from 28,000 naira to 20,000 naira.
In his lecture, Dr. Ayoade Owoade, said the state government's aim is to give the best to people of the state through the series of its programmes most importantly in the education sector saying the administration of Mr. Rauf Aregbesola is fully focussed on improving on their plights.
He said the administration will stop at nothing to better their lots adding that the administration is God sent to realign their lives. Participants at the symposium were drawn from different media houses across the country.
OSUN NEWS