Aregbesola, Kalu Call For Love Among Nigerians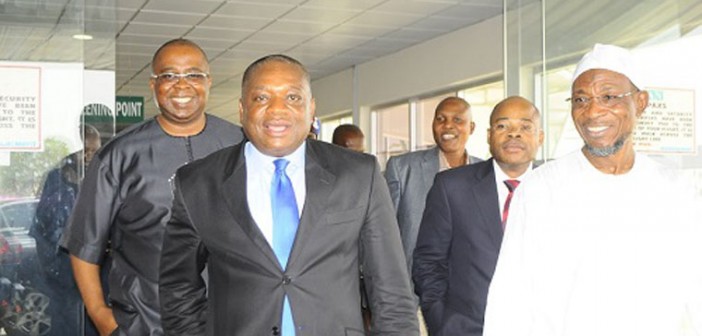 Osun state Governor, Mr. Rauf Aregbesola and the former Governor of Abia state, Dr Orji Uzor Kalu have called on Nigerians to exhibit love among themselves for the country to move forward and for the dreams of its founding fathers to be realized.
Both Aregbesola and Kalu spoke at the Saint Benedict Catholic Church, Osogbo on Sunday when Aregbesola accompanied Kalu who was on a visit to the state to the church to worship.
Particularly, Kalu, a devout Catholic who spoke to the church congregation during the mass noted that love is lacking in the country, hence the slow pace of development in the country.
The former Governor who was accompanied to the church by Senator Emmanuel Onwe described Aregbesola as a humble politician who has contributed significantly to the development of the state and entire Yoruba nation.
He said "Aregbesola is a very humble politician and it's not common to see such Politician with high level of humility like Aregbesola. He is a lesson in humility and his genuine love for the people has set Osun state on the world map today."
Dr Kalu who also met with Igbo Catholics called on the people of the state to support Governor Aregbesola in his bid to develop the state and make it envy of others, stressing that governor Aregbesola has the acumen to lead the state to the Promised Land.
Speaking during the church service, Governor Aregbesola said his determination to develop the state was born out of his love for the people, stressing the need for Nigerian leaders to also exhibit great love for the followers.
Aregbesola who pledged to personally renovate the church also promised that his government would construct befitting roads that would lead to the church.
He said he was in the church to honour Dr Kalu, who he described as an elder statesman and a detribalized Nigerian who has contributed significantly to the growth of the country.