SPEECH: A VISIONARY ROAD MAP – Delivered By Gov. Aregbesola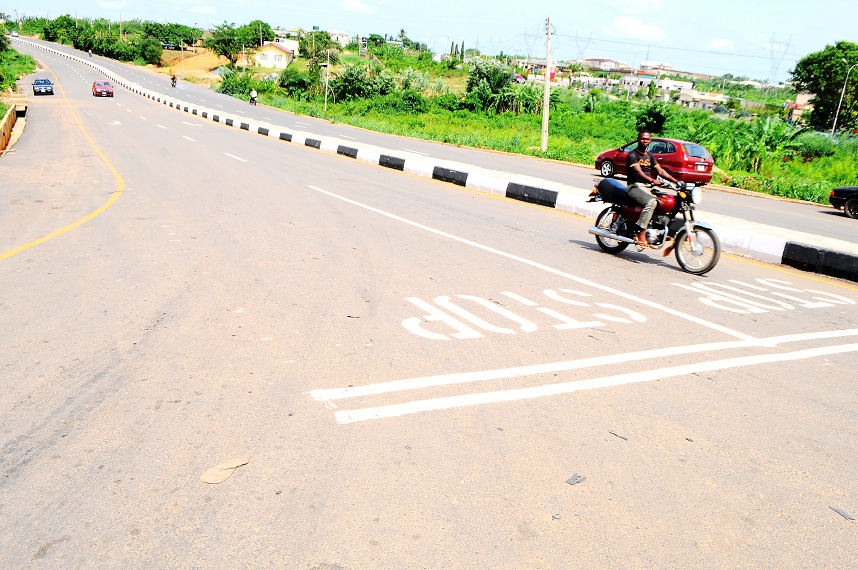 SPEECH DELIVERED BY THE GOVERNOR OF THE STATE OF OSUN, OGBENI RAUF AREGBESOLA, AT THE OFFICIAL COMMISSIONING OF THE OSOGBO METROPOLITAN ROAD PROJECTS, HELD AT OROKI ESTATE, ON MONDAY APRIL 28, 2014
Protocols
A VISIONARY ROAD MAP
I want to start today's commissioning ceremony on a note of congratulation to the people and State Government of Osun. This stems neither from a sense of vanity nor an attempt to celebrate frivolity. Rather, it arises from a feeling of concrete achievement at transforming our vision into reality.
As an administration, we have operated on the notion that governance is inescapably about vision – a clear conception of where you want to go from where you are. But the vision would amount to nothing without actually moving from where you are in the direction of your conceived destination. This means that vision must be translated into concrete achievements on the ground.
In effect, at the inception of our administration, we had a vision of progress for Osun, of which road infrastructure development is a vital component. Because of the paramount importance of road transportation for the movement of people and goods in Nigeria, including Osun, we also accorded it a priority attention in our development scheme.
Consequently, we came up with a map for the comprehensive development of our road network. These encompass rural and local roads, intra-city and inter-city roads, as well as inter-state roads. This road plan cuts across the length and breadth of Osun.
But we conceived our road infrastructure development plan in the full consciousness that people do not commute on road maps; they travel on actually marked-out asphalted surfaces. Consequently, we embarked on giving concrete effect to what we have conceived in our mind and mapped out on paper.
All over the state we commenced in earnest the construction of new roads, the reconstruction of some others, and the repair and rehabilitation of old and dilapidated ones. In the Six Geo-political Zones of Osun, we selected six roads extending for over 74.1 kilometres.
Likewise, in the state's Federal Constituencies, we chose for construction and rehabilitation intra-city roads which cover 79 kilometres. In the road map being executed, there are also 20 inter-city roads that extend over a distance of 294.27 kilometres.
Included in the road plan under implementation are 10 kilometres of road construction in each of the state's local council areas including the Area Office. These are in addition to the eight road rehabilitation projects that we inherited from the immediate-past administration, with a total coverage of 144.29 kilometres.
There are of course the big ones, the massive road projects that connect various parts of Osun to other states with which we share borders. These include the 36.85-kilometre dual carriageway road we are constructing from Osogbo to Ila-Odo on the state's border with Kwara State, and the Gbongan-Orileowu-Ijebu Igbo Road, which is also a dual carriageway.
Then, there is the Omoluabi Motorway, being reconstructed into a dual carriageway, from Akoda to Gbongan Junction, where it will have a Trumpet Interchange named after our elder statesman and former governor, Chief Bisi Akande.
The township roads component of the plan includes different towns and cities in the state in their coverage. They have been completed in Ede, in Ilesa, and now in Osogbo. As the state capital, the Osogbo township road development project stands out as a product of a visionary road map. They are intentionally aimed at making Osogbo the truly modern state capital it deserves to be
In view of this, the roads are designed to ease transportation within the city, as well as in and out of it. Together the roads stretch for 26.31 kilometres. They are a total of 21 roads that we are commissioning today. They include: Station Road to Ebenezer Hotel Road; Boorepo to Elelede Junction Road; Elelede to Gbemu Road; Gbodofon to Gbemu Junction Road; and Ilobu Road to GRA Road.
Others include: Oja Oba Road to Plantain Area; Balogun Biiro to Oke Baale Road; Alafia Street to Church Street, Awolowo Way; Coca-Cola to Capital Hotel Road; Oke Onitea Road to Anaye Market Junction; Okefia to Ita Olokan Road; the Road from Opposite Capital Hotel to Oroki Road; Oroki Estate to Ilobu Road; Odetoyinbo to Heritage Hotel Road with Spur; and Kola Balogun Road Junction to Fiwasaye Olohunosebi Junction.
There are also the Osunbukola to Ede Road; John Mackay Road to Oke Baale; the road from Tanisi to Keji Adigun Street; Adams Street to Mercy Land and Road Spur; Steel Rolling Camp to Kabelo Filling Station; and Rehabilitated Ifeloju Omo-West Road.
A closer look at these roads would reveal a deliberate pattern of an Inner Ring network of roads within Osogbo which connect and complement the existing Outer Ring Road around the city.
The Inner Ring Road takes off from a point directly opposite First Bank along Osogbo-Gbongan Road, from where it winds through Gbodofon to Jaleyemi and Gbemu Junction Road, and up to Isale Aro. This stretch covers 1.79 kilometres. It then cuts across the Oja-Oba Road to connect Gbemu Junction to Oluode Market through Elelede Junction and Abaku Road, and on to Boorepo, covering a distance of 1.47 kilometres.
From there, it links up with the ongoing dual carriage Osogbo-Ikirun-Ilaodo Highway. From across the Highway, another stretch of the road runs from Church Street to Bisi Bankole/Anaye Market Street, through Alaafia Street to Oke Onitea Road and up to Anaye Market Junction, to connect with the existing West Bypass Road. Here it covers 2.08 kilometres and loops into a semi-circle inside Osogbo.
Another 1.35-kilometre section of the Inner Ring continues from GRA Road to Adesina Crescent and up to Osogbo-Ilobu Road around Lameco Junction. From here it branches off into the dual carriageway Oroki Lane. Up this lane, an L-arm of the road   turns right to connect with West Bypass at Jerry Paul Filling Station.
The other arm goes up through Oroki Estate onto Tinumola/ Wonderful Road to intersect with the Iwo Road to Okefia, at a point directly opposite Capital Hotel. Another span of the road goes in from beside Capital Hotel to Alekunwodo right through Coca-Cola.
This 2.33-kilometre section bursts out onto Osogbo-Gbongan Road, but this time beside First Bank, from across the point where it took off, to complete the Inner Ring Road formation in the Osogbo Road Master Plan.
These roads are constructed to last between 15 and 20 years. They feature drainages that are fortified with iron and concrete thickness of between 60mm and 70mm. The accompanying drainage channels will further enhance the life span of the roads by draining flood water away from the roads and thereby preventing their being washed away by erosion.
To improve the engineering integrity of the roads, they have been constructed with various layers consisting of laterite, stone base and asphaltic overlay of 50mm. Their asphaltic thickness is of the same quality because they will be plied by all grades of vehicles.
All these roads put together have cost us tens of billions of naira. But we are not perturbed by the huge amount of money we have committed into the road projects, we have our minds on the unquantifiable benefits they will have on the lives of our people and the overall socio-economic development of Osun.
In what we do, we do not allow ourselves to be detained by the little details of short-term inconveniences; that is for small minds to get in a stew over. Instead, we focus our minds stoutly on the big picture and the long-term value of the sacrifices we are making today.
When we started these roads, our traducers scoffed and mocked the project, claiming that we would never have the funds or the presence of mind to see them through. But to the glory of God and their eternal shame, we have delivered on our promise. We are not resting on our oars; our greater vision is to tar every road in the state since we cannot conceive of a beautiful environment without good roads.
We will therefore continue to convert our visionary road map for Osun into concrete and enduring legacy of asphaltic surfaces for the engendering of socio-economic development, progress and prosperity for our people.
I thank you for being attentive.
Osun a dara!