We'll Complete All Projects, Aregbesola Assures Osun Residents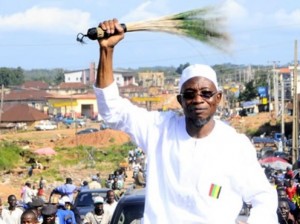 Gov. Rauf Aregbesola of Osun has assured residents of the state that all projects embarked upon by his administration would be completed to specification before the end of his tenure.
Aregbesola gave the assurance on Wednesday while inspecting the ring road project being constructed by his administration at Ofatedo area of Osogbo, the state capital.
The governor said that all the projects were embarked upon by his administration to facilitate socio-economic development of the state.
"All these projects being carried out in Osogbo and other parts of the state were to bring smiles on the faces of our people,'' Aregbesola said.
He commended the contractors handling different projects in the state, urging them to ensure they executed the projects according to the specified terms.
Aregbesola promised that his administration would transform the state, adding that it was the responsibility of   government to provide infra structural facilities for the residents.