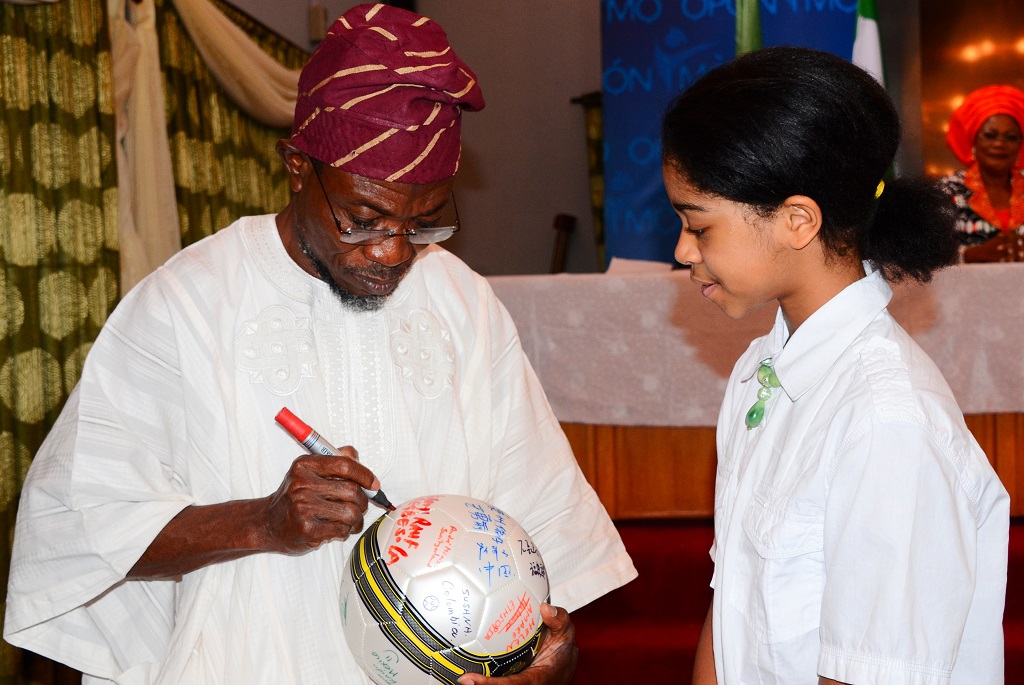 OPINION: Oyeyemi's Online Hallucinations
A horde of liars is a dangerous crowd. Those who comprise it think little, talk volubly, lacking in logic and sense; always placing the truth on the scaffold rather than enthroning it on their conscience. They act questionably just to serve the exigencies of piper payers. A modern society where those who should know deliberately prefer lucre to liberty is not only dreary but doomed as the beautiful and brightest are mortgaged without hope of redemption.
On July 03, 2014, the age long pen man, Remi Oyeyemi, decided to stand the truth on its head by prattling on http://newswirengr.com where he observed the truth and denied its existence. Oyeyemi began his piece on the note of a successful interactive meeting which Governor Rauf Aregbesola had with Principals and Headmasters of public primary and secondary schools. Of the greatest number of well-meaning individuals and immediately gave himself away as a hired hand tasked to work the devil to heaven from its deserved place in hell.
From the remnants of his conscience and sight, Oyeyemi, in one fell swoop contradicted himself when he wrote that Aregbesola had developed the State of Osun infrastructure and contradicted this assertion with another that it drained the state financially. It was at this point that it became discernible that Oyeyemi laboured hard to justify his paymaster's expectations to call a dog a bad name just to hang it.
It is surprising that the Oyeyemis of our world now want a political kitchen where people make omelette without breaking an egg. Typical of such group, they seek the divine blessing of multiplication without gestation. As they are wont to behave, they go to the maternity hall to look for a virgin.
Oyeyemi wrote of Aregbesola further: "he (Aregbesola) has given hope to the frustrated especially among the downtrodden. But it is a hope given with the right hand but retrieved with the left. He has made people believe that things could change for the better while at the same time make believers of people that things could be agonizingly worse. Aregbesola's main forte is the development of infrastructure. Ironically, it is also the one of the major causes of his misfortune".
The above is in contrast to the official figures of the Federal Office of Statistics that has credited Osun, in the last four years as the seventh largest economy in Nigeria. Oyeyemi accepted that the Osun Governor has been a blessing to this generation by achieving the unimaginable feat of transforming the State of the Virtuous from a rustic running circus to one with an advanced economy holding the prospect for an assured future.
Oyeyemi exposed his ignorance of the workings of the State of Osun and her people when he referred to Akinwumi as the Secretary to the State Government instead of Alhaji Moshood Adeoti while the jottings he received from his sponsors appeared to have been mixed up while putting the piece together as he called the immediate past Head of Service, Mr. Segun Akinwusi as Segun Akinwumi.
Yes. Governor Aregbesola had to stay his hand in appointing his cabinet for some months during which he was able to save enough to achieve the development of Osun. Oyeyemi should not allow his memory to fail him that the finances of Osun at the time of Aregbesola's take of were comatose.  Osun was simply on life support machine. It was almost clinically dead. What with the deduction of N650 million monthly from the state revenue leaving virtually nothing to meet the core state services. The 1999 Constitution provided for the appointment of a cabinet without a time limit. The beauty of Osun today arose largely from the good governance measures like compulsory savings that gave birth to the development which Oyeyemi referred to in his piece. Oyeyemi claimed falsely that civil servants are unhappy due to what he referred to as non-payment of salaries.
We challenge Oyeyemi to point to a particular Ministry, Department or Agency of the state where workers have not been paid. He baselessly wrote further that "as for teachers, their fate is not different from that of their principals and Headmasters. They are also owed salaries of several months. They are grumbling". Oyeyemi's position was not surprising as it could only have come from the pen of an idle reporter whose stock in trade had been to peddle rumour and elevate fiction to the level of news.
Oyeyemi and his co-travellers could not be bothered that development of 10 kilometre road per Local Government required huge capital outlay that only financial discipline and frugality could achieve such feat.
Through frugal expenditure, compulsory savings, and leak-proof financial management, Governor Aregbesola was able to make provision of N1billion Naira to settle outstanding claims of pensioners pending when the crisis arising from the Federal level would be sorted out. The windy writer was so tardy and reckless in his unfounded, wild and wishful claims that he gave himself up cheaply as a hatchet writer commissioned to hunt down the soar away popularity of a successful and well-decorated Governor whose mandate is about to be renewed.
For the information of Remi Oyeyemi and his sponsors, people of the State of Osun are not ungrateful to Governor Rauf Aregbesola. Our people know their friends apart from their traducers. They know those who oppressed them for 90 gruesome months and are not ready to be rail-roaded into subjugation and deprivation anymore.
If all that Remi Oyeyemi could say about the geriatric safety net "Agba-Osun" through which thousands of economically distressed and highly vulnerable senior citizens receive N10,000.00 monthly is wry commentary, then we wish him the same condition at his old age.
Osun, according to the Inspector-General of Police, Alhaji Mohammed D. Abubakar is one of the most peaceful states in Nigeria. This peace which we enjoy has no value to Oyeyemi and his ilks. He derisively mocked our people's desire for sanity, security and all the good things of life.
Osun's school reclassification programme is the best that our people need to reverse the decline in the sector. Teachers are partnering with the administration to see it succeed but Oyeyemi is parroting those who led our state to the rot of the past and are determined to return us to their jaundiced position.
This hatchet writer even tried to play members of our party against their own government. We wonder when Oyeyemi was hired as the spokesman of APC members to take their complaints to their own Governor who they are standing by on August 9, 2014. Oyeyemi is gravely but delibrately wrong in his assertion that members of APC who have been trooping out in their thousands are not with their Governor. The people will decide and their votes must count whatever the shenanigan being planned by Oyeyemi's sponsors.
In his reprehensible claims, the writer falsely asserted that Muslim Schools were merged with Christian schools. There was nowhere Muslim Schools were merged with Christian schools. Oyeyemi is as false as a vow made in wine and our people cannot be swayed by his lies. Oyeyemi elevated falsehood to the highest level when he claimed preposterously that the school uniform was provided by the Wife of the Governor. That is a Godless lie told by the damned and lost. What does he have to say to the Osun tailors who chose, designed and approved the uniforms for the Elementary, Middle and Higher Schools? The religious tension he alluded to in his piece exists only in his tipsy imagination and hallucinations. Osun people, whether Christians, Muslims or traditional worshippers are living together peacefully, harmoniously without malice.
We used to know Oyeyemi as a journalist. He has been around for some time but the piece he has put out belies his credentials. With this piece, there is no single reason to believe his professionalism. He has laid no claim to one and his place is already defined. His treatise of lies has fallen like a pack of cards before his very eyes and he sure must face the judgment of Truth. Once a reporter has formed the habit of turning liquor bars to his newsroom where he writes his stories, his gatekeepers know it is time to give him the gate. A failed professional is the enemy of all things good, bright, noble t and worthy. They form part of the acidic horde; the enemies of sanity and good governance.
When those who are supposed to stand up and be counted on the side of the truth offer themselves as tools in the hands of marauders and plunderers of the people's patrimony, then we know that there is a job to do and the Omoluabi ethos must come into force while the banner of egalitarianism hoisted in the era of Freedom for all; life more abundant must remain hoisted aloft without flagging.
We have no doubt that Osun people can see through what Oyeyemi refused to see and they know what he does not know. Those who hired Oyeyemi to destroy the good works of Governor Aregbesola will not breast the tape on August 9, 2014.

Gbenga Fayemiwo