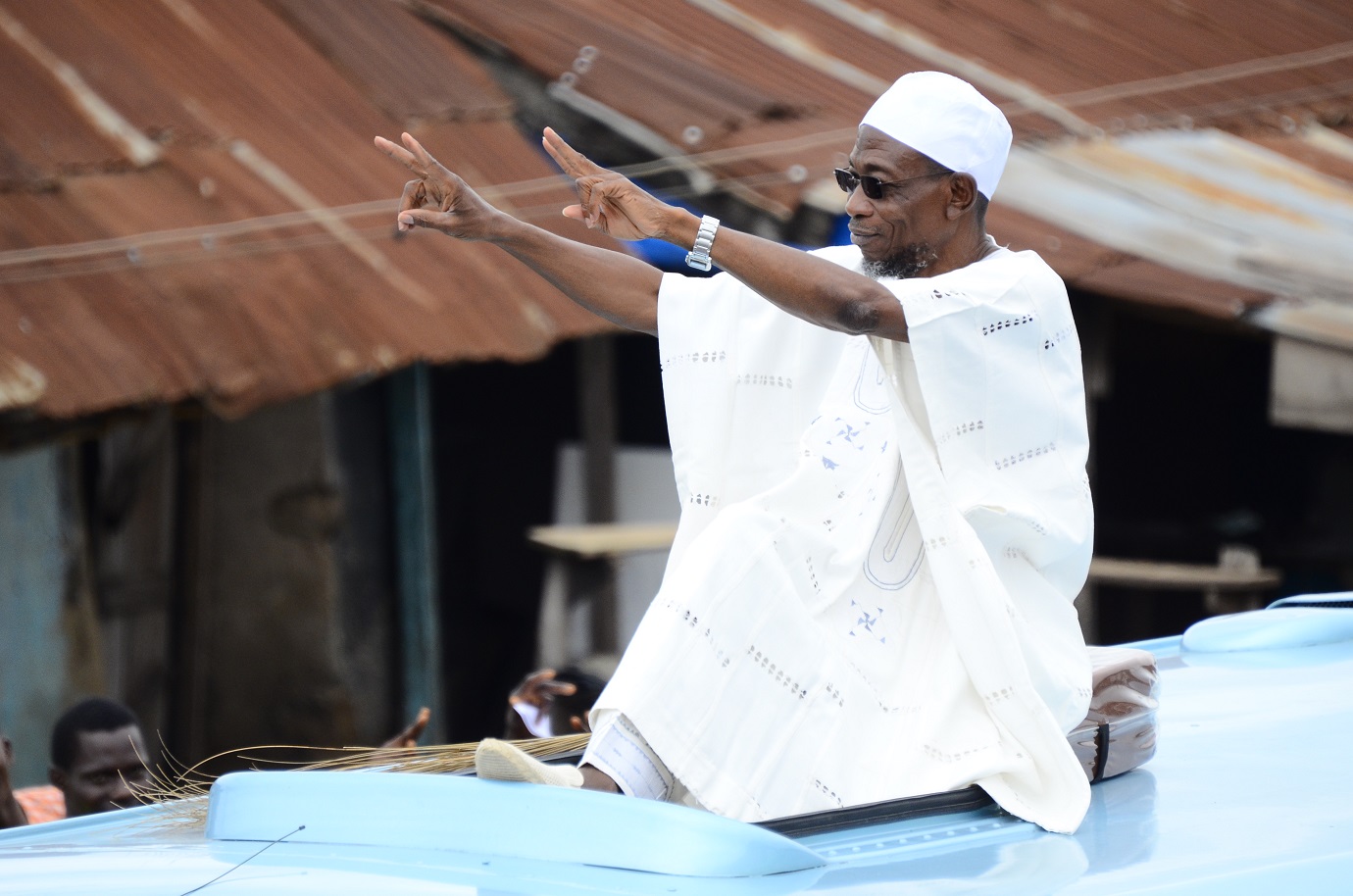 We're In Politics To Serve The People –Aregbesola
The Governor of the State of Osun, Ogbeni Rauf Aregbesola, has disclosed that service to the people motivated him to go into politics.
Aregbesola said while others have no ideas of what to do with power, he thinks about policies and programmes that will positively turn the fortunes of the people.
The Governor stated this at the palace of Timi of Ede, Oba Munirudeen Adesola Lawal, during a political campaign to Ede Federal Constituency on Tuesday.
He said that a holistic analysis of his administration's programme will reveal that his government has treated the people and various political districts in the state equally.
He revealed that Ede Constituency supported his governorship ambition in 2007 by voting en mass.
According to the Governor, the Cocoa Industries in Ede will soon be rejuvenated as a government delegation has gone to China for the purpose of purchasing new machines for the industry.
"Our administration has treated the various political districts equally, without favour of sentiment.
"Ede has been supportive of our ambition and government. Without the votes of Ede North and Ede South Local Government Areas, I would not be governor.
"Without these two local governments we would not have the two members of House of Representatives and one member of House of Assembly.
"Don't let the opposition tell you lies because that is their stock in trade. Ask them to tell you the programmes they have for the people. But we know they have none.
"What we have done in this state in less than forty months surpass what they did in seven years both in quantity and quality.
"As we speak, the Chairman of Ede Cocoa Industries in China on how to get brand new cocoa processing machines.
"I assure you that this is just the beginning of good things in Osun," Aregbesola said.
He listed some of the achievements of his government in the federal constituency thus: * Rehabilitation of 21.3km Ede township roads
* Construction of 7.3km local government roads in Ejigbo LG
* Construction of 7.7km local government roads in Ede South LG
* Construction of 10km local government roads in Ede North LG
* Construction of 8.5 local government roads in Egbedore LG
* Rehabilitation of 8.9km Abere-Ojoro-Yidi Road
* Total overlay of Royal Hotel Road, Ejigbo
* Completion of a Government High School in Ejigbo
AUD Government Middle School, Ejigbo
*Seventh Day Adventist Government High School, Ede
*L.A Government Middle School, Agbongbe, Ede
*L.A Government Elementary Schoo, Obada, Ede
*A total of 1, 941 tablets distributed in the Federal Constituency
*561 tablets distributed in Ede South LG
*324 tablets distributed in Egbedore LG
*669 tablets distributed in Ejigbo LG
*393 tablets distributed in Ede North
In his remark, the former Governor of Old Oyo State, Dr. Omololu Olunloyo, described Aregbesola as true politician with love for his people.
Olunloyo said the works of late Sage, Chief Obafemi Awolowo; former Governor of old Ondo State, Chief Adekunle Ajasin and Chief Awokoya, which had been stagnated has received a boost from Aregbesola.
The elder statesman said Aregbesola understand the game of politics more than all the governors in the South-West.
The Timi of Ede while giving his royal blessings, commended Aregbesola for the massive work going on in the state.
The monarch stated that the governor, having given a good account of his administration in the first term, deserves to be re-elected to continue the good work.
"You have performed very well in your first term. The people of this state will make sure you come back to continue the developmental stride.
"With the people supporting you, your second term is definitely assured," Oba Lawal said.