Stop Playing Politics With The People's Welfare, Aregbesola Tells Jonathan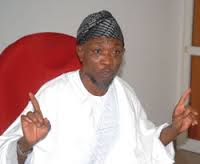 Governor Rauf Aregbesola of Osun State has urged President Goodluck Jonathan to play less politics with issues that bother on genuine service to the citizenry as he alleged that the president refused to approve the take-off of state Emergency Call Centre and free farm product and good rail services, which his administration had initiated, to turn Osun State to a hub of development in Nigeria.
The governor stated this on Sunday, in Osogbo, at an interactive session with newsmen at the Government House.
He said that despite his efforts in meeting with the president and intimating him with the two ideas and writing official letters to that effect, "they did not acknowledge the letter to give us what we want."
 However, Aregbesola, who recalled what a commentator said about him, that he began the second-term campaign the day he was sworn in 2010 said he was resolved to do his best for the state based on his aversion to poverty and the need to reverse the status of the Black race, in the world.
"Look today, we are the only government in Nigeria apart from Lagos that has emergency call centre, which has been made dysfunctional because the Federal Government just refused to give us code to activate the short emergency centre which has been ready for more than 13 months ago," he said.
According to the governor, the centre, which was put in place for the state by the Nigerian Air force, will have enable the government to respond to cases of emergency, even in the remotest part of Osun State, had the Federal Government allowed it use 123 Emergency Code.
"If that emergency call centre had been activated, we acquired a helicopter that will get to the farthest part of the state in 15 minutes to attend to any emergency. That is why we acquired the helicopter, but because we didn't activate the call centre, it won't cost the Federal Government a kobo, it is just to direct the National Communications Commission (NCC) to allow us use their 123 Emergency Line," he said.
"I wrote the president, he didn't do it. Emergency does not know party, it does not know tribe or ethnic group, anybody could be in emergency in this state. We don't want needless death. The president said this is good, he didn't acknowledge the letter," he said.

This is as the governor pointed out that the some journalists, who were coming from Abuja sometime ago after a programme of their Union, would have been rescued on Ikire road, were the call centre activated as he desired.
"The centre is there, go and look at it, it is state of art facility, when it comes to Aregbesola's project, they couldn't do anything to assist," he stated.
Speaking on the rail project, Aregbesola lamented that the project, which he initiated six months into his administration also suffered similar fate because President Jonathan turned his back at it by refusing approval of use of existing rail line from Osun State to Lagos State.
"By the time I was six months in power, I got a deal from a Chinese company to give me five locomotives, five rolling stocks, without paying a kobo. You know I have this programme then of transporting goods, farm produce free of charge from here to Lagos, it is still there, then bring finished products from Lagos to Osun, so as to turn this place to a hub for people to come here and pick their things since it will reduce the cost of transportation. I took a letter to Abuja, saw him and gave him the letter and he didn't acknowledge it.
The governor said it pained him to see projects that would stand to the benefit of the masses being sacrificed on the altar of politics and, therefore, urged President Jonathan to comply with the oath of office he swore to, by seeing himself president of Nigeria and not for Peoples Democratic Party (PDP) only.
TRIBUNE