Aregbesola Entertains Others To Relax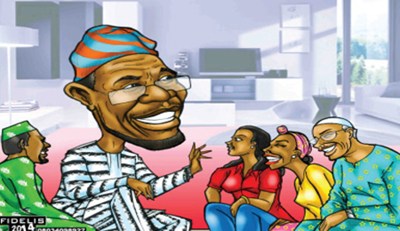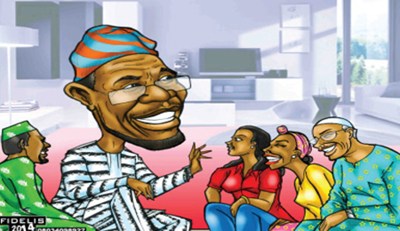 Humorous Governor Rauf Aregbesola resorts to entertaining others to unwind. Shola Oyeyipo writes
For the Osun State Governor, Mr. Rauf Aregbesola, August 9 is a date with history because, that day would determine whether or not he would return as governor. But while all the antics last, the governor still understands the need to strike a balance between work and relaxation for productivity.
Humorous and in a class of his own, Aregbesola loves the presence of people. Small wonder he is quick to assume that his lifestyle is what some of his opponents adopt in projecting themselves as populists.
For instance, he has since assuming office been embarking on 'Walk for Life,' an exercise that sees him walk the streets of Osogbo, the state capital with a hoard of people as a health engagement to encourage healthy living.
"I prepared so well for the office in a way that going by the normal run, I should not be working as hard as I'm working now for re-election. A commentator said something to the effect that I am one of the politicians who from day one began my campaign. From the day I entered this office, I started my campaign.
"How many governors walk the streets with their citizens? I have been doing that since the first month in office. How many governors create interactive forum in Nigeria before me? There is none. I was the first governor that devotes close to ten hours of continuous engagement on a quarterly basis with the citizens.
"The people ask questions in a no-holds-barred atmosphere. The 'Ogbeni Till Day Break' is a worldwide engagement because we take feedbacks from the social media. The 'Gbangba Dekun' is another monthly community interactive forum where the governor sits with stakeholders in the community to ask or make inquiries on any issue.
"These are the pictures of direct engagements that we are doing with the people that no government in Nigeria has ever attempted to do. We also have a carnival like procession in 'Walk to Live' where we just walk round the communities and it is engaging and popular because everybody wants to be with the governor," he said.
Asked the exact thing he does for relaxation, Aregbesola says cracking jokes, dancing and singing. Entertaining others is apparently his best form of pastime. And it is so because his work schedule demands so much of his time such that he needs to incorporate his fun into his work and politics.
"If you saw me when I was talking to you, I was dancing, I was laughing and I was smiling. That is the way I wind down. I entertain myself, I relax through that method. If you watch my campaigns, they are filled with mirth and fun. You don't see me just engaging in lengthy talks without interjecting it with songs and gesticulations that would entertain the people and through that I relax myself.
"I have been doing that since I became a public figure because I realised that if I want to dedicate a specific time for relaxation, it is very difficult for me," he explained.
It was what the governor put to work during his recent visit to Uniosun along with the Rivers State Governor, Rotimi Amaechi, where Aregbesola did some serious 'Skelewu' dance steps to the admiration of the students who could not hide their elation.
No doubts, his very casual and friendly predisposition to the people have been an added advantage to his comeback bid.
THISDAY