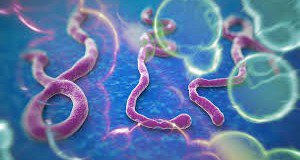 Ebola: Osun Creates 4 Isolation Centres
AS a preventive measure to check the spread of the dreaded Ebola Virus Disease EVD in Osun State, the government has created four isolation centres in case of eventuality.
The Special Adviser to the state Governor, Mr Rauf Aregbesola on Environment, Mr. Bola Ilori, disclosed this weekend in Osogbo.
He said the isolation centres were located in the three senatorial districts of the state and Osogbo, the state capital.
The centres, Ilori said would cater for the residents of the state who showed any of the symptoms of EVD.
He advised members of the public to inform the state government officials if they noticed any individual with the symptoms of EVD.
Ilori who declared that Osun state was free from EVD, said the state government had set up a committee on the prevention of EVD in the state.
The committee, he said would work with government officials in both the Ministries of Health and Environment on modalities for the prevention of the contagious disease in the state.
Ilori commended the Federal Government for committing huge sum of money into the prevention of EVD since its outbreak in the country.