LEGAL WEEK: Osun CJ Pardons Mentally Unstable Man, 8 Other Inmates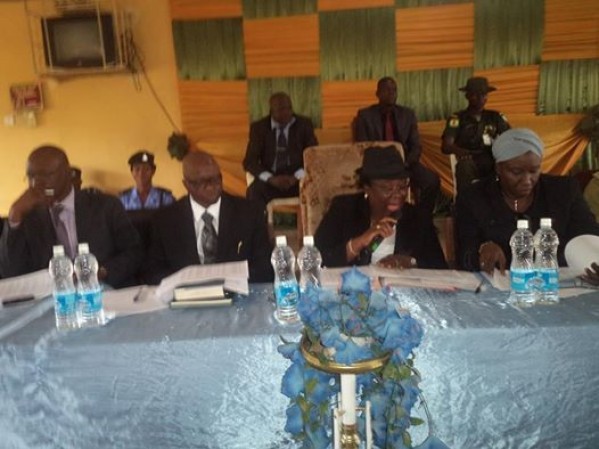 As part of activities to mark this year legal week, the Chief Justice in the State of Osun, Justice Adepele Ojo, has on Tuesday September 23, 2014 released a mentally unstable man, Usman Shaibu and 8 inmates from Ilesa prison custody.
This is just as 5 others were granted bail because of their ill-health which the prison health officer, Mr. Samuel Agboola, said the prison's hospital could not handle.
Those released are: Dauda Karimu (29), Bamidele Balogun (42), Seun Alatise (31), Dayo Oluwafemi (36), Usman Shaibu (31).
Others are: Victor James (23), Femi Bamidele (24), Ojo James (38) and Kabiru Jimoh (34).
Also, those granted bail are: Sunday Agwu (29), Adebayo Sunday (31), Abiodun Adebayo (46), Ibrahim Saheed (32) and Tosin Ojo (35).
Most of the inmates listed for consideration of pardon were standing trial on armed robbery and murder cases and have spent about 7 years in prison custody without their case being heard at the court.
While some were released on health ground, others were released because their case file could not be found after some years in prison.
Those released on health ground were Shaibu, a mentally unstable man who has spent 5 years in prison, Bamidele, an asmathic patient who has spent 4 years, and Jimoh a neuro disease patient.
Karimu, Balogun, Alatise, Oluwafemi, Ojo and Victor were released because their case file could not be found after 7 years in prison without their case being heard at the court.
Also, Justice Jide Falola frowned at the delay of justice for prisoners adding "most of them have wasted 7 years unproductive for neither themselves nor the state. They may come out and become notorious most especially when they were not guilty of the allegation they suffered for."
He however urged the police to be diligent in their prosecution saying that "any offence that does not have a case file was just to punish the accused person and it is not good for an innocent person to be languishing in prison."
Meanwhile, a female prisoner (name withheld), who was brought by the prison officer for pardon was denied as all magistrates objected to her forgiveness.
The inmate woman was sentenced to one year imprisonment by a woman Magistrate Olowolagba, for issuing a fake cheque of N270,000 to her customer.
The prison officer, Mr. Alabi Ibrahim, said that he brought the woman because of her infant who was not released to her family.
Ibrahim informed the CJ that the woman had spent 3 months out of one year praying that her sentence be quashed so that she would go and take care of the infant.
Also praying for the release of the woman was, an Assistant Legal Aid officer, Mrs. Julie Olorunfemi, who said that her office would have paid the fine if the woman was given an option of fine.
When Justice Falola asked why the woman was not given an option off fine, the magistrate that handled the matter was said to be absent.
But, the Chief Magistrate, Mr. Muhammed Lasisi, who spoke on behalf of others magistrate, said that he would be discouraged if the woman is pardon noting that the discretion of magistrate that deliver the judgment would be queried.
The CJ however urged the legal aid to take up the matter and appeal the judgment.
While narrating their ordeals, the freed inmates said with the kind of experience they have had since they were brought to the prison custody, they would not like to pray for their enemies to experience such.
They, therefore, gave thanks to Almighty God for giving them freedom after many years in prison, just as they appreciated the Chief Judge for extending her mercy hand on them.