Osun Raises 54000 Oil Palm Seedlings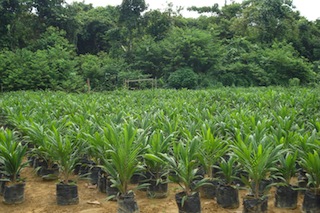 Wale Adedoyin, Osun Commissioner for Agriculture and Food Security, said on Friday that the government had raised 54,750 improved oil palm seedlings to replace ageing palm trees.
Adedoyin disclosed this at Ojere farm settlement in Ife North Local Government Area of the state where the distribution of the seedlings to registered farmers was inaugurated.
The commissioner said the distribution was a component of government's Semi Wild Groove Yield Enhancement Scheme.
He said the programme was borne out of the government's commitment to the production of food in abundance.
He promised that the government would ensure the provision and distribution of free, unadulterated oil palm seedlings to farmers in the state.
He said the government raised 54,750 improved oil palm seedlings spread in seven nurseries in which 41,544 was the establishment count to replace ageing oil palm trees.
Adedoyin enjoined oil palm farmers at the Ojere axis, the direct beneficiaries of the pilot scheme, to use seedlings to regenerate their plantations.
Seyi Adegbembo, Project Manager of Tree Crops in the Ministry of Agriculture and Food Security, charged farmers to make the best use of the agricultural farm inputs.
Adejumo Anthony, a beneficiary, who spoke on behalf of the farmers, described the occasion as an omen of the good things that would happen in the agricultural sector.
Adejumo described the regeneration of oil plantations as a wise investment for the state.