SPEECH: Why The Good Work Must Continue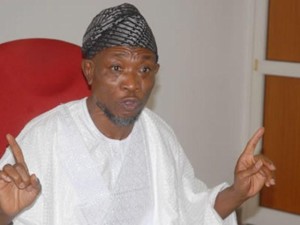 Address Delivered By The Governor Of The State Of Osun, Ogbeni Rauf Aregbesola, At The Ceremony To Mark The Official Kick-Off Of The Construction/Rehabilitation Of 225-Kilometre Rural Roads Under The Second Phase Of Osun Rural Access Mobility Project (RAMP II), Held At Ira Open Square, Oriade Local Government, On Thursday September 17, 2014.
It is most pleasing for me to preside over this ceremony to mark the official kick-off of the Osun Rural Access Mobility Project (RAMP II). This is one project that is very close to my heart as the head of government in Osun at this particular time in the history of our dear state.
My special interest in RAMP stems from the fact that it has to do with the road infrastructural development in those parts of our state that have received less attention but in dire need of it in road expansion and improvement.
There is no gainsaying the fact that rural areas have generally suffered a disproportionately greater degree of neglect in infrastructural development over the years. Indeed, this is partly responsible for the reverses and setbacks that we have experienced in terms of our socio-economic advancement.
In this respect, the importantage-old business of agriculture has particularly been hit hard. This has culminated in the progressive decline in agricultural production with dire consequences for our capacity to feed our rapidly increasing population.
It has had other equally serious negative ramifications in unemployment, mass poverty,decline in education and widespread incidence of hunger among many other ills with which the land had been pervaded. On our assumption of office we saw the problem in its all-ramifying dimensions and we set about tackling it as a matter of urgent priority.
The major policy means we adopted in dealing with these problems is to revitalise our agriculture and modernise it; hence our agricultural revolution programme.
It is our belief that modernising our agricultural practices would be a magic bullet with which we can deal effectively with many of the major social and economic problems with which we were confronted.
With the development of agriculture the festering canker of hunger, unemployment, poverty, and poor education can be dealt with. However, indispensable to this agricultural revolution programme is according necessary development attention that had long been denied to our rural areas.
This crucially involves opening them up by road. This we have pursued with all the vigour and vitality that we can muster. Our effort in this area has fortunately attracted the attention and assistance of development partners who have been doing a lot to enhance our road infrastructure development in the rural areas of Osun.
The RAMP I – and now RAMP II – projects, ably supported by the World Bank and French Development Agency, have gone a long way in furthering our objective of linking our food production centres in the rural areas with their supply centres mainly located in the urban areas both within and outside the state.
Our prudence and impressive performance under the RAMP I made it quite easy for our development partners to choose Osun as one of the four states eligible for the RAMP II, which we are today formally kick-starting.
Under the RAMP II, there are 500 kilometres of rural roads to for construction and rehabilitation. But these will be done in two phases. The first phase of the RAMP, which we are commencing today, will cover 225 kilometres of rural roads.
The design and other preparations for the remaining 275 kilometres will begin in a matter of short time from now, with the prospect of opening up even more parts of our hitherto neglected rural communities.
For ease of administration and more effective implementation, the 225-kilometre roads have been organised into four lots covering four different parts of the state. The first (Lot 1) is in Iwo region and covers 58.74kilometres. The second(Lot 2) is in Ife region and will cover58.40 kilometres. The third(Lot 3), also in Ife region, extends over 53.87kilometres. The fourth(Lot 4) will take place in Ilesha region and will cover 53.61kilometres.
This RAMP II road projects will greatly enhance the area coverage of the already massive road construction and rehabilitation exercise that our administration has embarked upon.
The significance of the RAMP roads will be better appreciated when the fact is considered that about 75 per cent of the total road network in Osun is actually rural roads. This is one of the ways in which we want to continue to demonstrate our unceasing commitment to continue with works of development that we have been doing.
For us, winning a second term of office is no excuse for indolence or for relaxation. Indeed, it is an opportunity to accelerate the pace of work so that we can cover as much ground as is humanly possible within the time available to us.
It is an opportunity we intend to maximise for the development of Osun and the well-being of our people.
Indeed, for us, politics is over. Governance and development must continue, even at a faster rate than before. The mandate given to us is for all the people, all our communities and it covers every inch of our soil. It is our fervent desire to bring the blessing of God on all our people and make our state the model of responsible leadership and public administration.
I thank you all for listening.
Osun a dara!