Aregbesola Commiserates With Muslims In Iwo Over Death Of Chief Imam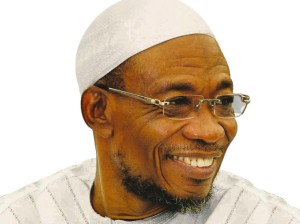 Governor of Osun, Ogbeni Rauf Aregbesola, has commiserated with the Muslim ummah in Iwo over the demise of the Chief Imam, Alhaji Mudathir Ajao Akinlade.
The Imam, who passed on Wednesday, was described as versatile and experienced Islamic scholar during his time.
Aregbesola, in a statement by the Director, Bureau of Communication and Strategy, Office of the Governor, Mr. Semiu Okanlawon, described the deceased cleric as a charismatic religious leader.
The Governor said the late cleric worked harmoniously with people of other faiths thereby creating peaceful and enabling atmosphere for differences in religion to thrive.
The statement said: "The demise of the Chief Imam came to me painfully but as Muslims, we are not to agonise over death but pray for the repose of the soul of the deceased.
"It is from Allah we have come and onto Him is our return.
"We therefore commiserate with the entire Muslim ummah of Iwo land for the passage of the scholar.
"He would be remembered as a man who upheld the love of his creator, that of his religion and the love of humanity as a whole.
"More importantly, he demonstrated tolerance of other religions and preached assiduously on how to promote harmonious living between Muslims and people of other faiths.
"On behalf of myself, government and people of Osun, I send a heartfelt condolence to the immediate and extended family of our cleric as well as the entire Iwoland.
"May Allah offer him a befitting abode in Aljana Firdaus."