SPEECH: On The Road Again By Gov. Rauf Aregbesola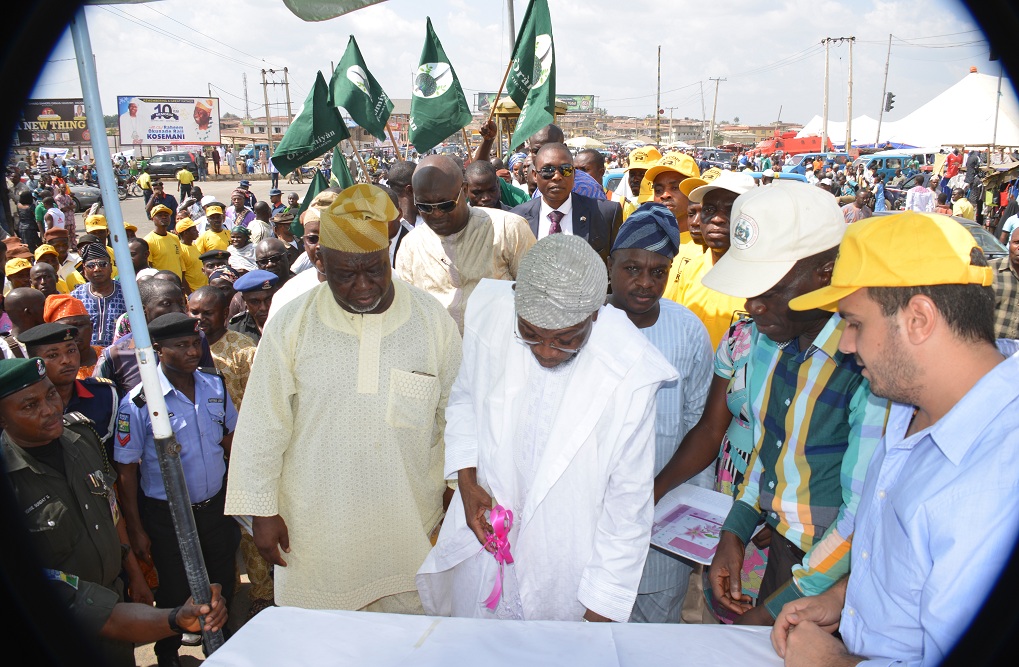 SPEECH BY THE GOVERNOR OF THE STATE OF OSUN, OGBENI RAUF AREGBESOLA, AT THE TURNING OF SOD OF ORITA-OLAIYA – ITA-OLOKAN ROAD AT ORITA-OLAIYA JUNCTION ON FRIDAY NOVEMBER 27, 2015

Protocols,
ON THE ROAD AGAIN
I welcome you all to this event, one of the many that have distinguished our administration as leader in infrastructure development in this country. We are here to turn the sod on the reconstruction of Orita-Olaiya to Ita-Olokan Road.
This 2.8 kilometre road, at the very heart of Osogbo, is very crucial to the economic and social lives of the city. It is a link between the old and the modern parts of the city. While the Olaiya end is in the emergent new Osogbo, the Ita-Olokan end is in the very heart of the old city. The road leads to two major hospitals and the Osun Grove. The Grove, we are aware, is a global centre that attracts visitors from all over the world, especially during the Osun Osogbo festival. This same road interestingly accommodates the state's correspondents' chapel and the Osogbo offices of notable national newspapers. It also provides exits to Ilesa and Ibokun.
The deplorable condition of this road, given its importance, is not befitting to our capital city. Instead, it should be used to make an architectural statement. Indeed, it has been on the priority list from day one and if not for the financial challenges we have had in the recent past, we should have done this at least two years ago.
The reconstruction work on the road will see to its widening, to enable it carry more traffic, especially at the narrow parts towards Ita-Olokan. There will be provision of pedestrian walkway, lay byes (Bus Stops) and a slip road at the Olaiya end, coming from Abere. Messrs Ratcon will undertake the reconstruction at the cost of N985,115,410.78 million.
The expansion of the road and the need to have a reasonable setback unfortunately meant that some buildings are already standing in the way and has to be separated. This could have been avoided if there had been strict adherence to town planning rules in the past. We regret this and offer sincere sympathy to those affected. They should see this as their own sacrifice in our efforts to beautify our city and develop a decent human environment. Nevertheless, we have set aside the sum of N392 million to the 127 people whose buildings were affected.
At the inception of our administration, we had a vision of progress for Osun, of which road infrastructure development is a vital component. Because of the paramountcy of road transportation for the movement of people and goods in Nigeria, including Osun, we also accorded it priority attention in our development scheme.
Consequently, we came up with a map for the comprehensive development of our road network. These encompass rural and local roads, intra-city and inter-city roads, as well as inter-state roads. This road plan cuts across the length and breadth of Osun.
But we conceived our road infrastructure development plan in the full consciousness that people do not commute on road maps; they travel on actually marked-out asphalted surfaces. Consequently, we embarked on giving concrete effect to what we have conceived in our mind and mapped out on paper.
All over the state we commenced in earnest the construction of new roads, the reconstruction of some others, and the repair and rehabilitation of old and dilapidated ones.
This project is the continuation of the bigger Osogbo township road development project which stands out as a product of a visionary road map. They are intentionally aimed at making Osogbo the truly modern state capital it deserves to be.
In view of this, the roads are designed to ease transportation within the city, as well as in and out of it. Together. the roads stretch for 26.31 kilometres. You will recall that on April 24 last year, 21 roads in this projects were commissioned. They include: Station Road to Ebenezer Hotel Road; Boorepo to Elelede Junction Road; Elelede to Gbaemu Road; Gbodofon to Gbaemu Junction Road; and Adesina Crescent in GRA.
Others include: Oja Oba Road to Plantain Area; Balogun Biiro to Oke Baale Road; Alafia Street to Church Street, Awolowo Way; Coca-Cola to Capital Hotel Road; Oke Onitea Road to Anaye Market Junction; the Road from Opposite Capital Hotel to Oroki Road; Oroki Estate to Ilobu Road; Odetoyinbo to Heritage Hotel Road with Spur; and Kola Balogun Road Junction to Fiwasaye Olohunosebi Junction.
There are also the Osunbukola to Ede Road; John Mackay Road to Oke Baale; the road from Tanisi to Keji Adigun Street; Adams Street to Mercy Land and Road Spur; Steel Rolling Camp to Kabelo Filling Station; and Rehabilitated Ifeloju Omo-West Road.
A closer look at these roads would reveal a deliberate pattern of an Inner Ring network of roads within Osogbo which connect and complement the existing Outer Ring Road around the city.
These are in Osogbo alone. In Ilesa, we reconstructed and commissioned 17 township roads. These roads constitute an inner ring road that eased vehicular movements and decongested the traffic in the city by taking travellers outside the city away from the city centre.
In Ede, 13 township roads have been repaired through direct labour. They have now been completed.
In the different Federal Constituencies in the state, 79 kilometres of intra-city roads were constructed and rehabilitated. In addition to the intra-city roads, 20 other roads traversing the cities, and covering a total of 294.27 kilometres, were completed.
We are also constructing six selected roads, covering more than 74.1 kilometres, in the six geo-political zones of Osun. We inherited eight road rehabilitation projects of 144.29 kilometres from the previous administration which we have completed.
There are four more gigantic projects that we have embarked upon. These are: the reconstruction into a dual carriageway of the 36.85-kilometre road from Osogbo to Ila-Odo on the state's border with Kwara State; the Gbongan-Orileowu-Ijebu-Igbo Road, which is also a dual carriageway.
The third is the Omoluabi Motorway, a dual-carriage road from Akoda to Gbongan Junction, with its Bisi Akande Trumpet Interchange.
Osogbo East Bypass Road is in the list of our major road construction undertaking. The East Bypass is a 17.5-kilometre road that will have a railway underpass at Ofatedo, an interchange at Ataoja, and two bridges across the Osun River. It is at an advanced stage of completion.
In continuation of our road development plan for Osun, we embarked upon and completed (in record time) the construction of 218 kilometres of road in all of our local government areas, including the Area Office.
We appeal to our people to bear with us on the pains and discomforts associated with the road construction projects we are undertaking, especially on the Gbongan-Akoda Road. This is due to the unexpected challenges amounting to financial disaster that befell this nation, especially under the ancien regime. I want to assure us all that we will complete these road projects before the completion of our tenure.
There are those who are scoffing at our road construction projects, complaining that we are slow and even accused us of taking on the big projects that are clearly federal roads. One of my defeated opponents, a former federal legislator, who was also defeated in a senatorial election, went about town, spreading falsehood by claiming that he had awarded the contracts for the federal road projects and that he had paid the contractors. This can only come from an inebriated mind. Right thinking people are at a loss of the capacity in which he could award federal contracts and effect payments when his highest political attainment was as chairman of a senate committee and a four-time defeated governorship aspirant. He was defeated at the election proper, defeated at the Election Petitions Tribunal, defeated at the Appeal Court and finally defeated at the Supreme Court.
However, I want you all to know that we completed our projects in record time. The Osogbo, Ilesa, Ede, Ife and the intra-city roads (we rehabilitated or constructed) were in record time. Messrs Ratcon that handled the Osogbo inner ring road even challenged them last year to bring any proof of similar projects completed in lesser time. They are still searching.
Secondly, we undertake the roads that we consider crucial to the economic and social lives of the good people of Osun, when the Federal Government under the control of their party failed miserably to do it. They are the least qualified to question our performance that has been described as sterling, given our modest financial resources.
It is my fervent hope that Messrs Ratcon will live up to their billing, do a good job and put smile on the faces of the residents and users of the road in Osogbo and beyond.
I must thank all those that have been of assistance in the conception of this project – the engineers and officials of the Ministry of Works, our financial partners and all men (and women) of goodwill.
I thank you all for your kind attention.
Osun a dara!