Aregbesola's Policies Have Liberated The Poor In Osun – APC group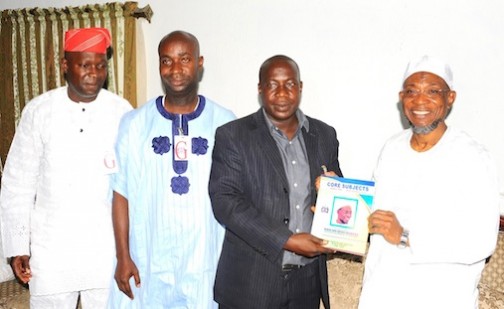 The government of Ogbeni Rauf Aregbesola in Osun State has been identified as an administration, with policies designed to liberate the people especially the poor.
This was the position of the Coalition of APC Support Groups when met were in Oshogbo to present a 35-year-old compilation of past Joint Admission and Matriculation Board (JAMB) questions and answers produced by the group to Governor Aregbesola at the Government House recently.
The compendium contains past questions and answers of English Language and Math­ematics from 1980 to 2015.
National Youth Leader of the Coalition, Comrade Majeed Yahaya said that Osun State stands out among the states in the country in the areas of education and welfare to the people, hence the need to support the good works of the governor.
While lauding Aregbesola for making education available, accessible and attractive to all children in the state, Comrade Yahaya said the Governor's giant strides in education has bridged the gap between the poor and the rich, adding that Aregbesola's qual­ity education policy has made Osun the only state in Nigeria where children of school ages don't roam the streets hawking or begging for money during school hours.
"There is no doubt that the education­al policy of the state since Ogbeni Aregbesola took over the administration has been one of the best in the country. That is why most of the state's educa­tion programmes have been locally and nationally adopted and replicated by the govern­ment at various levels.
"I want to urge our dear governor not to relent in his efforts towards contin­ued support for education as this is the only way to develop the society," said Comrade Yahaya, who is an indigene of Ede North Local Government in Osun State.
Aregbesola, who received the educational materials from the leadership of Coalition of APC Support Groups, commended their effort in supporting his cause to ensure that children of the state have quality education.
He said that the passion with which his administration pursues its goal in the education sec­tor arises from the conviction that education is the fulcrum upon which life and living rest.
"We are indeed passionate about education because there cannot be any improvement in our condition if we do not equip our upcoming genera­tions.
"We are determined to de­velop and equip them to be able to explore nature to the extreme possibilities so that nature will no longer be a threat to them," he said.
The Coalition leadership was led on the visit to Osun State by the Deputy National Chairman (South), Barrister Kunle Ehinlanwo in company of National Youth Leader, Comrade Yahaya, Osun State Co-Ordinator, Shekete Adamson, Osun State Welfare Officer, Alhaja Abass Fatima a member of the group, Prince Ayatuga Alaba.
The Coalition is an accredited national body for all APC Support Groups in Nigeria.