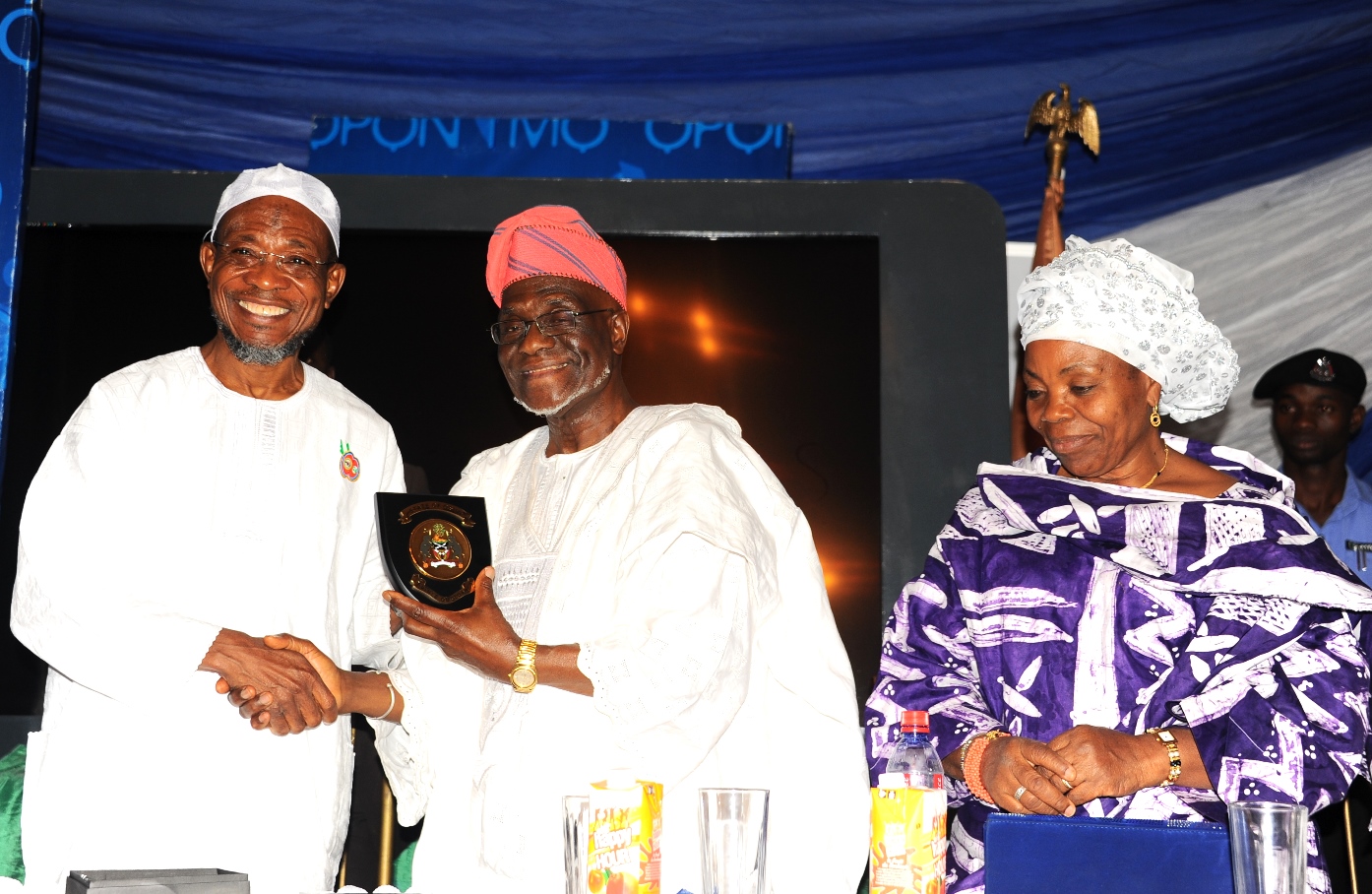 Rescue Nigeria From Economic Crumbles, Aregbesola Tells NLC, Says The Success Of The Nation's Economy Lies In Its Performances
The Governor of the State of Osun, Ogbeni Rauf Aregbesola has highlighted the urgent need for the leadership and members of the Nigeria Labour Congress NLC to bailout the country from her present economic stalemate.
In his intellectual prediction to salvage the country from the current socio-political, economic and religious complications, Governor Aregbesola opined that the only workable fruition in combating the myriads of challenging situation in Nigeria was for organized labour, civil society organizations, professional bodies and academic leaders to wake up from slumber and seek what at stake for everlasting solution.
Governor Aregbesola made the statement while playing host on the foremost veteran Labour leader and pioneer President of Nigeria Labour Congress, Comrade Hassan Sunmonu, at a dinner party organized in honour of his 75th Birthday Anniversary.
Aregbesola said Nigeria is passing through emergency economic situation which has been the worst in her history, saying there is a need for Nigerians to collectively approach the situation as emergency in their bid to find lasting solution.
Governor Aregbesola who expressed bitterness on the way and manner at which the nation's economy was extravagantly managed in the past, said bad governance has led the nation to its present looming situation.
He stated that no government in Nigeria no matter how prudent today can run its affairs the way it should be run or it has been run before now simply because of persistent dwindling revenues.
Aregbesola held that the current economic situation has called for awakening, saying this is the time for the leadership of NLC to rise to the occasion in a bid to add accolades to their reputation by proving to Nigerians and the entire globe that truly they are major stakeholders of Nigeria economic enterprise.
Aregbesola said, "The financial situation in Nigeria is so bad to the extent that no government in Nigeria could run the government perfectly in the way it desires.
"Our country is going through a tough time, but quite unfortunate, we are yet to be fully communicated on the degrees of damage caused to our economy and seriousness of the situation.
"We have been misled overtimes to depend absolutely on crude oil revenues. Nobody cares for untapped, unexplored and unexploited wealth from solid minerals, agriculture, science and technology and so on.
"To appreciate the gravity of the economic challenges facing our country, graphic analyses shown that between 2011 and June 2013, our nation used to have N1.2trillion in the distributable purse called Federation Accounts to be shared between the three tiers of government~federal, states and local governments.
"From June 2013, the distributable funds dropped to about N600billion and this has been on the persistent free fall till present moment.
"Apparently, November allocation's pool which was distributed on the 22nd of November, 2015 was N369billion for the three tiers which implies that no revenue from the Federation Accounts.
"Obviously, this has been the economic situation with our nation. But quite unfortunate, we have all been disoriented to think only on the revenues from the crude oil. If we had before now considered other sources of revenue, the impact of the economic challenge would not be as grave.
Governor Aregbesola who implored the  leadership of NLC and other stakeholders to brace up and tighten their belts in liberating the country out of the current financial impasse.
"My request to the leadership of labour is that this is not an ordinary crisis and they should not treat it ordinarily because Nigeria has never had a very hard economic situation like this in her history.
"The economic situation we are passing through today remains the worst in our history. Though the current economic situation has not been declared as an emergency but there is the need for us to collectively approach it as emergency and be honest about it. Unless we want to heat up the polity with another reason, we are at the economic emergency.
"Certainly there is no government in Nigeria today, no matter how prudent it appears, can run its affairs the way it should be run or it has been run before due to the current situation.
"This is the time for leadership of NLC to rise to this occasion in a bid to add accolades to their reputation by proving to Nigerians and the entire globe that truly they are major stakeholders of Nigerian economic enterprise.
"If the Federal Government didn't not call the Labour leaders, let the labour leader call the Federal Government to seek and discuss what at stake and demand for a way out because if we didn't seek for a way out quickly, a bulk of emergency may come up.
"This situation is beyond individual operation or finger pointing because I don't see a way for any state to escape this in the next few months if there is no collective approach to salvage this economic mess.
"This is the time for us to look for a realistic and workable alternative to enhance our economic revenue generation.
Governor Aregbesola therefore charged members of the organized labour, civil society organizations, professional groups, stakeholders among others to rescue Nigeria and Nigerians out of this mess.
He said, "Workers must mobilize themselves to ensure that real service comes from public servants. A situation where workers don't care about their service or how their salaries are being earned, this doesn't edify the workers.
"Productivity, diligence, dedication, commitment, transparency, honesty and truthfulness must be the watchwords of the workforce and they must be able to justify what they earn as wages, salaries, allowance, arrears among others.
"Until the workers in civil and public service understand appreciate this simple analogy, Nigeria is going no where.
"The paradise has changed. We can no live as we lived before. Oil is out of fashion. Oil has finished its own time and period in the world.
"We must decide as a people, as political and labour leaders to find meaningful and beneficial alternative to oil to navigate this turbulent economic period for the betterment of all.
Earlier in his remark, National President, Nigeria Labour Congress, Comrade Ayuba Wabba commended Governor Aregbesola for his firmness and resilient in spite the current economic situations.
Comrade Ayuba who lauded Aregbesola's achievements in all sectors of the economy confirmed that the current government is building succor of thirty years to the people of the state, saying most of his policies and programmes might not be appreciated now but will be commended years to come.
According to him, your people might not appreciate your work now. But in actual fact, they will come to appreciate you and your good works in few years to come.
"You are building a brighter future for generations to come and the prosperity stands firmly to judge you aright", he said.