We Are Not Imposing Taxes On Religious Institutions – Aregbesola…Says He Will Continue To Champion Equity Among Religions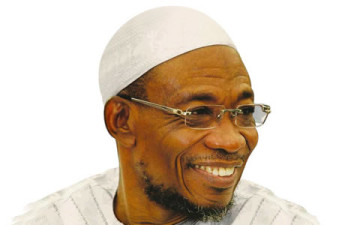 Governor of the State of Osun, Ogbeni Rauf Aregbesola has cleared the air on the lingering rumours making the round that his government was proposing a new tax regime on the religious institutions across the state in order to alternate the adverse effects of the dwindling revenues from the Federal Accounts.
Governor Aregbesola who reacted spontaneously on what he described as sponsored venomous antics of the opposition and enemies of his administration, said on no account does he has the intention to neither propose nor impose tax payment on mosques, churches and traditional temples.
Aregbesola made the statement while addressing the muslim faithful during a Jumat service, at Islahudeen Central Mosque, Osogbo.
Governor Aregbesola who frowned at the development said though his government has been looking for every realizable means and alternative to salvage the state from the looming economic crisis, stressing that his government has never intended or resolved on such tax policy.
He disclosed that the economy of the state has not worsen to the stage of taxing religious institutions or collecting offerings and tithes from either mosques churches to develop the state.
Governor Aregbesola who described tax as a lubricant that greases the wheel of development, growth and transformation, said the time has come for all to support government through regular tax payment especially at the period where nothing comes to the state from the Federation Accounts.
He said the only way for citizens to prove their support and cooperation towards  government's efforts is to be obedient and diligent to taxation.
"It is unfortunate that in spite our sincere efforts on the ongoing numerous developmental projects across the state, some detractors could still consume shame by peddling rumours in a bid to frustrate our efforts.
"Our detractors have forgotten that we successfully administered the affairs of the state for five years without a new tax policy.
"Under whatever pressure and inconstructive criticism, our administration would not be distorted or derailed from the paths of progress, development and unparalleled transformation being characterized with.
"We shall continue to maximize our little resources to enhance the general well being of our people who we owe constitutional responsibilities", he affirmed.
Governor Aregbesola further pledged to continuously strengthen religious institutions to promote and engender peace, saying he would not be lured into compromising equity and balance.
He therefore called on religious leaders to seek the face of God in liberating the state and country out of the present economic recession orchestrated by the continued fall in the global prices of crude oil.
He said, "Nigeria needs fervent prayers to get out of the present economic bondage and this is a challenge for Nigerians especially our religious leaders to seek the face of God for quick deliverance