Remove Strange Gods From Palaces, Osun Monarch Tells Traditional Rulers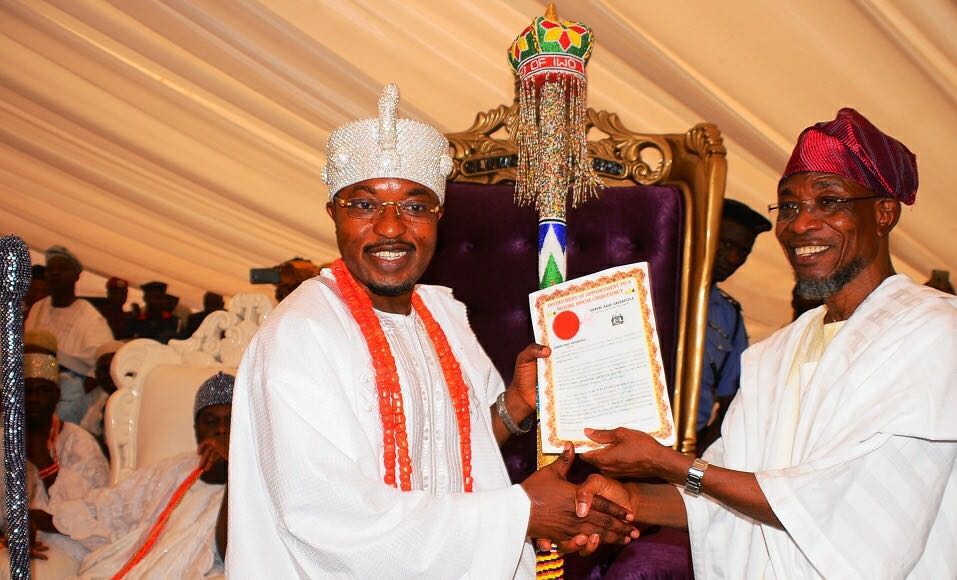 The Oluwo of Iwo, Oba Abdulrasheed Akanbi, has described the palaces of monarchs as a temple of God and somewhere only supreme God should be worshipped.
Oba Akanbi made the disclosure when he visited one of the leaders of Quadiriyah Islamic Movement of Yoruba land, Alhaji Muhammed Imran-Adio, at Imoru Compound, Iwo in Osun State.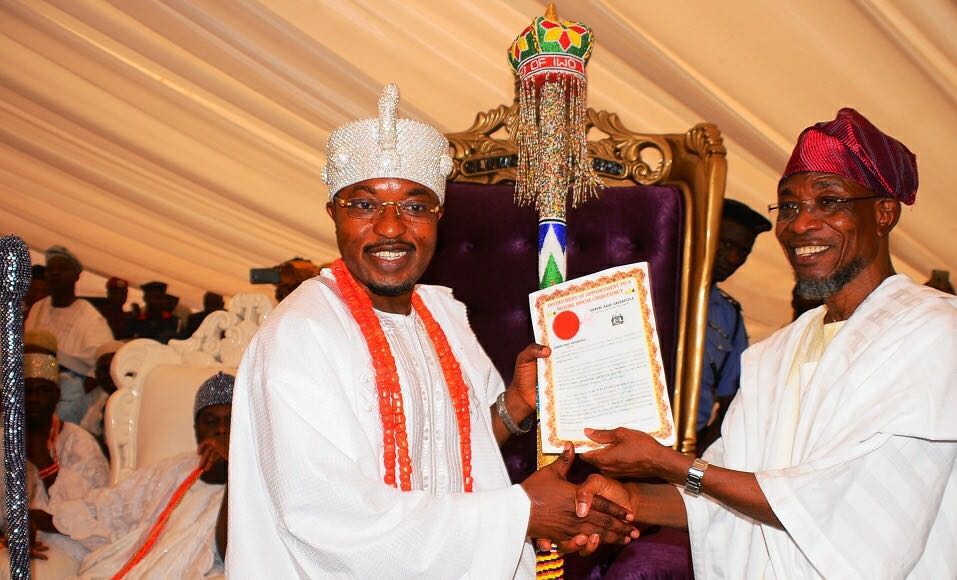 The frontline monarch, who advised traditional rulers to shun idolatry, stated that God would not help any town whose monarch worships other gods.
Oba Akanbi noted that palaces were known as the abode of God before the existence of Mosques and Churches and urged his colleagues to move various idols in their palaces, saying 'God hates idolatry'.
The Iwo monarch explained that people should be able to come to palaces and pray to God, maintaining that this would not happen until the monarchs rid their palaces of strange gods, which he said could not help them.
"Our palaces must be clean and devoid of any idol. There is authority in the mouth of any monarch who is clean and who shuns idol worshiping.
"Palaces are the temple of God before the Churches and Mosques came to being, and no one should worship idol in the palace except God almighty, the creator of all mankind. I am a king, but I'm not God and I have vowed to always follow the will of God and that is how I want other traditional rulers to see themselves.
"Oba must not kneel down before anybody to pray. This is a message or a warning to all the kings and let me tell them that their palaces are the habitation of God on earth," he stressed.
While commenting on why he associates himself with the people of Iwo land, Oba Akanbi said some of his action was to let the youths have the hope that no matter their present situation they could still excel in life.
He said it was incumbent upon monarchs in Yoruba land to associate and offer their subjects various forms of assistance and words of encouragement to give them hope especially in the present economic situation in the country.
Oba Akanbi said the era of monarchs sitting back in their palaces and expecting their subjects to bring tributes to them was long over.
According to him, service to the people is necessary for any monarch to be loved by his subject.
The host, Khalefa Qodiriya, Iwo Land, Sheik Muhammed Imran-Adio, commended Oba Akanbi for his rare progressivism and spirituality just as he described the monarch as a blessing to the entire Yoruba race.
Sheik Adio while eulogising the Oluwo for his leadership style said the frontline monarch had brought unprecedented development to the ancient town through his infrastructural and empowerment programmes.
The Khalifa Qodiriya, who said he was surprised by the visitation to their compound, appealed to Iwo indigenes, both home and overseas to drum their support for the monarch to pilot the sleepy town to constructive point.