Osun Ambulance Services saved 1,774 lives in 2016 – Official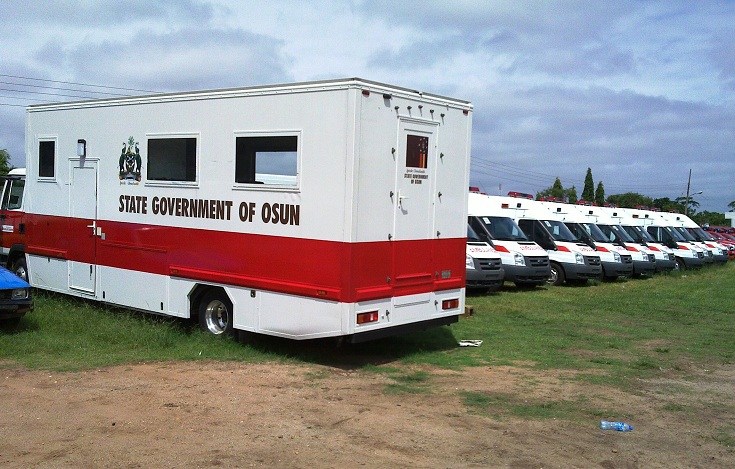 The Osun State Ambulance Services (O'Ambulance) has disclosed that it rescued more than 2000 people in 2016 through its prompt rescue operations in emergencies across the state.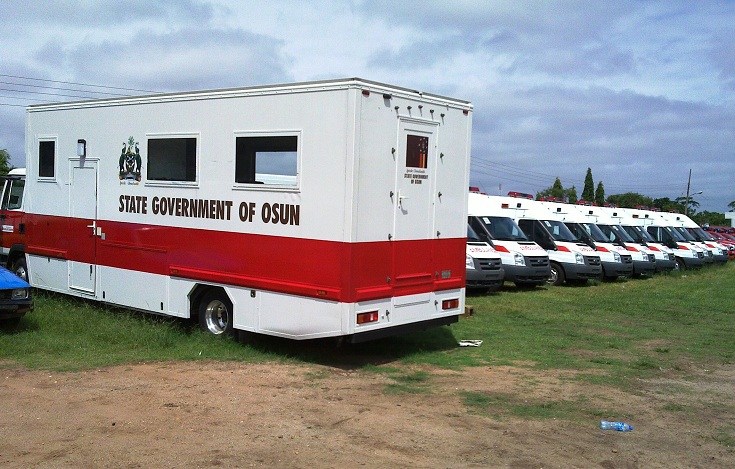 In an end-of-the-year review of its activities submitted to the Bureau of Communication and Strategy in the Office of the Governor, the Director General of O'Ambulance, Mr. Akinloye, said the state ambulance service responded to more than 1116 road traffic accident emergencies across the state last year.
Besides, O'Ambulance also responded to 178 cases of collapse, 348 hospital referral and 132 labour emergency cases all of which lives involved were saved, according to Mr. Akinloye.
A statement released by the Bureau, signed by the Director, Semiu Okanlawon, quoted the D-G as stating that of 1,829 casualties involved in all the emergence cases, the agency was able to save 1,774 lives and recorded only 55 deaths arising from the cases.
He also revealed that of the 1,774 casualties saved, 1,116 were males while 658 were females. He added that of the 55 deaths recorded, 27 were males and 28 females.
The O'Ambulance Boss said the agency was able to record such significant figure of life saving due to the resources available to it.
According to him, the government made available ambulances with relevant equipment, which makes rescue operation and immediate first aid for victim quick and efficient.
He said, "We have two sets of ambulances. We have the small ones, which are 31 in number – one for each local government. They are stationed to serve the primary healthcare centres in the local governments.
"We have the big, high-tech ones. We have 17 of that and each is stationed along major routes especially where we do experience high rate of occurrence of road traffic accident.
"We have our ambulances in strategic places so it is easy for us to move swiftly. Our response to any scene of accident wherever it happens in the state is between 10 to 15 minutes. Sometimes, it is faster than that especially if it is within Osogbo."
He noted that his agency responds to more than 200 emergences in a month arising from road traffic accidents, referral, labour cases and other health emergencies across the state.
He stated that his agency usually faces more challenges during festive period and the 'ember' months, saying despite this uphill tasks, his agency always rise up to the occasion.
He commended Governor Rauf Aregbesola for providing the logistics and other paramedical gadgets for the agency, saying the agency is more committed to saving lives of the people of Osun or those passing through the state.
He continued, "In every month, we have average cases of 250 to 300 rescue operations. Sometimes it can be more than that, especially towards the end of the year (during December).
"And like I told you, it can be more too during the festive period because of mass movement of people. You know there would be heavy human and vehicular movement.
"Then the motorcyclists are another major challenge. At times, they form the bulk of our operations. You know that they are impatient and very reckless. So, they are always involved in one accident or the other, either with themselves or with vehicles.
"We have the logistics. And with the support of Mr. Governor, Rauf Aregbesola, things are going on smoothly and we are working. We are in the business of 'life-saving,' so we cannot but double our efforts to ensure we prevent avoidable deaths.
"We guarantee safety of lives. We have saved many lives and we'll continue to save lives. But the real beneficiaries, those we rescued, that would be able to tell you that people are safe in Osun. Some of these people pray for us when they are well again and they render assistance where they see us work because they know the importance of what we do – saving lives."