Aregbesola Urges Residents To Be Vigilant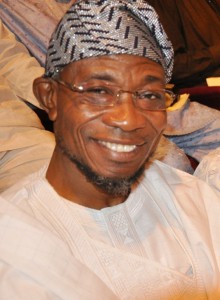 Osun State Governor Rauf Aregbesola has urged residents to be vigilant and report the vandalisation of public utilities to security agencies.
He spoke at the weekend during the 12th Walk-to-Live programme at Ijebu-Jesha, heaquarters of Oriade Local Government.
Aregbesola said: "The activities of vandals have affected the nation's economy and destroyed social amenities. These people are bent on destroying the nation with their illegal activities. We must act as our own protectors, so we must be vigilant and protect these amenities."
Addressing a crowd after a six-kilometre walk from Ilo-Ijesa to the Urban Day Grammar School, Ijebu-Jesa, Aregbesola said the programme was not a political campaign, but a "constant reminder" to the people to take care of their health.
Reiterating his administration's commitment to promoting healthy living, he said: "Our government is concerned about the health of our people and we must always educate ourselves on the essence of physical fitness. Exercise is the best way to protect ourselves against diseases. Regular exercise keeps the body fit and make us live a healthy life in a clean environment."
Former Lagos State House of Assembly Speaker Senator Olorunibe Mamora, who participated in the Walk, said the large turn out showed the people's support for the government.
THE NATION