Osun, French Company Sign 29 Million Euro Power Plant MoU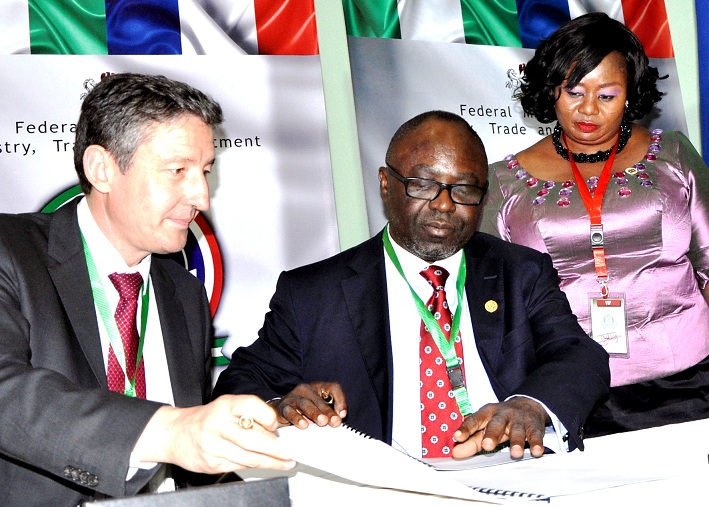 The Government of the State of Osun has signed a 29Million Euro memorandum of understanding (MOU) for the establishment of a 13 Megawatt Solar Power Plant in the state with an output of 16.5 Megawatt hour/ year.
The MOU between Osun and Vergnet Group, a French industrial company which specialises in sustainable and renewable energy development took place at the International Conference Centre in Abuja last Thursday.
The Director General, Office of Economic Development and Partnerships (OEDP) Office of the Governor, Dr. Charles Diji Akinola signed the MoU on behalf of the State Government of Osun while Mr. Jérôme Douat, Chief Executive Officer of the Vergnet Group signed on behalf of the French Group.
The ceremony was witnessed by President Goodluck Jonathan of Nigeria and the French President, Mr. François Hollande, the Minister of Finance and Coordinating Minister for the Economy, Dr. Ngozi Okonjo Iweala, Minister of Trade and Investments, Dr Segun Aganga, representatives of the State Government of Osun and the Vergnet Group and members of the diplomatic corps were also in attendance.
Speaking at the signing of the MOU, Dr. Akinola who represented governor Aregbesola held that the ceremony is another demonstration of the resolve of Ogbeni Rauf Aregbesola's administration to utilize partnership initiatives to bring sustainable development to the State.
According to him, "the administration of Aregbesola in Osun is that of the people, that is why the people come first in everything the administration wants to do and will ensure such project will give life abundantly to the masses.
"This project when completed will increase the power supply to the people of Osun, boost economic activities in Osun and further attract foreign investments and investors". Akinola noted.
He pointed out that the project which is scheduled to commence this year will be sited near Osogbo while Vergnet Group will provide technical expertise, advisory services including the project design, project planning and financing plan.
Akinola also added that the french group will facilitate the financing of the project from the French Government.
He said, "On the other hand, the State Government of Osun will be responsible for identification and allocation of land for the project, contractual clearing with administrative authorities and for developing the necessary infrastructure such as access roads, among other necessary requirements". He emphasised.
The Director General (OEDP), on behalf of the State Government commended the Vergnet Group for considering the State of Osun for the project.
He assured them that the State will continue to partner with them and other reliable companies to realise other areas of Ogbeni Rauf Aregbesola's Six Point Integral Action Plan for the development of Osun.