OPINION: 'Osun Government House Not For Sale'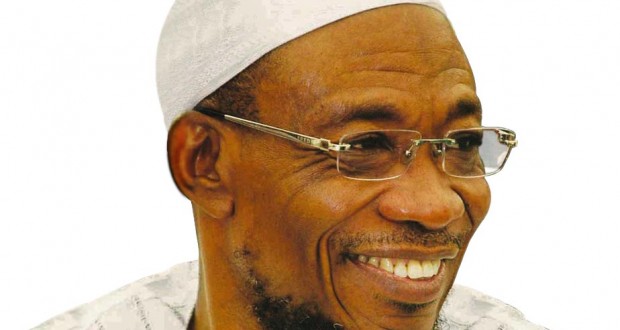 In this piece, Olumide Lawal contends that the governorship is not for sale in the next election and that honour and integrity of contenders will count at the poll.
Recently, I made a self-appointed good governance tour of Osun State, with a view to truly intimating myself with the progress made by Ogbeni Rauf Aregbesola's government in the last three years. My findings were heart-warming and reflective of an administrator, who knows his onion. I found to my happiness, that hitherto, inaccessible roads in remote parts of the State now has Aregbesola magic wands played out on them.
From my native Ede through Iperindo, Ifetedo, Ejigbo, Orile-Owu, Ikire-Ile, Ife-Odan, Ikotun in Egbedore LGA, Ajagunlase, Ikirun up to Otan-Ayegbaju, Ife Ondaye, Ifewara, and some parts of Ijesaland the story is the same. The 10km-stretch of road rehabilitation embarked upon by the 30 local government areas in the State have impacted positively on the lives of the people.
The indigenes of these areas are united in one thing, that good roads are beneficial to all, be you the rich or poor. Good roads do not discriminate on who uses them, they opined. The ordinary folks in Osun are at peace with Aregbesola's modest achievements, since they exist through their legitimate petty businesses. They don't dream tall like the city dwellers.
Of particular importance, is the OBA ADESOJI ADEREMI ROAD now under construction. That particular road will go down in the history of Osun State, as a master-piece of infrastructure. A feel of the one kilometre part of the road, which has been stone-based and aesthetically asphalted, will convince the worst of Aregbesola's critics, that this governor knows the rudiment of what it takes to put a road that will stand the test of time in place. 21st century technology is being deployed in the construction of this particular road in memory of the first African Governor of old Western Region.
Work is going on at a feverish pitch on the road, which has now reached an advanced stage, as it has been opened, up to the Testing ground area of Osogbo. Aregbesola has broken a jinx, because those in the saddle of affairs between 1999 and 2011, considered what Aregbesola achieved with this road impossible.
This is not to lose sight of transformation, the Osogbo township roads are witnessing. But some people keep on complaining, that is it "road alone we go chop". That is their own understanding of governance. Government does not go about "spraying" naira on the streets for people to pick. You have to work for it. All over the world, people don't want change, until they have actually experienced it. A reformer has enemies in those who profiteer by the old order.
Yes, contractors may not be Osun indigenes, but majority of the artisans and other labour-hands been used by them are indigenes of Osun. Laterite, granite, planks, and cement are purchased from Osun markets, with such money realized by the owners, ploughed back to Osun economy. All over Nigeria, Julius Berger is at work. It uses Nigerians and not Germans for various aspects of its construction business. Why the hue and cry over who is doing what in Osun, if we are getting good return for our money.
What has so far become of the various sites demolished in Osogbo? Going round the various sites and buildings affected, there seems to be abandonment of the locations, with new structures springing up in disguise by entrepreneurs. Why was the hurry in demolishing the structures affected, when government was not prepared to make a good use of the locations?
The various stadia projects initiated by former Governor Olagunsoye Oyinlola should be re-visited and made to come to fruition. Sport is part of our economic development if well harnessed and promoted. Also in the course of my self-appointed good governance tour of the state, it is evident that Aregbesola is yet to let Ilesa township have a feel of "Ona Baba Ona". In its real sense of it. A food for thought.
I chuckle, when I hear some people complaining, that Aregbesola has 'mopped up' naira from circulation in Osun. We should not forget, that Osun is part of the federation called Nigeria, which is currently experiencing drastic shortfall in her receipt of federation account, owing to one factor or the other in the upstream sector of the oil economy. Almost all the states are now crying of reduction in their shares of allocation from federation account. Or is it a sin for a governor, to block loopholes and areas of wastage, which in the past, has made some public officers loom larger than life as they feed fat on our collective purse.
Even at that, Governor Aregbesola keeps trudging on, using the little resources available to him judiciously, to make Osun looks truly what it should be. But our fore-fathers have a wise saying – "if a hunter kills a fat grass-cutter, his detractors will say of him, what a small rat he has killed", (i.e, Ota Eni Ki Pa Odu Oya!).
Nigeria economy is facing hard time, and this informs, why all the states and local government areas should improve on their internally generated revenue, because if the black gold wells- i.e. crude oil dry up today, what becomes of us as a nation? Entrepreneurship should be in-built in all of us, so as to make a decent living without depending on government patronages.
We are yet to see action on the efforts to revamp Osun Cocoa Industry, Ede three years on. Sir Adewale Adeeyo, the Chairman board of Directors of the company should speak out. If the Chinese lease of the company is not forth coming, is there a PLAN B to take the industry out of wood.
Indeed, anything is possible if we have faith, the will and the heart. I know we all have the will to play our parts in this campaign for accelerated development in Osun State. I know we have faith in the present regime and we have the hearts to face the challenges ahead.
THE NATION