Return To The Basis Of Faith, Aregbesola Urges Christians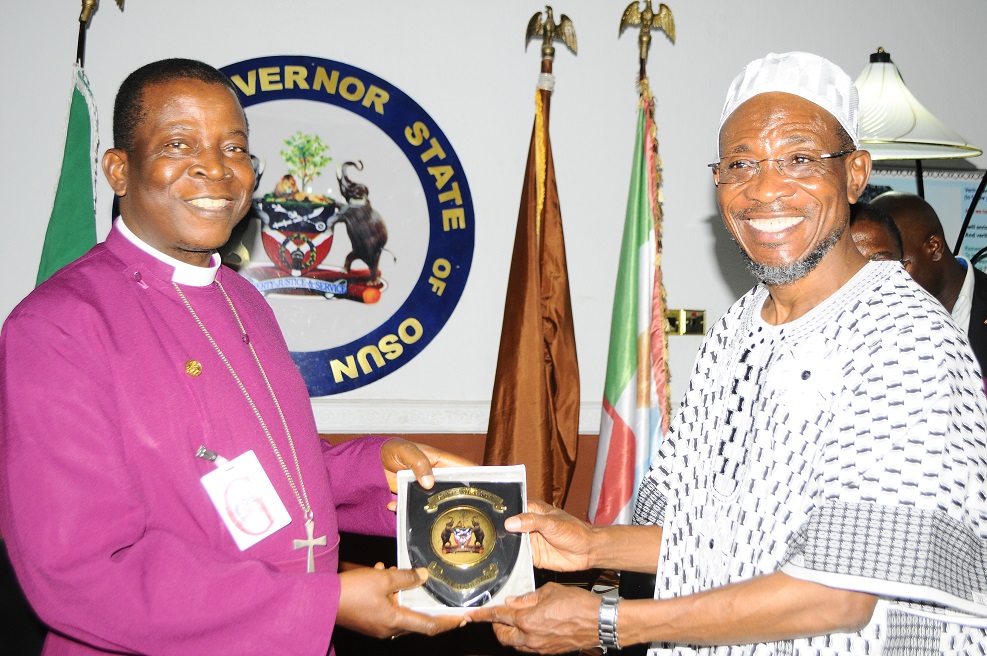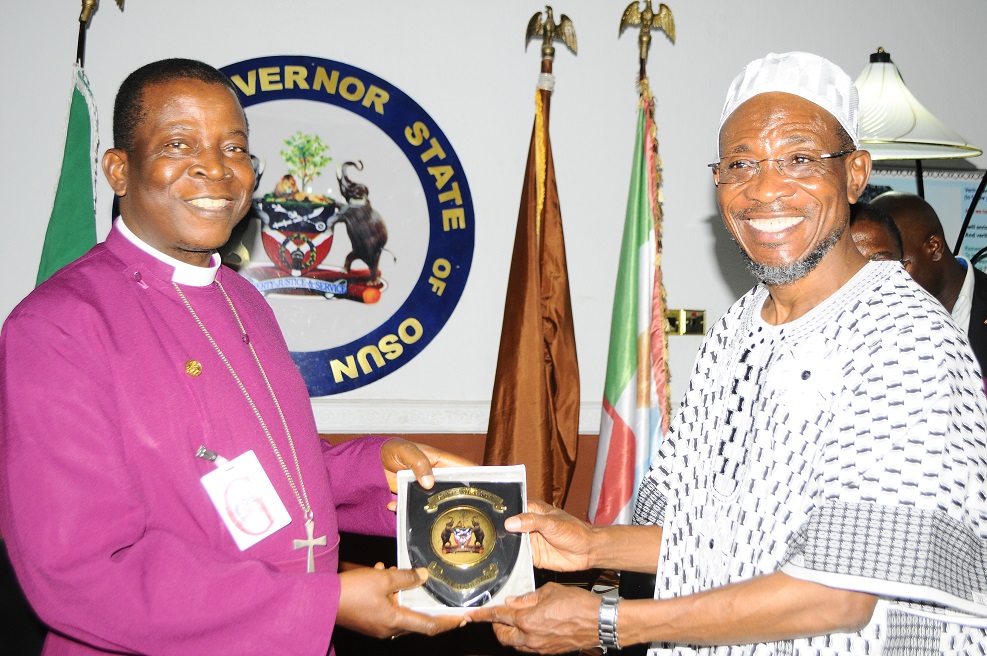 Governor Rauf Aregbesola of Osun on Sunday made a passionate appeal to the Christian community across the country to return to the original basis of all faith which says "love thy neighbour as thy self".
This was just as the governor, Saturday night, said those linking him to any plot against Christianity missed the point because the success his father had early in life could be traced to a job he got in the construction of the St. John's Cathedral, Iloro, Ilesa; thereby making him one of the beneficiaries of the Christian faith.
Governor Aregbesola, while speaking at the St. Benedict Catholic Cathedral, Osogbo, presided over by Bishop Rev Paul Awowole, said no faith preached hatred.
It was a weekend of visits to churches and receptions for leaders of the Christian communities in Nigeria.
Aregbesola, who was in company with the immediate past Governor of Abia State, Uzor Orji Kalu, to St. Benedict Catholics Cathedral Osogbo, said one common thread runs through all religions from Babism; Christianity, Gnosticism, Islam, Sufi and Shia, Druze, Mandaeans and Sabians, Shabakism, Ayyavazhi, Buddhism, Din-i-Ilahi, Hinduism, Jainism, Meivazhi, Sikhi, Manichaeism, Mazdakism, Mithraism, Yazdânism, Zoroastrianism / Parsi, Confucianism, Shinto, Taoism, Indigenous traditional religions, Hellenistic, Uralic, Esotericism, Neopaganism, Syncretic or Shinshukyo which have love as the basis of the faiths.
Quoting copiously from the book of Matthew chapter 22 verse 39, the governor said Jesus Christ answered his Disciples and those around Him thus: "Love thy neighbour as thy self", when he was asked, which was the greatest commandment. Jesus Christ would have distinguished between whom to love if He only means Christian loving themselves among their neighbour, he said.
"I must tell you that any time I have the opportunity of listening to the sermons of your priests and other Christian priests, what runs through my mind is the greatness of God because it is in His awesome greatness that there are differences we have in faiths.
"Behind and beyond those differences is one truth. What is the truth? God is love! God is truth and it is only those who serve God in truth and in love that would have would have His grace.
"The message I want to pass on today is that love is the cardinal principle of faith. When Jesus Christ was asked, which of the laws was the most important and sacred, he did not think twice before telling the Disciples and all around Him that one, is faith in the oneness and supremacy of the Almighty God and that closely followed that, is the golden rule which says you must 'love your neighbour as thy self'.
"I asked myself everyday, were it to be that that neighbour must be a Catholic, Jesus Christ would have defined it, were it to be that that your neighbour would have to be a Christian, Jesus Christ would have described it.
"Jesus Christ didn't say so. He said you must love your neighbour as yourself. Your neighbour could be an Animist, your neighbour could an Atheist, your neighbour could be a Gnostic, your neighbour could be a Muslim, your neighbour could be a Christian of different denominations.
"The requirement for Christ is our individual love for one another since God does not promised collective salvation.
"I share your own conviction about resurrection. My own faith promises resurrection, my own faith promises salvation. I wouldn't go into the intricacies of it today, but I know when the bubble goes finally, I will be among the redeemed", the governor said.
Bishop Awowole and former governor Orji Kalu lauded Aregbesola's efforts towards revitalising all sectors of the state's economy from roads development to new schools construction side by side public health care delivery system and job creation.
Earlier in the evening of Saturday, Aregbesola received Most Reverend Nicholas Okoh, Primate of the Church of Nigeria (Anglican Communion) at the Government House.
Okoh, who came with four Bishops, commended Governor Aregbesola for the apparent sense of security in the state.
Okoh said there is peace in the state saying this must be due to the various development and empowerment policies of the current administration
"Since the coming of Ogbeni, he said, "there has been peace and security in the state."
Aregbesola, who used the occasion of the courtesy visit to tell the story of his late father's link to the Iloro Ilesa Church, said St. John's Cathedral Iloro, Ilesa Church was the source of his father's breakthrough.
He said those accusing him of Islamisation agenda missed the point because he as a Muslim, believe that each creation of God has the freedom to choose his faith.