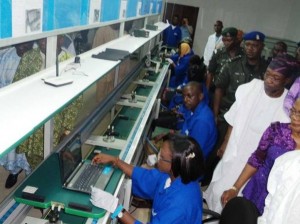 Again, Aregbesola Bags ICT Governor Of The Year 2014 Award
IN a keenly contested race, which paraded enterprising ICT state governors in the country, the Osun State Governor, Ogbeni Rauf Aregbesola has emerged winner of the Centennial ICT Governor of the Year Award at the 2014 Titans of Tech Awards organised by Technology Africa.
The report from the Intelligence Unit of Technology Africa, which resulted to the Governor's nomination indicated that Osun State under the leadership of Ogbeni Rauf Aregbesola has undertaken a major upgrade of the State's ICT infrastructure including the setup of a brand new and modern Government Data Center, as well as data communications links between all the Government Offices.
The report further revealed that Governor Aregbesola is a pioneer with a history of consistency, Innovation and passion for the development of ICT in the state of Osun.
He has demonstrated a peculiar interest in improving ICT literacy in the state of Osun through the introduction of the OPON IMO – Tablet of Knowledge (e-Learning & Science category). The Governor has also commissioned the $50 million ICT Factory in Osun first of its kind in the state.
The 2014 Titans of Tech Awards, which was dedicated to Nigeria Centenary celebration was chaired by former Director, Computer center at ECOWAS Dr. Sola Afolabi and had in attendance stakeholders from the Nigerian ICT Industry, top government functionaries, captains of industry and business moguls.