OSUN 2014: Students Back Aregbesola For Second Term, Says His Achievements In Education Enormous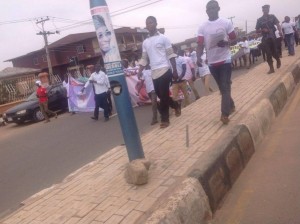 Less than sixteen days to the August 9, governorship election in the State of Osun, the candidacy of Governor Rauf Aregbesola received another boost as students in the four tertiary institutions owned by the state trooped to the street on Thursday to canvass for his re-election in office.
The Students under the aegis of Osun Youths and Students Coalition (OYSC), converged at the popular Nelson Mandela Freedom Park before they took to the major streets across the State Capital.
The students who cut across the four tertiary institutions, such as; Osun State Polytechnic, Iree, College of Technology, Esa-Oke, College of Education, Ila-Orangun and College of Education Ilesa unanimously endorsed Governor Aregbesola for second term in office over what they described as unprecedented achievements in education sector.
According to the students, Aregbesola deserves victory in the coming election, considering his support to student movement, which had turned the educational sector around from its comatose state.
The President of OYSC, Comrade Abiola Oyedele, while fielding questions from reporters on why they approved Aregbesola's candidature among other contenders said with the great achievements recorded, which had ranked Osun high among other states, there is the need for the status-quo to be maintained.''
Oyedele said,"Ever since the inception of the present administration, Aregbesola's six point integral plans, had really revamped the educational sector, which was in a serious jeopardy, and corruption was customized.''
'' We can see what the governor had done in the sector, providing new schools, buses, with excellent and conducive learning environment.
'' Balance diet was given to students, while innovative tablet of knowledge (Opon-Imo) was distributed to schools in the state.'' Oyedele said.
Describing Aregbesola as true democrat, the President said Aregbesola has been so friendly to the agitations and demand of the Nigerian students unlike the previous administration which did not give students any platform to agitate for their rights.
Oyedele further explained that, attempts to exercise the right to freedom of speech through protests, by the youths and students during the PDP administration were met with barbaric attacks and victimization.
Oyedele recalled that, over 15 students were arrested and expelled at OSCOED Ilesa during the regime of PDP, and in Iree Poly, not less than 5 students union leaders were suspended, just as SUG was also banned, adding the same also happen in Ila, Esa-Oke and OAU.
He appealed to all voters to listen only to the voice of reason, saying that Aregbesola was still the answer; no room for usurpers and rogues", he added
He said, '' Students must not allow any desperate political desperado, who are power drunk, to lure them into taken up arms, against their wish in the coming election in Osun.''
Oyedele, however, urged the people of the state, to support educational policies of the present administration, which was aimed at providing qualitative education for students.