Aregbesola Challenges Omisore, Others To Debate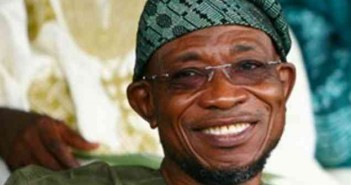 Osun State Governor, Rauf Aregbesola, has challenged his archival in the August 9 governorship election in the state, Senator Iyiola Omisore of the Peoples Democratic Party (PDP) to an open debate.
Aregbesola, who is seeking re-election on the platform of the All Progressives Congress (APC), said none of the governorship candidates in the state could match him.
The governor, who spoke at the commissioning of Aiyegbaju International Market, Osogbo, said he possesed an intimidating credential, which none of his opponents could beat.
Besides, the governor challenged the governorship candidates of Labour Party (LP) and Social Democratic Party (SDP), Alhaji Fatai Akinbade and Segun Akinwusi respectively, to make their manifestoes open to the masses.
Aregbesola said the PDP had no basis to campaign, insisting that the party abused its opportunity when it was in power for seven and a half years.
He said the PDP governorship candidate would fail as his party did not execute any meaningful project while in control of the state's resources.
The APC flagbearer said none of the projects embarked upon by the PDP administration could stand the test of time.
His words: "Let us meet at an open debate and they will be disgraced out. Give us just one hour and see who among us will have the day."
Aregbesola assured that he would turn Osogbo to the centre of commerce and industry in the South-West, saying the town was gradually assuming the real status of a state capital.