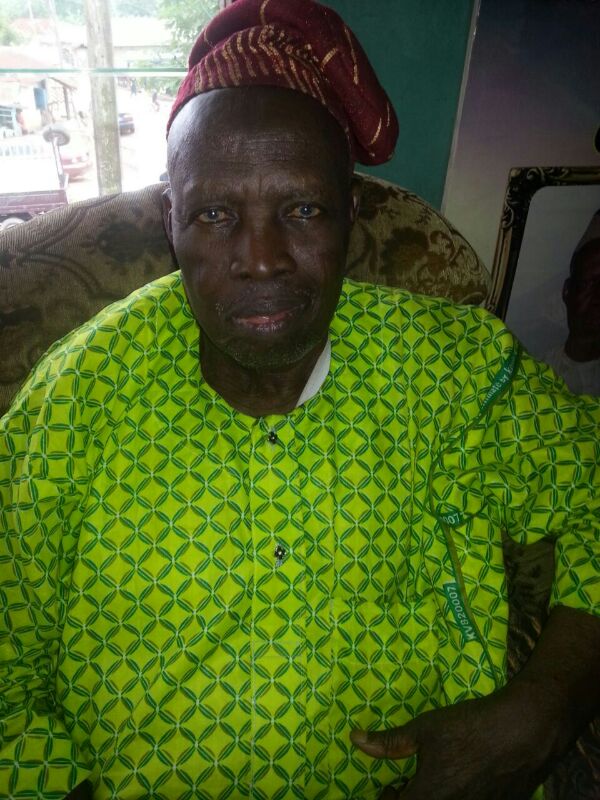 OPINION: Omisore Will Loose The Election And Loose His Deposit – Octogenerian, Pa G O Lawal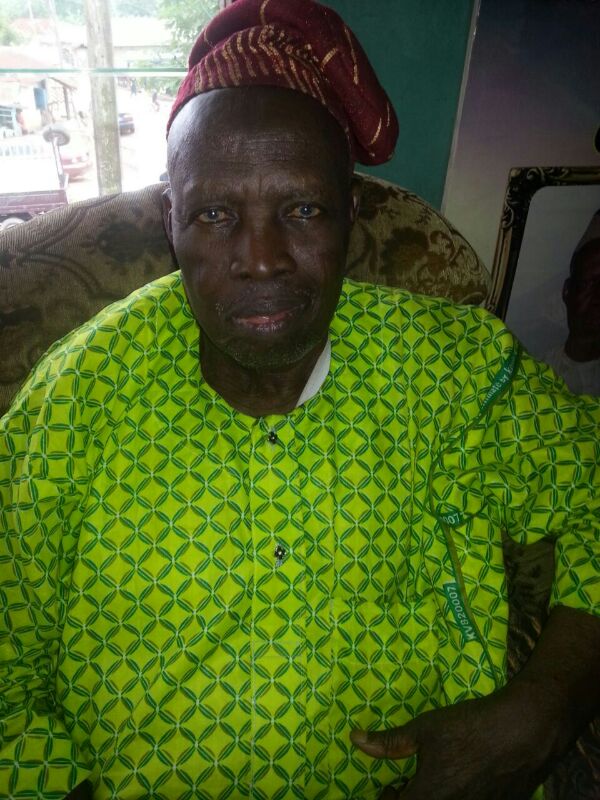 Honourable Gbadamosi Okunlola Lawal was a member of the old Oyo State House of Assembly between 1979 to 1983. He was elected under the platform of the defunct Unity Party of Nigeria (UPN). Hon. Lawal has been a progressive since 1952. He had a stint as the chairman Ikirun District Council between 1959 to 1961. Since early fifties, the octogenarian politician has remained in the progressive fold. In this interview with him in Ikirun, he spoke about the progressive, his party; the Aregbesola administration and the forth-coming election in the state among other issues, here are excerpts.
Sir, you are known as a progressive in the politics of Osun, what differentiate the progressives from the conservatives and how can you relate that to your All Progressive Congress in Osun?
To start with, I have been in politics since 1954, I contested as a Councilor in 1954 and I won that election. Since then I have been in the progressive, I can never be in a party that is conservative in nature, personally, I like to serve my people rather go about collecting money for my own gain, I also hate a situation where people intimidate others, when I compare both side it became obvious that I should be a progressive. The APC for example in Osun is truly a progressive party, since Aregbesola got back his mandate, he has been doing a lot of things that we have not witness in this state, if it is for him to get money he wouldn't have come to Osun at all, all what the governor is doing are pointers to the fact that he is a progressive. Within his 100 days in office, he employed 20,000 youths under Osun Youth Empowerment Scheme (OYES), that means a lot, because we have never witness such governor in the state, this scheme cost government 200 million naira in a month, after that is the O-meals programme where primary school pupils are being fed every day, there are some pupils before now who attend school without taking any meal from their house, but now, pupils are eager to go to school because of the free meal, it has also increased enrollment because most of these pupils live with their grandparents who can hardly take care of them, but government is doing that. As if that was not enough, through the feeding programme, government also employed over 3000 caterers who cook for these pupils, some of the caterers through the job feed their families, then O-REAP for farmers, O-SCHOOLS, where government is building new schools and renovating schools, some that has been built during the Awolowo era, even the standard of the structures that Aregbesola is putting in place now, some of the so called university that we have cannot boost to have what we have in Osun. The people in the state love this government and I am sure that if election is free and fair, we must get about 85% of the vote, even in this Local Government, we are working towards 95% now, because we feel the pulse of the people, that is why we can say all these.
People are saying much about what this government has borrowed, some say Osun's debt is 350 billion Naira, what is your take on this?
I am sorry to use this language, they are mad, how can a government borrow over 350 billion Naira? I don't think banks can give a state up to that amount, does their banking regulations allow for that? How can a government borrow 350 billion, when Olagunsoye Oyinlola borrowed 18 billion during the last period of his administration, people raised questions that what is he going to do with the money at a time when his administration was ending, was it not when Aregbesola came that he re-negotiated the conditions of the loan?. Let us now assumed that he borrowed money, we can all see what he is doing with the money, because in the olden days people were agitating for the non payments of tax and that was not general, but if people see what they are doing with the money, nobody will agitate. Like I mentioned if the state is saying to everybody that it has borrowed 35billion, we can all see what he has done with the money, there is development in Osun. The noise is the hand work of opposition, because they have nothing to offer and they have to discredit him, you listen to their campaign, do they have any manifesto?
There is another one which says that in every APC government, the shoe always pinches the civil servants and the teachers unlike that of PDP government which has cash liquidity in town?
During the days of PDP, there are many ghost workers unknown to the governor, which is the work of the civil servants; they have as many ghost workers as possible. When awarding contracts, they bargain with contractors to inflate contract sum, if they have grievances now, I want to belief that is normal because the leakages have been closed, that is why they are angry with the government. This has nothing of interest to the masses, the masses don't benefit from the leakages, it is only few civil servants that enjoy from this, because it benefits their pockets alone after their salary. About teachers, during the PDP government, they introduced lesson for the student after school hours where they collect money from the students doing nothing is it what they failed to teach the student during the school hours that they will now teach them when they can no longer assimilate?. This is not in the interest of the students but for the interest of their pockets, because they levy them, but now the present government has stop that and made education totally free. How will they not be angry, because their pockets have been offended, and I want you to know that civil servants have no politics but their pocket is their politics?
What is your reaction as a resident politician in Osun that most of the people in Aregbesola cabinet are from Lagos?
No, they are not Lagosians, the person sitting next to you is an appointee and he is from Ikirun and so many of them, they may be living in Lagos, the Attorney-general is from Ikirun and we all know them. Assuming we don't even know them at home, does that mean we should allow them to die in foreign land? We want to bring them home. I believe there is no point in that, they are all from Osun state, and they may be living in Lagos. What of Aregbesola himself, but people prefer his government to every other government they have seen in the state and that of people who have been living in the state, whereas he was in Lagos before, that should not be an excuse at all.
As the August 9 gubernatorial election approaches, what is your expectation?
We are going to win the election; the other candidates will lose their deposit because in those days if you want to contest election, you have to pay some certain deposit, if you score a certain percentage, you will get your money back, but if you score below that, you will lose your deposit. Sincerely speaking, after they lose that election, they will also lose their various deposits.
What gives you this confidence, there are insinuations that the state will be militarized and coming from the background of the Ekiti election where we have heavy military presence and that of other security agents, don't you think people will be intimidated?
We have no fears as that is concerned, our people will be educated, we have been telling them should it be soldiers or police, they have only come to protect them and not to harass them and the party is doing much on that before the election. There is no compound in this state where you will not get a graduate, we will use them to educate people that soldiers are meant to protect them and we also advise every security officers that will be drafted to Osun to play according to the rules of the game.
What is your general assessment of Aregbesola's administration, will you say it has affected positively on the masses?
I have said that before, is it the children that he is giving free meals to that you want me to talk about, go to town and listen to the songs on their lips, "daddy, mummy, uncle and sisters you must vote for Aregbesola" nobody taught them. We have no fear about the election, as far as we are concerned it is going to be victory all the way, because our people are not ingrate. The positive transformation of Osun by Aregbesola will translate to massive votes by our people, come August 9, victory is certain. Osun cannot be left in the hands of people who are going to set it back, the consequences will be so great that the children coming behind will suffer for it, and they will not forgive us, Aregbesola has brought genuine development and he deserve to continue his purpose driven government.