Osun 2014: Women As Messengers Of Peace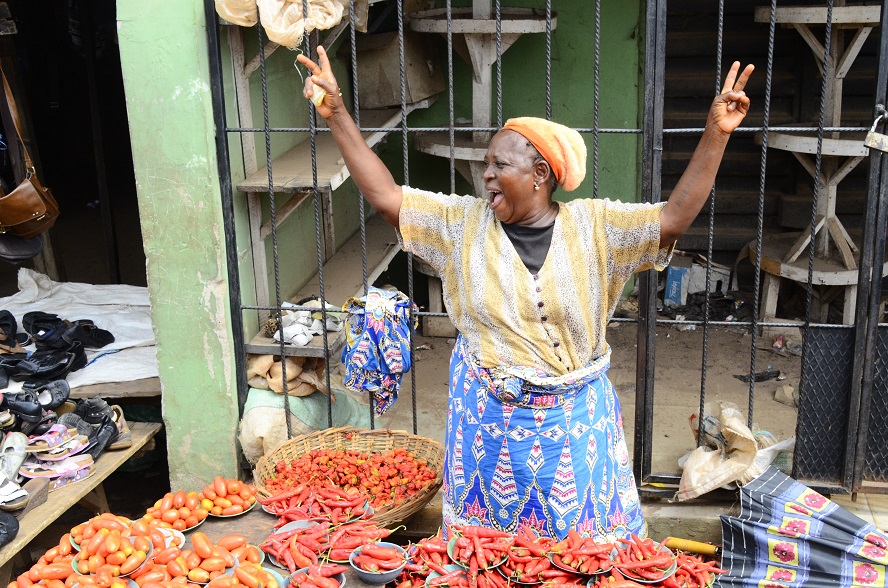 Ahead of the August 9, 2014 governorship election in Osun State, womenfolk have been admonished to assist in the propagation of the sustenance of the current peace in the state by preaching it in their household, preaching it in their communities, preaching it in churches and mosques, as well in market and across the state.
The rally was attended by all political office holders in the state, women party chieftains, female lawmakers, civil society groups, professionals, market women among others.This was the main thrust of the one-day rally on women in politics held at Nelson Mandela Freedom Park, Osogbo organized by the office of the Wife of the Governor, Mrs. Sherifat Aregbesola in collaboration with the State Ministry of Women and Children Affairs.
Lectures on how to achieve the needed peace before, during and after the election was also delivered by Mrs. M O Oluyamo who taught them what needed to be done to achieve the desired results.
The guest speaker, Oluyamo, called on government at all levels to make sure that women are giving more recognition in the governance.
She observed that women are known for peace and harmonious co-existence. Where you see women doing the contrary, engaging in violent acts, then it must be like a Yoruba adage that "eniyan lo kesinloro, esinoni  ka ninu rara", meaning it is the people that thought the horse how to be wicked, that horse is not known to be as such.
While noting that the important role of women in the peace process cannot be overemphasized, she said that "if there is any time the great contribution of women to the peace of our society is needed, it is now that the election is near.
According to her, "it is high time we forget about the sentiment of gender and make good use of the intelligent and positive contributions of women for a peaceable co-existence within the society.
The guest lecturer maintained that women suffer disproportionately when peace is lost either in the home or in the society. It therefore behoves on women to stop whatever activity they involve in that disrupt peace.
"The causes of breach of peace and insecurity in our land had been at one time or the other blamed on the failure on the part of women to bring up their children properly. While some people may view this as an unfair judgment, it may not be too far from the truth because several women hardly have time for their children in today's competitive world. This is not limited to the educated working class, even petty traders, business women and politicians are more preoccupied with other things than the care of their children and wards. Such children are susceptible and vulnerable.
She explained that women are naturally not criminals, but driven to unscrupulous behaviour by many factors and likely to demonstrate remorse. They are also perceived as less dangerous and more amenable to rehabilitation, unlike men.
She further stressed that the role of women cannot be taken lightly in nation building adding that women are patient (though we have some who are impatient) they know what to say and how to act to maintain and sustain peace either in the home or society.
Mrs. Oluyamo noted that family responsibilities and child bearing are major hindrances for women participation in politics but advised that women must venture into active politics to balance male domination of the sector.
As women, we must go into politics and be the salt not by seducing men or destabilising fellow women's homes or wandering aimlessly around men. As women in politics, let us demand for our rightful positions when we hold political meetings, let us ask and receive answer to pertinent questions from the male aspirants.
"My appeal is that women must be strategically sensitized and prepared not only for electioneering purposes but also for their full and quality participation in all political processes in Nigeria. This is even more urgent as get closer to August 9 governorship election in Osun and the 2015 general elections", she said.
In her welcome address, the State Commissioner for Women and Children Affairs, Mrs. Mofolake Adetoun Adegboyega  saluted the dutifulness and vibrancy of women in the state, saying "if we as women allow peace to reign together we will work assiduously to build a better society where people learn to love, tolerate one another live in harmony and foster development.
She appealed to all to rise up and take up their rightful position in political process and governance adding that this should be done in unity and peace.
While speaking, Governor Rauf Aregbesola, expressed optimism in women, stressing that his administration has been recognising their role since inception.
He said his harmonious relation with women has given him courage, promising that more slot will be given to women if elected.
Recounting his support for women in the last three and half years, Aregbesola said that the prayer of widow is enough to make him emerge in the coming election.
In her key note address, the wife of the Governor who is also the convener admonished women to unite for peace and ensure that the transformation agenda of the current administration does not suffer.
Mrs. Aregbesola noted that the only way to ensure that the on- going transformation continued unabated is to ensure that Governor Rauf Aregbesola emerged victorious in the forthcoming governorship election in the state.
She called for re-election of Governor Rauf Aregbesola.
She enjoined women in the state to always champion the crusade for peace by warning their children to shun act of thuggery and violence in the coming election.
Mrs. Sherifat, who appreciated the support of women for her husband, however appealed to women to support her husband by voting for him in the coming election.
She also called on women to participate more in politics saying that it was a better way of widening the frontiers of development in the society.
According to her, "the goal of encouraging our women to take active roles in politics is to widen the frontiers of development in our society. Development around the world has shown that women have very crucial role to play in any nation that desires to witness sustainable development.
"I therefore enjoin our women to rise up and fire the needed political passion to be able to mobilise more women for a common front in politics. This will balance the political arena and create opportunities for more women to be in the forefront of political process and development.
"The people of our dear state will soon step out on August 9th 2014 to cast their ballot for further development of our great state. I enjoy you all to make peace and harmony the key driving factors throughout the political process. You should step out to cast your ballot in a peaceful and orderly manner. After the balloting, you should also maintain peace while you wait for your votes to be counted right in front of you.
"As mothers let us preach peace in our household, peace in our communities, peace in our churches and mosques, peace to those in the market and peace throughout the state.
She however commended her husband for working tirelessly to improve the lot of women in the state. He has demonstrated commendable love for the women through the appointments made into government and various pro-women policies and programmes being implemented.
She also commended the tremendous support being given to government policies and programmes by our women. Let us ensure that this level of support continues to the greater good of our state.