OPINION: Aregbesola, I Doff My Cap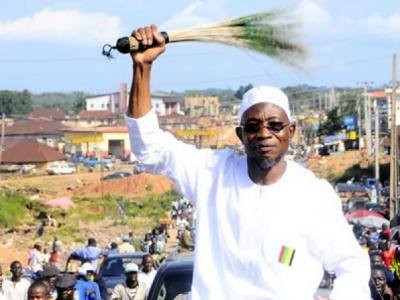 I feel a high sense of fulfillment as a citizen of the State of Osun and as a patriot at that, to write this letter of commendation to Ogbeni; knowing full well that it will catch his fancy to read. Meanwhile, accept my hearty congratulations, as the team in OSUN DEFENDER newspaper also has its own share of credit that I have to apportion at this period. Your contribution to the success story is immense. Whether anyone remembers or deems it worthy to reward you commensurately or not; the imprints of your noble role in the liberation struggle for Osun are golden and evergreen.
The most fulfilling aspect of the joy I know is the fact that Ogbeni Rauf Aregbesola has not let us down. Throughout the first four-year tenure, there had not been a boring moment, as he continued to roll out new programmes, policies, projects and innovations, which have all added much value to the lives of the generality of our people. Under some other dispensations, governments were made to run policies and programmes to the exclusive benefit of the privileged few, the elite in particular. Under others, it could not be accurately placed whether anyone else than the helmsmen and their co-travellers had anything to benefit.
Fortunately under Ogbeni, everyone in the State of Osun has one thing or the other to gain. If there were losses, they should not be such that must be moaned over; as such losses should have arisen in order to promote the overall interest of our state, its people and generations yet unborn. Ogbeni moves me close to tears each time he speaks at public fora, defining the whole duty of a government that is responsible and responsive.
As a man, Aregbesola lives his words. He has run a government that is responsible and responsive. He committed his might and means to give to his people all that they need within the ambit of available resources. He made accountability and prudence the twin-watchword of his official conduct. In spite of dwindling statutory monthly allocation from the Federation Accounts, owing to whatever reasons it was attributed to by the handlers of the government at the centre, Aregbesola never derailed nor faltered in his determined strides to make the living conditions of his people better.
It is most deserving that we should give credit to those who deserve it. It is more of weakness than strength of character to condemn all leaders all the times. The experience in Osun since Aregbesola came into the saddle has been such that if it continues, our state shall soon become an advanced sub-nation within a backward nation.
Those who make noise running the government down do so for selfish ends. At best, Osun as at today does not require change of leadership. Anyone who clamours change among the middle or lower class is treading the path of regret. Now that it is not too late to take recourse, I strongly advise such misled ones to wake up and reason well. None of the fake contenders around could bring about transformation that will be all-embracing as the one in vogue at present. Among them, the noisiest is outright bad product which all of us should reject.
YEMI OLATUBOSUN, Ita Akogun Area, Osogbo, State of Osun