NIS Begins Issuance Of New E-passports In Osun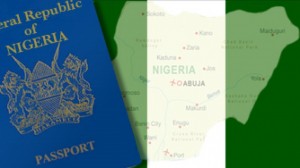 The Osun State Command of the Nigerian Immigration Service has started issuing the new 64- page passport.
According to a statement made available in Osogbo on Thursday, the Comptroller of NIS in Osun State, Mrs. Stella Onwaduegbo, said this while Governor Rauf Aregbesola was being given the new passport.
Onwaduegbo urged those who have business to do at the command not to go through any tout, saying everybody who wanted to get the Nigerian passport must appear in person.
She said the e-passport was okay for frequent travelers and it would prevent identity theft.
According to her, the new passport will ensure the integrity of the Nigerian travel document adding that it has taken care of low income earners and the aged.
The NIS boss also appealed to Nigerians traveling outside the country to always see themselves as ambassadors of the country and therefore shun any act which could tarnish the image of Nigeria.
Aregebsola advised Nigerians who do not travel often to stick with the 32-page passports. He said getting the new ones would amount to waste of resources.
The governor also advised Nigerians travelling outside the country to shun any act which could tarnish the image of the nation.
Aregbesola tasked immigration officials to work hard to burnish the image of the country. He said that immigration officials must be dedicated and show enthusiasm about their job especially while attending to travelers coming and going out of the nation.