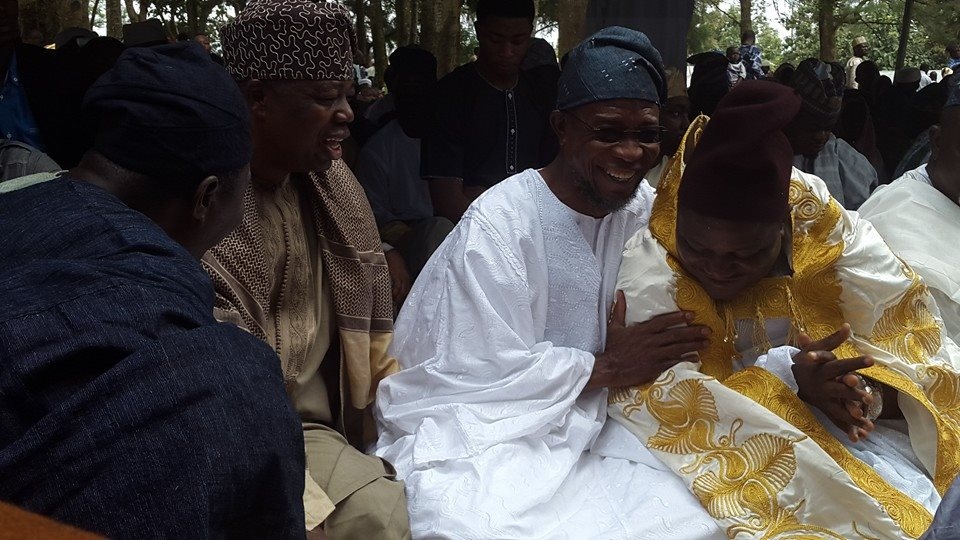 OPINION: Aregbesola's 'Street Credibility' On Sallah Day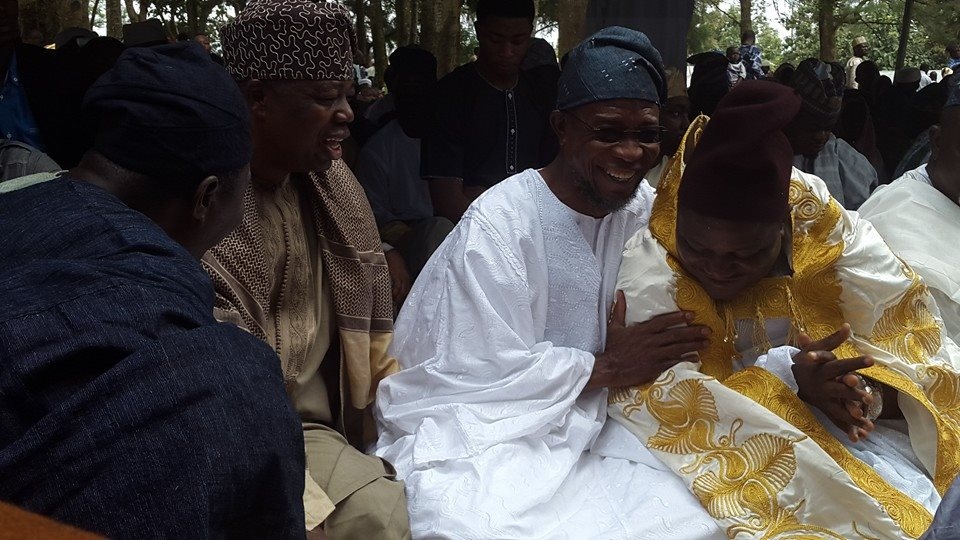 Muslims world over have celebrated Eidul-Adha (or Ileya) with various activities wrapped in it. Top on the activities is the slaughtering and sharing of the sacrificial ram according to the injunctions of God. And of course this aspect of the celebration must not be done until after the Eid prayer has been performed; and the grand Imam- who leads such prayer have said the Khutbah or special sermon- which is also a vital aspect of the special prayer.
Something significant here is the fact that the Ileya festival as the biggest festive period for Muslims is usually set aside for various activities involving relations from various places around the world. That is why the Oke-Baale, Osogbo Eid prayer ground was filled with lots of people; including a large number of them who traveled home from outside the state for the annual celebration- thus making it the most crowded annually by Muslim faithfuls.
As the Governor of the state, Governor Rauf Aregbesola – an Ilesa indigine was among the very large mammoth congregation of Muslim faithfuls who lined up behind the acting Chief Imam of Osogbo to observe the Eid prayer. Governor Aregbesola's wife and children also made it at the Oke Baale Eid ground. After the two rounds of prayers and the sermon of the Imam, Governor Aregbesola addressed the people – urging them to imbibe the lessons of the sacrifice of Prophet Ibrahim who exhibited commitment to the worship of his Lord and obedience to His commandments. He explained that the reward of such virtues is manifested today world over in the fact that Prophet Ibrahim is celebrated across all faith.

After addressing them, one would ordinarily, expect the people to be eager to return home to commence the next aspects of the festival- particularly the slaughtering and sharing of rams. Rather, the people started to push and shove along the exit of the Eid ground as the Osun governor stepped down from the rostrum where he had addressed them. Everybody wanted to get close glimpse of Aregbesola. It is the best public appearance of the governor where he got this close to the people eight weeks after they gave him their mandate the second time.
So, every appeal and cordon of security operatives around the governor would not deter the people from greeting the Ogbeni who also expressed high enthusiasm towards them. Right up the length of about five kilometer stretch from Oke Baale to Ita-olokan, Osogbo- the people swam upon the convoy of the governor. The vehicles moved within human step or stride. So from house-to-house, street-to-streets (along the way) people trooped out as Mr governor who stood out from the open roof of his vehicle acknowledged cheers from them.

Most noticeable among these happy people were the old ones, women and children. The natural enthusiasms on their faces were token of popular acceptance and love. It is a reaffirmation of the fact that they gave Aregbesola their mandate the second time. The scenery captured in Osogbo clearly belies PDP's recent hoopla that they have discovered from the inspection being carried out at the INEC office that Osogbo did not vote for Ogbeni Aregbesola.
A critical look at the Photospeaks attached with this piece shows sceneries of happy people who are vividly fulfilled and proud of the efforts they pushed up shortly before the election as they sang across the streets of Osun, "t'aregbe l'awa o se. Ee ba ko soja, ki e k'aja wole"; interpreted as 'Aregbesola is our choice despite your intimidating soldiers and dogs'. These people are not rented crowd as Omisore and his villians would lie. Neither are they politicians. They are just ordinary but valiant Osun people in Osogbo.
They are cladded in their newly sewn dresses- a mark of celebration of the Ileya festival. Governor Aregbesola was stopped at intervals as the people performed various actions to express their happiness with their governor. It was spontaneous and memorable. Each street tried to out do the other in expressions of love for and acceptance of the Ogbeni. They lined up drums and played them by the roadsides as Aregbesola asked his motorcade to stop while he joined these joyous people and danced to the rhythm together with them. It is the same story with other groups- Alhaja groups, Ulama groups, market women groups, automobile workers, Okada riders small bus (korope) bus drivers all… They all arranged themselves along the roads; each members of the group expressing himself in his own way.

Some of them I chatted with enthusiastically told me "it is the best way to let this man know that he is our God-sent. He is our own prophet". He gave his name as Taiwo Oloyan of Ori-eru in Oke-baale, Osogbo. Another one- a woman in her late fifties whom I have been watching jumping and hailing- awaiting Aregbesola who was just meters away told me that she is "…happy and fulfilled. "We voted for Raufu… take a look at this finger (pointng forth her right-hand thumb). He is my governor again. We shamed the thieves with this thumb. We thank God", she said. I was going to ask her to tell me her family house name as I did others but she only gave her name- Adetoun Aremu. Then, "look; please don't disturb this moment. Ogbeni is here…" she said- shoving herself along my posture to catch glimpse of Aregbesola who had come close then. It was striking when a middle aged woman by the name Sharafatu of Ogidi compound, Osogbo told me that she organised a feast the Sunday evening after Aregbesola was declared winner. She told me why: "Haa ! I cooked for my friends and customers in Ede. We were very happy. "Adejare and his boss in Ife are jesters… let them come out like this and pull such crowd. This is our own (man). A people cannot be fooled twice. Who would have come out like this if we didn't vote for Him? We will continue to hail this man because of what he is doing for Osun peole. He does what he promises", she said gleefully. She explained to me that she is based in Ede where she trades in stationeries at the Federal polytechnic.

An indigene of Osogbo, Sharafat was bred in Ede town; hence she is acquainted with a lot of happenings around the town. "I played in my pants in Ede as a small girl. I know Adejare very well. Let somebody show us pictures of people hailing him like this after the election with such huge crowd. He is a Muslim who must also attend Ileya prayer. Show us his picture coming from Eid ground… "What you see today is just an example of how Osun voted for this good man. So let anybody say what he likes", the woman said. It was more striking when some kids numbering about ten were captured planning their own way of expression of 'street credibility' and acceptance for Ogbeni. For me; my primary interest was to capture thrills and frills of the moment. So while others were 'doing the regulars', I was all out to record such striking sceneries.

The leader of the kids- Lekan, suggested to his peers; a popular children genre of the campaign jingle of Aregbesola during the last governorship election in the state. The boy moved the song and his folks chorused "…e di'bo fun Aregbesola gomina Ooosun"- interpreted as 'vote for Aregbesola as Osun governor'. I was amused. Clearly, the election has been concluded about eight weeks ago with Aregbesola victorious. The kids' expressions were mere insignia of fulfilment. It is memorable that the Ileya outing was the first largest crowd that Aregbesola attended after the one that followed his election victory of August 9. It is also note worthy that the way the people thronged on Aregbesola's motorcade reiterates the position of Osun electorates- their unrelenting choice for Aregbesola and his party. This is further manifested as another group rushed into the slow-moving motorcade of the governor and handed over a pile of brooms to Ogbeni. No sooner than the brooms were shared among the crowd on the streets than the symbolism spread from Oke-baale through Oja-oba, then to station road. People went into their houses to fetch brooms and waved them at their governor as he moved along their streets. These sceneries were captured in Osogbo- the Osun capital. But the governor's hometown is Ilesa. So one could imagine how the 'show' would have been played by the Ijesa people to express their love for their own."
 Adebayo Rasheed Mabayoje
OSUN DEFENDER