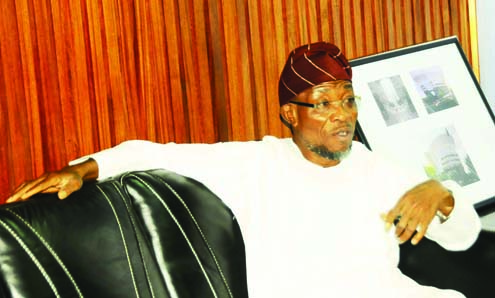 RE: Aregbesola Deserves No Pity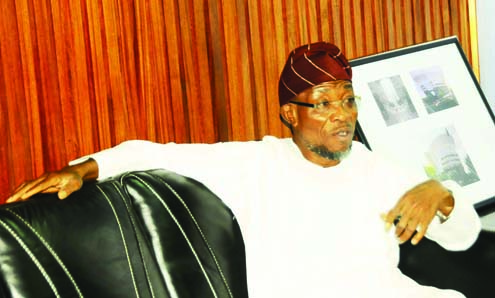 I had read many attacks on the personality of Ogbeni Aregbesola, policies and programmes of his administration especially since the period he and his state had been singled out by some opposition parties and their allies over the inability of half of the entire 36 States of the Federation to pay their workers salaries for varying months.
These attacks were laced with outright lies, half truths, and malice just to rubbish the  progressive,innovative and outstanding delivery of his electoral promises to Osun people as contained in his green book "MY PACT WITH THE PEOPLE OF OSUN STATE" in less than 5years. In the book, Aregbesola said, " I give you Six-Point Integral Action Plan, to the intent that they constitute my articles of faith concerning which I want to be held accountable at any time during mystewardship". The six-point integral action plan is ;  Banish Poverty, Hunger and Unemployment, Restore health living, Promote functional education and Enhance Communal Peace and progress.
Although, facts and performances are stunning on ground for even the blind to see the rate with which Ogbeni has delivered on the  action plan, I find it extremely difficult to keep mute when somebody mischieviously tries to falsify and distort the history of Osun experience, with which I am rigorously involved.
This rejoinder, therefore, serves two purposes. One, to refute absolute falsehood and misrepresentations contained in an article credited to one Mr Akanfe  Diamond in the THISDAY Newspaper of 8 July, 2015,  titled "Aregbesola Deserves No Pity" and two, to bring to the fore, again, especially for the benefit of people who live outside Osun, the truth of the amazing Osun Exprience.
A few quotations from Mr Akanfe Diamond  could summarise his misguided and ridiculous attacks on The Symbol of popular democracy called Ogbeni thus, "The first sign of Aregbesola recklessness was the utterly needless change of nomenclature of the state …. He spearheaded a confused 'western region' agenda…  He began more of his doomed projects when he set up Osun YouthEmpowerment Scheme, OYES. He 'employed' twenty thousand youths, and putthem on a stipend of N10,000 a month and they were deployed as roadssweepers…….. He merged schools and divided them into elementary, middle andhigh schools. He erased the culture  and history of different schools. He provided them with same set of wears, killing the school uniforms materials market at alone go.
He went ahead in his dangerous brand of "Awoism" by providing free computer tablets produced with billions of Naira awarded to his son (Kabiru), also almost killing the school market.  Then, an ambitious industrialisation agenda waslaunched. He started a notorious "airport" project and some massive roadconstruction projects. It is to his credit that he completed most modest roadprojects especially at the very rural areas. He should have left it there. It was theambitious ones that ruined him. For example, the Gbogan-Akoda-Osogbo highwayand trumpet interchange that he started, and launched with pomp, has been abandoned"
In his concluding part, Mr Akanfe Damond submitted, "workers were always being owed atleast two months' salary arrears at every given time. They went on strike often. He always painted workers as saboteurs and as colluding with the PDP led federalgovernment to frustrate him. The state is at a standstill, and there is finally nowhere to hide for him. He knows he is in trouble. But Aregbesola deserves no pity because he goofed. He took people's innocence for a ride. He was a spendthrift who was after making himself an emperor more than seeing to his people's welfare"
The above position by Akanfe is so jaundised and frivolous lacking deference to truth.  Although,people are entitled to their personal views and positions, building them on truth and facts are sacrosanct and immutable. After all facts are sacred, while comments are free.
On assumption of office, armed with his well developed programme of action Ogbeni set about the implementation of a comprehensive socio- cultural- economic programme focussed on rebranding, revival and re-orientation of the people on the extant historical and customary values. These involved the adoption of the historic emblem of Western Region with little modification for currency, a flag that ennobles our race, an inspiring anthem, a motivating sobriquet( Ipinle Omoluabi) and a reassuring wish " Osun A Dara ".
In fulfilment of his electoral promise to engage 20,000 youth within his 100days in office, out of over 250,000  people that applied, Aregbesola Administration engaged 20,000 under Osun Youth Empowerment Scheme (OYES). It is a youth empowerment programme designed to train the youth so as to make them useful to themselves and society particularly their community. They are each given stipend of N10,000 monthly while the cadets give render community and social services to the State for  the 2- year duration of the scheme.
For instance, of the first batch 20,000 cadets, 8,000 were deployed as teachers in public primary and secondary schools to fill the gap identified at the education summit held in February 2011. Of these, 6,000 were permanently recruited as teachers; 40 cadets were sponsored to Germany to acquire advance farming skills while over 1,600 were trained in modern agricultural practices under Osun Rural Enterprise and Agricultural Programme (O-REAP) Youth Academy; 5,000 of them were trained in specialist ICT skills at the newly established RLG/Adulawo Technology City in Akanfe town, Ilesa; 31 of them were trained in mechatronics in a train the trainer project in Lucas Nulle in Kerpen, Germany while thousands of them were trained and deployed to productive services such as Public Works Brigade, Green Gang, Osun Sheriff Corps, Traffic Marshalls, Osun Paramedics, Sanitation Czars and Teaching Corps. To be sure, 75% of the first set of Oyes cadets are gainfully engaged in one thing or the other now.
The N10,000 allowance to each cadet amounts to N200m monthly and N2.4 billion annually,  directly injected to the  local economy. This is separate from the cost of boots and uniforms which revived hitherto moribund shoe factories in the state and empowered Osun Tailor Unions respectively. These,among others, were what made the scheme attractive to the World Bank to use it as a template for youth empowerment in Nigeria which has earned Nigeria $300m grant from the bank as a support for the Federal Government to replicate same nationally. In Osun, any company  that wants to recruit people for employment gives priority to O-YES cadets because of their training and orientation.
Contrary to Mr Diamond's  thought, statistics have shown that Nigeria has one of the worst education systems in the world. In response to this, Aregbesola adopted an innovative education policy that is deliberate, bold and functional based on the recommendation of the Osun Education Summit held between 7-8 February, 2011 at University of Osun Auditorium, Osogbo. It was chaired by Prof. Wole Soyinka with the theme : "Resolving the Education Crisis in Osun State : Bridging Analysis and implementation Gaps". The summit, arrived at the following as challenges causing crisis in the education : infrastructure neglect; crowded classroom; poor funding; teachers low morale; lack of instructional materials; high fees in tertiary institutions and low bursary rate.
In consonance with the Summit recommendations, Ogbeni commenced  periodic training and retraining of teachers via Osun State University and other bodies. It reclassified schools into Elementary (Grade 1-4), Middle(Grade 5 – JSS3) and High Schools (SSS1-SSS3) in line with international best practices. ( Grade 5 simply means that Primaries 5 and 6 were moved to join the JSS for proper age, logistic/needs and funding classification for optimal, efficient and effective benefit). Primary School running grants were increased from N7.4m annually to N424m. Feeding of over 250,000 elementary school pupils nutritional meals daily (O-MEALS) which automatically increases elementary school enrolment by 62.8% and  gives empowerment to 3,007 caterers. Construction of state of the art elementary, middle and high schools and upgrade of dilapidated ones across the state. Provision of 750,000 uniforms for all public school students.
Although,  each grade wears specific uniform, students are differentiated by schools names on their badges. Prof. Wole Soyinka captured this when he said, "The (Osun ) uniform policy will stem the tide of inequality among school children. It is a philosophy that should be adopted throughout the country". This policy has created over 3,000 jobs for citizens at the Omoluabi Garment Factory which produces for internal and external market. Secondary school running grants were increased from N117m to N427m annually. Payment of external examination fees (WASCE, NABTEB and NECO) to students in public schools. Provision of Scholar Buses for easy transportation of students.
The Ministry of Education is strengthened to supply instructional materials and teaching aids to school via establishing zonal and local offices and creation of 3 educational districts and appointment of Tutor-General and Permanent Secretary for each of the districts from among the Principals on merit.30% reduction in tuition fees in state tertiary institutions. Increase in bursary award to all the state indigenes in tertiary institutions nationwide from N2,000 to N10,000 for all final year students; from N3,000 to N20,000 for medical and law students; and from N10,000 to N100,000 to law school students. In addition, 98 UNIOSUN medical students in Ukraine on full scholarship.
The award winning computer tablet – Opon Imo, Mr.Diamond falsely alleged was contracted to the son of the Governor, Kabiru Aregbesola is an innovative educational device with worldwide acclaim.  The e-learning tablet runs on Android 4.0 Platform with 512MB of  RAM and internal storage capacityof 32GB. It has 3 learning environments – virtual library, Virtual classroom and integrated test zone. The device contains books required in Osun for  the entire Senior Secondary School Syllabus,the last 10 years past questions of WAEC, NECO and JAMB, Yoruba Tradition.
It was designed to make learning very interesting and easy. It introduces senior secondary students to computer education on time. The tablet is solar powered. It does not need any network to operate at the city or rural areas. Again, publishers of all the textbooks embedded in it have been paid. This saves the students the burden  of carrying many text books. It saves the government a lot of money in  subsequent years to procure same set of books to a new set of students as the out-gone students would have handed over to the next having finished his/her SSS3 examination. About 50,000 of this devise have been distributed to final year senior high school students statewide.suffice to that mr Kabiru Aregbesola was not a beneficiary of either this  contract or any other contract in the state.
In the course of embedding all these into the tablet, a complication developed which threatened the entire process. This was where Kabiru came in. it was his knowledge and idea that eventually resolved the complication. Kabiru has a first degree in Informatics at the  University of Matanzas, Cuba. Aside his resolution of the crisis encountered for which he was not paid a dime, he has nothing to do with the Opon Imo contract as Mr Diamond derisively made people to believe. Instead of commendation for his selfless contribution which has earned Opon imo United Nations World Summit Award for ICT innovation for 4th best e-learning devices in the world, Kabiru is being smeared by the likes Mr Diamond to score a cheap political point.
Yes, a lot of ignorance and misinformation have pervaded  Osun Airport project. The Airport is being built  the AETSL; Aeronautical & Engineering Services Ltd., the engineering contracting arm of the Nigerian Airforce,  for high standard and cost management. It is basically an aircraft maintenance and cargo  Airport for fresh agricultural produce, but fundamentally a Hanger Airport for repairs and servicing of both rotary wing (helicopters) and fixed wing aircraft (aeroplanes). There are no standard Hanger Services in Nigeria and West Africa, which makes it a lucrative venture. Agreements have been signed with local and  international companies to build these facilities. All aircraft landing in the sub-region will therefore have do all their repairs in Osogbo. This will, of course, spur both the cargo services and build the normal passenger traffic and allied hospitality business as the crew will need adjoining services for accommodation, leisure and entertainment. The only places one could get these services for now are North, East and South Africa.
I don't need to dwell on the massive road constructions in both rural, urban and the State's Capital because Mr. Diamond already credited  Ogbeni for completing most of them. I also understand his fear on possibility of completion of the Gbongan-akoda-Osogbo highway and the trumpet interchange. For the avoidance of doubt, let Mr Diamond and doubters like him know that all our ongoing projects will be completed in due course.
Truly, if one considers the enormous project  Ogbeni has embarked on in the last 5 years, one could possibly conclude that the administration had money printing press when one looks at how he actualizes his O-Programmes :  O-School, O-MEAL, O-ambulance, O-REAP, O-Calisthenics, O-YES etc.
This was a Governor that met N18.38b suffocating debt in form of short term loan. Its terms and conditions made it suffocating apart from the fact that the projects for which the loan was sought were socio-economically useless and irrelevant. At that period, the  Federal Allocation to the State was N1.8b  and Internal Generated Revenue was N300m monthly. The loan was to be serviced with N615m per month which was taken from the source and the loan must be repaid in 3 years! The state, therefore, needed to borrow N1b monthly to service the loan on the one hand and honour its statutory responsibilities on the other.  He did some financial engineering to sort out the problem.
As he was struggling to come out of this suffocating financial quandary, crime and armed robbers had literally taken over the State. There were bank very vicious armed robberies almost everyday to the extent that most banks closed shops on working days for fear of armed robbers.  To combat this, OGBENI  set up a dedicated Crime Response Team, the Swift Action Squad (SAS). Initially 5 Armoured Personnel Carriers (APC) were procured with 20 sophisticated additional ones later; 100 Patrol Vehicles for 24-hour security cover of the state; a helicopter for security surveillance and emergency response. Although, the Jonathan PDP government refused to approve the 3 digit free toll number for coordination between people, ground patrol and helicopter, the anti-crime war was won. Osun has since become peaceful where citizens sleep with their two eyes closed.
It is instructive to note that Aregbesola, without being prompted, has been giving13th month salary to workers as bonus because of his background and love for workers since 2011. He increased their housing and car loans. He beautifies their working environment. Position of Permanent Secretaries which hitherto was based on connection with powers that be could now be attained on merit via oral and written examinations while the Head of Service is chosen democratically among the Permanent Secretaries. Again, workers had always been their salaries by 26th of every month. This tradition lasted for three uninterrupted years.
It should also be noted that vested interests govern man, group, society and nation,and all actions should and must be ultimately judged by intention. The intention and interests of most commentators on this issue are clearly malicious and adversarial if not outrightly evil, and have no single interest of commoners at heart nor genuine advise on the resolution of the crisis. Knowing so, it becomes easy to cope with those who cannot see beyond their petty noses into the roots of the crisis in half a decade long federal sleaze and corruption of all Nigerian processes economically, politically and socially from which precipice we are just  recovering.All these attacks have, furthermore, demonstrated one thing: In a Black man clime, a virtuous man is not praised alive but immortalised after his death.
Yaya Ademola is a researcher. He lives at Alekuwodo, Osogbo.