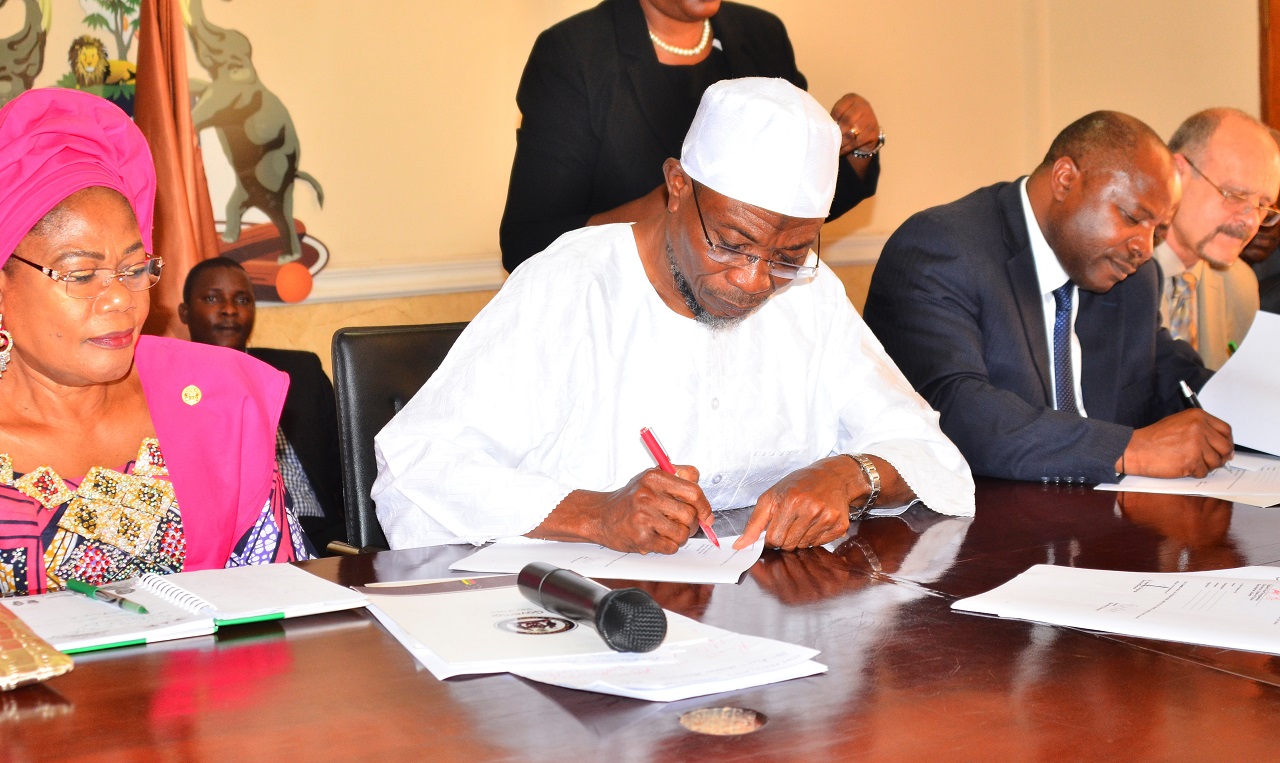 SPEECH: A Timely Partnership By Gov. Rauf Aregbesola

REMARKS BY THE GOVERNOR OF THE STATE OF OSUN, OGBENI RAUF AREGBESOLA, AT THE SIGNING OF MEMORANDUM OF UNDERSTANDING (MOU) BETWEEN THE STATE GOVERNMENT OF OSUN AND THE INTERNATIONAL INSTITUTE OF TROPICAL AGRICULTURE (IITA), HELD AT THE EXCO LOUNGE OF THE OFFICE OF THE GOVERNOR, BOLA IGE HOUSE, ABERE, ON TUESDAY NOVEMBER 17, 2015
Protocols,
A Timely Partnership
I am most pleased to be here and welcome you all to this great event, the signing of Memorandum of Understanding (MoU) between the State Government of Osun and the International Institute of Tropical Agriculture (IITA).
Under this partnership, we are releasing 204.39 hectares of land around Ago Owu in the state, to IITA for the purpose of conducting research and setting up demonstration farms for best farming practices. IITA will carry out cassava, plantain and other crops multiplication. It will also train Osun youths on modern, commercial and profitable farming. This will no doubt complement our agriculture programme and give it a new fillip. It will bring capital to our state, extend robustly the agriculture value chain, create jobs and hopefully make millionaires out of our farmers, especially the youths that are being attracted to farming.
IITA, a member of the Consultative Group for International Agriculture Research (CGIAR), is a foremost research institution established in 1967 for the development of agriculture in this region. The State of Osun, created in 1991, is a predominantly agrarian state. Agricultural development, especially for food production, has been the main thrust of our administration's policies since our coming in November 2011. Our relationship with IITA, therefore, looks like it was made in heaven. Given our both commitment to agriculture, it is inevitable that our paths would cross.
To be sure, this is not our first collaboration. At the beginning of this year in January, we signed an MoU that eventually produced today's ground breaking event. IITA has been very supportive of our flagship agriculture programme, Osun Rural Enterprise and Agriculture Programme (O'REAP) in many ways.
I must commend the institute's Director General, Dr Nteranya Sanginga, whose coming has reenergised IITA and has taken it from the insularity of a research enclave into the planting fields of the vast farms. I hate to compare, but given the innovations he has carried out at IITA and how he has taken it a notch higher the development ladder, I must say that Dr Sanginga understands the critical role of agriculture research institutes in our continent's grim battle against the scourge of hunger and poverty, more than any of his predecessors.
Under him, we are seeing IITA breaking out, providing the lacking critical linkage between research and implementation. This our partnership simply means that we are going to have direct-to-farm linkage of scientific innovations in farming by the very best of agriculture scientists.
The parcel of land being released to IITA is very strategic. It is embedded within a farm settlement of 4,000 hectares of the 11,496 hectares of land we are developing in the Ago Owu area. We have also opened up another farm settlement in Mokore on 3,340 hectares of land. This IITA centre is surrounded by some 28 farming villages whom we expect would be the first beneficiaries of the farming innovation that would come from the centre. There is no doubt that this would spread to the entire farming community in Osun and then to our neighbouring states.
Big things start small. I am convinced that what we are starting today would lead to agriculture revolution, not just in Osun, but in Nigeria as a whole.
With our Bonny Light selling for $38.18 yesterday, we don't need a soothsayer to tell us that our focus must shift to agriculture if we must survive the looming financial storm. We believe that it is for this reason that God has positioned Dr Sanginga in our country at this time, as a light first to Nigeria and the continent of Africa as a whole. We are confident therefore that IITA would surpass our expectations and showcase this project as a worthy and unsurpassable model.
I therefore thank the entire IITA team that has been working behind the scene to make this deal come through. I will also like to thank our team led by Dr Charles Akinola of the Office of Economic Development and Partnership (OEDP) and other organisations and individuals that have been of good assistance to us.
I thank you all for your kind attention.
Osun a dara!