Governor Adeleke To Fix Johnmackay Primary School A And Ota-Efun PHC Before 100 Days In Office…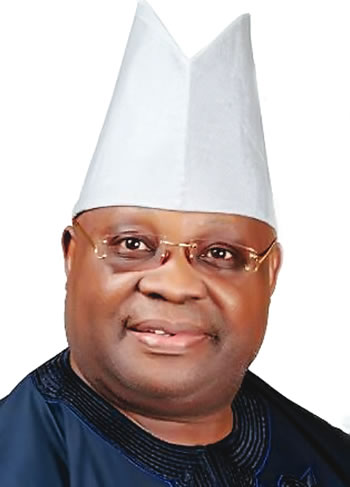 Governor Adeleke To Fix Johnmackay Primary School A And Ota-Efun PHC Before 100 Days In Office…
Osun State Governor, Senator Ademola Adeleke has promised that the popular Johnmackay Primary School A, and Ota-Efun Primary Health Care Centre will wear a new look before his 100 days in office to mark the celebration.
The Governor gave the assurance today during his on-the-spot assessment to the delapidated School situated in Oke-Ayepe Area, and the Primary Health Care facility, all in Osogbo, the State Capital.
He expressed displeasure over the poor state of the buildings which has been abandoned for years, stressing that his administration will never leave any stone unturned in the area of infrastructural development across the State.
Governor Adeleke reiterated that the road leading to the School which is no longer motorable will be rehabilitated for the convenience of the residents of the area within his 100 days in office.
The Governor however promised to do the needful within very short period of time.
Speaking earlier, the Head Mistress of the School, Mrs Olufunke Ogundipe explained that, the buildings have been dillapidated for years which led to the evacuation of the pupils from the said buildings.
Mrs Ogundipe who was weeping uncontrollably expressed her gratitude to God and the Governor for deeming it fit to fix both the old School and the road. She prayed for the administration of Governor Adeleke to succeed in his dealings.
In her own words, the Matron of the Ota-Efun Primary Health Care Centre, Mrs Victoria Owolabi noted that they have been working under a tense condition as there are no medical equipment, chairs, mattresses for patients, shortage of staff among others.
She appreciated the Governor for remembering the centre, adding that the gesture will aid the smooth running of daily activities in the health Centre.