#OSUN2014: Why Aregbesola Should Be Re-Elected – National Pilot Gives Details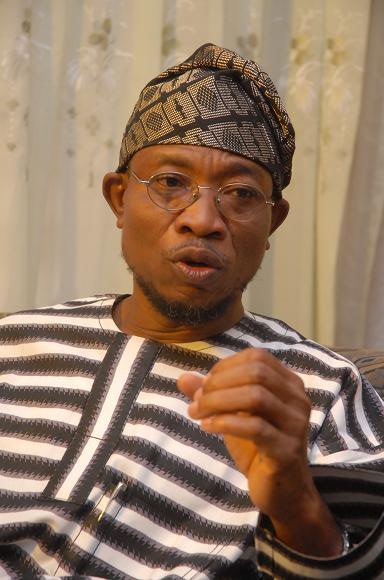 We today endorse Ogbeni Rauf Aregbesola for re-election. Readers will know that National Pilot shares the public concerns about Aregbesola's firmness and sensitivity to the ethical values in government. Our endorsement is poised on the unequivocal confidence that he's the best candidate in the field and the belief that the on-going revamp in the State of Osun could be completed by him.
Ahead of the Election Day, our endorsement comes with recommendations on how Aregbesola can tackle some voters' concerns and stand against external forces capable of jeopardizing All Progressives Congress (APC's) candidate on August 9. All efforts at re-enacting Ekiti State scenario needs to be foiled.
However, our endorsement is not to say, Aregbesola's near four years government is without defects. If he's re-elected as promised, he would correct those inadequacies. But if Iyiola Omisore of Peoples Democratic Party (PDP) is elected, the on-going massive renewal that cuts across all sectors could be sacrificed at the altar of politics. Our view of Aregbesola mirrors that of millions of overwhelming voters who are choosing him over Omisore and Alhaji Fatai Akinade Akinbade of Labour Party (LP).
First and foremost, we want to outline Aregbesola's success story in the past years as well as his re-election based policies. In near four years, socio-economic and political activities have experienced somewhat turn around.
An Unusual Man
Aregbesola is an unusual man, a view he himself has admitted. He has equally branded himself as "an unusual man running an unusual government in an unusual way."
As a governor, he adopts simplicity as a trademark. Little wondered why he chose to be called "Ogbeni," which literarily means "Mr Man." He prepares to move around as an "ordinary-man." He uses no siren, which Nigerian leaders usually used to show off.
His government policies are people-oriented and he has attached some level of uniqueness to his programmes. Aregbesola by way of special identity changed the state's name from Osun State to State of Osun. He equally, introduced state anthem and logo.
For the first time in the 19 years of existence, the governor accorded Oshogbo, the state capital, its status as the state capital through Beautification.
ECONOMY
At the inception, Aregbesola's government in its economic solution encapsulated in Six-Point Integral Action Plan, namely 'banishing poverty; banishing hunger; banishing unemployment; restoring healthy living; promoting functional education; and enhancing communal peace and progress.'
To a high degree, the government's propounded economic solution had scaled down unemployment, poverty, hunger, inequality and poor human capacity.
To his credit, the Internally Generated Revenue (IGR) has increased from N300 million to N1.6bn without increasing tax payable by citizens, the governor said at the Economic Summit in April. It's worthy of note that Osun is the 34th on the Federal Allocation Table.
In an attempt to bring about a strong resurgence in the state economy, Aregbesola embarked on the massive infrastructure capable of sustaining and refreshing the state's economy. The multi-billion naira Omoluabi Garment Factory, the RLG/Adulawo Technology City, the Ultra-Modern Abattoirs, the new markets, among many others; are part of his infrastructural developments.
To enhance state's economy, road projects that connect major cities/towns within the state are being reconstructed massively. These projects are to complement other roads infrastructural development of his administration.. In the current phase, the projects are being implemented to facilitate smooth movement of goods and services. Among others, about 415.89km of inter-city and township 128km roads have constructed in the State of Osun.
HEALTH CARE
Aregbesola's government shared President Winston Churchill's view that"Healthy citizens are the greatest asset any country can have."His government since inception has prioritised health services to the people of the state.
His government has recorded remarkable achievements in the provision of infrastructural facilities, high improvement in modern equipment in a bid to strengthen the health system. In pursuit of meeting the set out goals by the state, nine General Hospitals were renovated which comprises the Specialist Hospital, Asubiaro, Osogbo; State Hospital, Iwo; State Hospital, Ikire ;State Hospital, Ile-Ife; State Hospital, Ipetu-Ijesa; State Hospital Ila-Orogun, State Hospital Ikirun and State Hospital, Ilesa.
The government has embarked on renovation of 8 secondary Health Facilities; Comprehensive Health Centres at; Modakeke, Ode Omu, Bode Osi, Oke Ila, Iresi, Konda, Inisha, and Edunabon. The Aregbesola administration in partnership with the Millenium Development Goals (MDGs) office has completed the construction of another 62 new Primary Health Centres.
In 2011, the government in collaboration with Oranmiyan Worldwide organised free eyes screening, surgery and distribution of eye glasses to about 5,000 people and also in June 2012, there was a collaborative medical exercise with Nigerian Medical Association Osun branch for a free screening and surgeries wherein 2500 clients benefited.
EDUCATION
In February 2011, when the state education was at the verge of collapse, Aregbesola just two months after assumption of office, organised an Education Summit with a view to charting a new way forward in the educational sector of the State of Osun in line world-best practices.
Nobel Laureate, Prof Wole Soyinka, chaired the summit, which proffered solutions to the perennial problems being experienced in the country and Osun in particular. Stakeholders agreed on having three classifications of schools under basic education; these are elementary, middle and high, rather than the existing primary, junior and secondary levels.
To this end, a comprehensive overhaul of physical and human component has been carried out in the education system.
In Education, over 750,000 school students have been provided with school uniform coupled with empowerment of 3,000 tailors; 150,000 students provided with computer tablets (Opon Imo), an electronic learning tool preloaded with 17 subjects, 54 textbooks, and past questions of JAMB, WAEC AND NECO of the past 10years, among others.
Also, his government had embarked on recruitment of teachers, provision of instructional materials, psychological and social support through value re-orientation, revival of ideals of hard work, honesty, discipline, determination, revival of Boys and Girls Clubs, calisthenics activities are simultaneously being introduced. The government reduced tuition fees in State-owned tertiary institutions by 30%.
EMPLOYMENT
Tremendous number of achievements have been recorded in terms of employment with about 40,000 Youths employed under the Osun Youth Empowerment Scheme; 2. 5,000 Youths trained and empowered in Information Communication Technology under the Osun Youth Empowerment Technology (OYESTECH).
CULTURAL AND RELIGIOUS VALUES
The new education policy introduced by Aregbesola, which nearly plunged the state into religious crisis, was averted. The Osun Baptist Congress had specifically staged a protest to resist admitting hijab wearing pupils into the Baptist High School, Iwo, under the new education policy.
The governor waded off the controversy from degenerating into chaos at the peace meeting between the Muslim and Christian Communities at the Baptist High School in Iwo, which has been the epicentre of controversy over the reclassification and merger policy.
The governor had in many occasions demonstrated his commitment to the promotion of cultural values, which earned him the Most Outstanding Chief Executive award of the West African Culture Development Body for the promotion of culture, ethics and values in Africa.
Presenting the award, the Editor, Tribe Times Magazine, Mr Hillary Damissah, who is also the organizer of Nigeria-Ghana Culture Showcase, said that Aregbesola was chosen among the governors in the 36 states of Nigeria and 10 regions in Ghana.
He said that the decision to honour the governor was taken at an event preceding the occasion marking the 2011 Nigeria-Ghana Culture Showcase organised by the West African Culture Development Body, saying that there was a nomination of Chief Executive of states and regions in Nigeria and Ghana who are keying into promotion of African values and culture, where Aregbesola eventually emerged.
Without iota of doubt, Aregbesola is demonstrating his readiness to winning the August 9 governorship election. However, it's worthy of note that the controversial new education policy though generated undue hype on the part of the opposition party; lack of conduct of local government elections and the wrong believe that Aregbesola's cabinet is dominated by "Osun-abroad" politicians are some of the contentious issues that need to be tackled.
How to resist militarisation of the state during the Election Day to avoid Ekiti scenario to play out is more than relevant, as the nation's leading opposition party could not afford another defeat in the upcoming election.
By Mandate International Publications