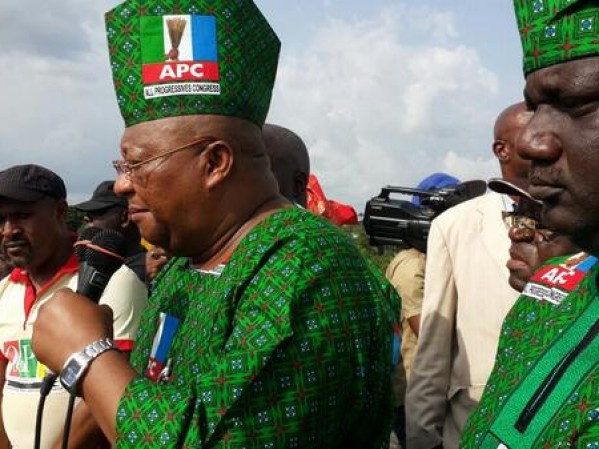 Osun Guber: Adeleke Warns Against Use Of Soldiers
Former governor of Osun State, Alhaji Isiaka Adeleke, has said there would be no problem if military is brought in for the forthcoming Osun State governorship election to maintain peace.
Speaking at his country home in Ede, weekend, the former governor who is a chieftain of the All Progressive Congress, APC in the state, said the people would resist the move, if the military was to harass the electorates.
According to him, "If the military are brought in for security and to maintain peace, there is nothing wrong with that as far as they go about their business of doing just that so far they do not harass or intimidate people, but once they start doing opposite what they were sent to do, that there will be where the problem will start."
Alhaji Adeleke said the way the country's polity was being heated by the ruling Peoples Democratic Party, PDP was frightening and dangerous, nothing that even in the dark days of the military, things were not this bad.
"Now everything is all about muscling up the opposition, you militarized the environment, it is dangerous. You want to arrest people without them doing anything, you disfranchise them, because you want to rule at all course. Why don't you forget about democracy and rule as an emperor or rule by fiat and sack all elected officers?"
Urging the ruling party to have a change of mind, he said they should not forget that the people of the South West were no fools, "if you remember anytime democracy was scuttled in Nigeria, it started from here. The military intervention in 1966 and 1983 started from what happened in South West and they are in that direction now. Because when the people are push to the wall, they will fight back and doing so, democracy might be truncated."
He disclosed that there were plans to put him under house arrest before the election in Osun State without any offence, saying "I know what to do to protect my house, I will use Yoruba method, anybody that comes into my house illegally, anything that happens to such a person is his business."
"Why will they seal up my house when I have not committed any offence? You are pitching one political party against the other. In 1969, I was a student in Ido Osun grammar school; I saw military men running inside the bush, some trying to take off their uniform but could not because their skin was peeling off with the uniform. That was Agbekoya for you. Those guys are still around. That is why I am advising they should be careful."