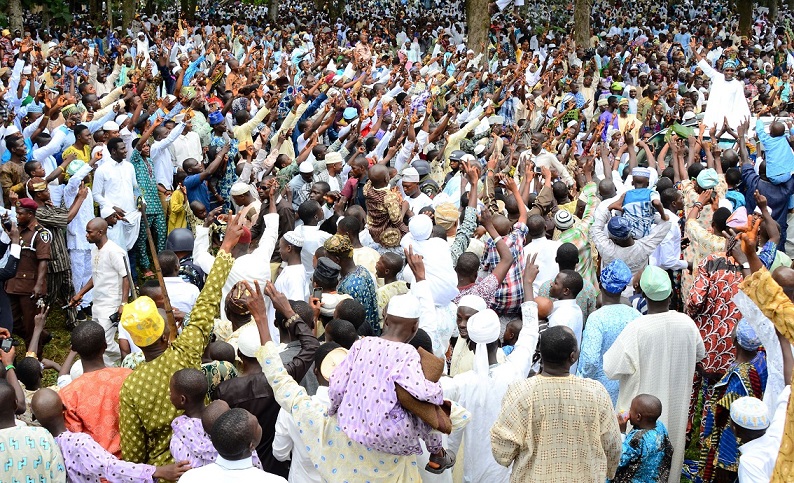 Tumultuous Crowd Of Residents Show Support For Aregebsola As Gov Calls For Peace On Sallah Day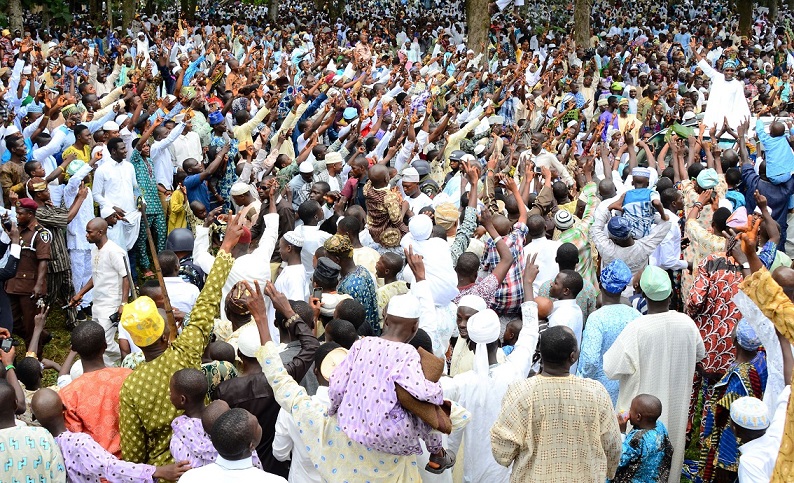 ‎The sight of Governor Rauf Aregbesola of the State of Osun on Monday created frenzy at the state capital, Osogbo as joined thousands of Muslim faithful at the Oke-Baale praying ground to mark the end of the 30 days Ramadan fast
The Governor's convoy, which snaked through the capital city from the Government House in Oke Fia to Oke Baale praying grounds created excitements as residents trooped out in a show of solidarity with the Governor apparently because of the forthcoming governorship poll slated for August 9th.
Many of the residents who displayed Aregbesola's campaign posters, brooms and other insignias of support for the governor, also chanted various songs which indicated their readiness to resist any attempt to manipulate the coming election.
At various points in the capital such as Oke Fia, Orita Olaiya, Gbeemu,Oja Oba, up until the praying ground, the residents held Aregbesola's convoy hostage as they insisted he must stop to listen to their songs and see them display their support for him.
Speaking immediately after the prayers, Aregbesola said for Nigeria to be peaceful and progressive, Nigerians must promote religious tolerance, endurance and forbearance.
He emphasised that Ramadan preaches tolerance, endurance and forbearance adding that the message is not for Muslims alone but for all Nigerians.
He urged Muslims to imbibe the spirit of patience and tolerance which are the major characteristics of the 30 days fast, saying if this is done the nation as a whole will be better for it.
According to the Governor, "Ramadan teaches tolerance, forbearance and forgiveness, we want Muslims to imbibe the virtues of Ramadan in their day to day lives and let it be part of their normal routine and in their daily relationships."
"All Nigerians of whichever faith must imbibe the attribute of tolerance, perseverance and forbearance. These are the things this country needs now to guarantee peace and stability that will make us to be productive.
"I urge us all to embrace love and endurance, it is when there is peace that we can pursue productive engagements that will guarantee for us good life". Aregbesola noted.
He added that it is in good life that that the people can enjoy their existence, stressing that if the essence of life is for human beings to live well then peace which is the only guarantee of happiness must be a watch word for all and sundry.
Concerning the coming elections, Ogbeni Aregbesola explained that he is believing in God and the overwhelming support of the people of the state to be victorious in the polls.
Speaking earlier in his Eid el Fitri sermon, the President General League of Imams and Alfas in the South-west including Edo and Delta states, Sheik Mustapha Ajisafe, said Muslims should endeavour to continue practising what Ramadan preaches even after the Ramadan.
Sheik Ajisafe, who also called on the entire congregation to pray fervently for Governor Aregbesola, charged Muslims to remain steadfast and embrace always the tenets of Islam.‎